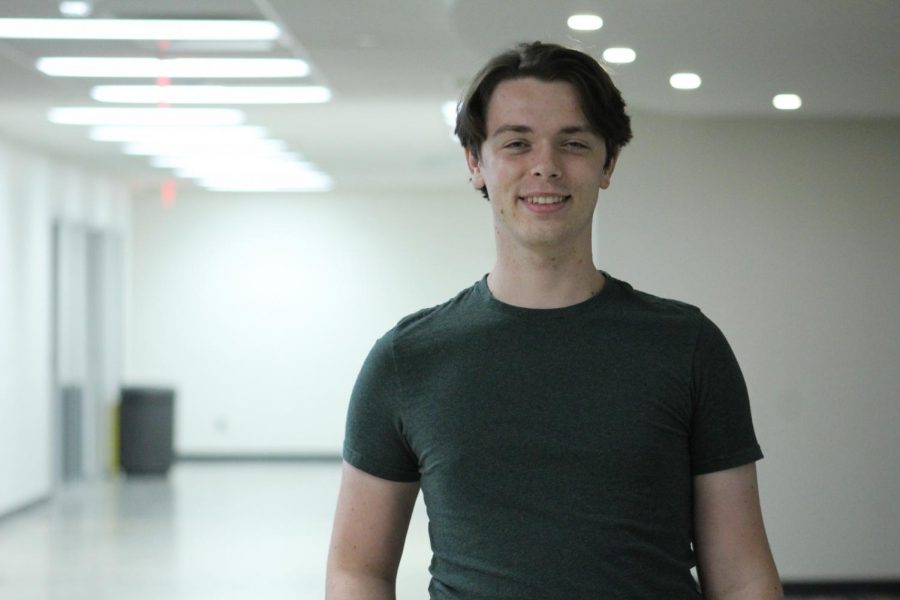 Ben Hume
is the web editor for The Oakland Post. He is currently a senior at Oakland University double majoring in English and international relations. In his time at The Post, Ben has been a staff reporter for the life section and was promoted to web editor for the 2019-2020 school year. He continued working the position for 2020-2021.
Since joining The Post in 2018, Ben has filled the role of weekly political opinion columnist, and enjoys researching and writing about domestic and international politics. He hopes to use his experience here to prepare him for further academics in the sphere of international politics and English literature studies.
Contrary to popular belief, Ben does not enjoy long walks on the beach. He finds getting wet sand stuck to his feet when walking near the water to be irritating. He does, however, enjoy observing the beach from a distance and listening to its beautiful ambience.
He would also like you to know his profile picture is out of date, and that quarantine during the 2020 pandemic has made his hair three times as long. He implores you to use your imagination in this regard.
Ben Hume, Web Editor
Dec 07, 2020

Police files: 12/9/2020

(Story)

Dec 02, 2020

Police Files: 12/1/2020

(Story)

Nov 09, 2020

Police files: 11/11/2020

(Story)

Nov 01, 2020

Police Files: 11/4/2020

(Story)

Oct 21, 2020

Network news begin search for worst debate moderators

(Media)

Oct 14, 2020

Vice Presidential debate fly interviewed by DNC strategists

(Story)

Oct 12, 2020

Police Files: 10/14/2020

(Story)

Oct 04, 2020

'Life as festering seepage is not all it's cracked up to be': Our Exclusive Interview With I-696 Ooze

(Media)

Sep 30, 2020

Police Files: 9/30/2020

(Story)

Sep 23, 2020

Police Files: 9/23/2020

(Story)

Sep 23, 2020

Don't be a Democrat—here's how to actually stall a new Supreme Court nomination

(Story)

Sep 16, 2020

Police Files: 9/15/2020

(Story)

Sep 09, 2020

Police Files: 9/6/2020

(Story)

Jul 31, 2020

The difficulties of reopening the Recreation Center during a pandemic

(Story)

Apr 05, 2020

Police Files: April 8, 2020

(Story)

Mar 22, 2020

The best board games for your quarantine blues

(Story)

Mar 15, 2020

Police Files: March 18, 2020

(Story)

Mar 11, 2020

Police Files: March 11, 2020

(Story)

Mar 04, 2020

Police Files: March 4, 2020

(Story)

Mar 03, 2020

The end of the Rat King's reign

(Story)

Feb 17, 2020

Writing Center puts on bipartisan 'Letters to Lansing' event

(Story)

Feb 16, 2020

Police Files: Feb. 19, 2020

(Story)

Feb 12, 2020

When the rats rule Iowa, democracy collapses

(Story)

Feb 12, 2020

Police Files: Feb. 9, 2020

(Story)

Feb 05, 2020

An easy solution to your February depression

(Story)

Jan 29, 2020

Mike Pompeo defends sexist attack by urinating out window

(Story)

Jan 19, 2020

Party ogres that live in the apartment above you prove that vigilante justice is sometimes OK

(Story)

Jan 15, 2020

President's security advisers forget which Middle Eastern country to bomb

(Story)

Jan 12, 2020

Police Files: Jan. 15, 2020

(Story)

Jan 08, 2020

Staff Picks: Albums of the last decade

(Story)

Jan 08, 2020

Police Files: Jan. 8, 2020

(Story)

Dec 04, 2019

Impeachment Inquiry Insights

(Story)

Dec 04, 2019

Police Files: Dec. 4, 2019

(Story)

Dec 02, 2019

Political science professor receives citizenship after 20 years in US

(Story)

Nov 20, 2019

Police Files: Nov. 20, 2019

(Story)

Nov 11, 2019

Police Files: Nov. 13, 2019

(Story)

Nov 07, 2019

Police Files: Nov. 6, 2019

(Story)

Oct 30, 2019

Republicans storm secure impeachment hearings

(Story)

Oct 27, 2019

Police Files: Oct. 30, 2019

(Story)

Oct 18, 2019

Police Files: Oct. 23, 2019

(Story)

Oct 16, 2019

The other anti-abortion group

(Story)

Oct 13, 2019

Police Files: Oct. 16, 2019

(Story)

Oct 07, 2019

Police Files: Oct. 9, 2019

(Story)

Oct 02, 2019

Impeachment: the long road ahead

(Story)

Oct 02, 2019
Sep 15, 2019

News Briefs: September 18, 2019

(Story)

Sep 15, 2019

Satire: An open letter from a proud gun owner

(Story)

Sep 09, 2019

Oakland University student employees are not paid enough

(Story)

Sep 04, 2019

Barstool Sports and the conservative stance on labor

(Story)

Aug 28, 2019

Police Files: September 4, 2019

(Story)

Aug 06, 2019

Police Files: August 7, 2019

(Story)

Jul 30, 2019

Political Focus: Challenging the status quo is the definition of patriotism

(Story)

Jun 26, 2019

Police Files: June 26, 2019

(Story)

Jun 18, 2019

The power unions could have

(Story)

Jun 05, 2019

Police Files: June 5, 2019

(Story)

Jun 05, 2019

Political Focus: Abortion bans sweep multiple states, the most restrictive in American history

(Story)

Apr 10, 2019

Police Files: Greatest Hits of 2018–2019 School Year

(Story)

Apr 10, 2019

Political Focus: Have a great summer, here's a tirade about Trump believing sounds cause cancer

(Story)

Apr 03, 2019

Mixed service record: Honors College volunteering requirements both helpful and confusing

(Story)

Apr 03, 2019

Police Files: April 3, 2019

(Story)

Apr 03, 2019

Political Focus: Trump claims witch hunt is over, but many are still not convinced

(Story)

Mar 27, 2019

Political Focus: Trump forces colleges to protect people with dangerous opinions

(Story)

Mar 27, 2019

Police Files: March 27, 2019

(Story)

Mar 20, 2019

Political Focus: college acceptance scandal shows critical flaws in higher education

(Story)

Mar 20, 2019

Police Files: March 20, 2019

(Story)

Mar 13, 2019

Police Files: March 13, 2019

(Story)

Mar 13, 2019

Political Focus: Days after the Trump-Kim summit, signs of preparing a launch seen in North Korea

(Story)

Mar 06, 2019

Political Focus: Betsy DeVos tries to kill public education… again

(Story)

Mar 06, 2019

Police Files: March 6, 2019

(Story)

Feb 27, 2019

Political Focus: The danger to journalists and media personnel is almost completely the fault of the White House

(Story)

Feb 23, 2019

Police Files: Feb. 27, 2019

(Story)

Feb 13, 2019

Police Files: February 13, 2019

(Story)

Feb 13, 2019

Political Focus: new popular battle royale 'Apex: Legends' releases with diverse roster that draws hate

(Story)

Feb 13, 2019

How intramural sports at OU are adapting to lower participation

(Story)

Feb 06, 2019

Police Files: February 6, 2019

(Story)

Feb 06, 2019

Political Focus: Do not overlook the importance of unions in resolving the government shutdown

(Story)

Jan 31, 2019

Political Focus: Unpaid FBI agents agree to arrest Roger Stone

(Story)

Jan 31, 2019

Police Files: January 30, 2019

(Story)

Jan 23, 2019

Political Focus: The strange anti-abortion stance and Ben Shapiro's comments on baby Hitler

(Story)

Jan 23, 2019

Police Files: January 23, 2019

(Story)

Jan 21, 2019

Campus experts explore the myths of living in a post-racial society

(Story)

Jan 16, 2019

Police Files: January 16, 2019

(Story)

Jan 12, 2019

Political Focus: Rashida Tlaib and Alexandria Ocasio-Cortez targeted just a week after inauguration

(Story)

Jan 09, 2019

Police Files: Jan. 9, 2019

(Story)

Jan 09, 2019

OU bioethics experts weigh in on Chinese gene editing incident

(Story)

Jan 09, 2019

Political Focus: Walls do not work, and there is plenty of evidence to prove it

(Story)

Dec 05, 2018

Political Focus: Man-made climate change is real, and finally politicians are doing something about it

(Story)

Dec 05, 2018

Police Files: Dec. 5, 2018

(Story)

Nov 28, 2018

Police Files: Nov. 28, 2018

(Story)

Nov 28, 2018

Examining the rise in popular African-American cinema

(Story)

Nov 26, 2018

Political Focus: Why do people fear a young, progressive woman of color in politics?

(Story)

Nov 14, 2018

Political Focus: What does the blue wave mean for American politics for the next two years?

(Story)

Nov 14, 2018

Police Files: November 13, 2018

(Story)

Nov 07, 2018

Police Files: November 7, 2018

(Story)

Nov 07, 2018

Political Focus: Racism and violence, the American standard

(Story)

Oct 31, 2018

Police Files: October 31, 2018

(Story)

Oct 31, 2018

Political Focus: What it really means to be a nationalist

(Story)

Oct 24, 2018

International student resources on campus in wake of increased border security

(Story)

Oct 24, 2018

Police Files: October 24, 2018

(Story)

Oct 24, 2018

Political Focus: Legalization day — how our neighbors to the north made marijuana legal

(Story)

Oct 24, 2018

What Proposal 2 means for you on this November's ballot

(Story)

Oct 16, 2018

POLITICAL FOCUS: United Nations commission warns climate will be unfixable by early as 2030

(Story)

Oct 16, 2018

Police Files: Oct. 17, 2018

(Story)

Oct 10, 2018

Police Files: Oct. 10, 2018

(Story)

Oct 10, 2018

Opinion: Amazon workers win the fight for $15, but the war is not nearly over

(Story)

Oct 03, 2018

Political Focus: Kavanaugh and Flake — a tale of no backbones

(Story)

Oct 03, 2018

Police Files: October 3, 2018

(Story)

Sep 26, 2018

Police Files: September 26, 2018

(Story)

Sep 26, 2018

Political Focus: Trump impeachment process nearly began late last year, according to interviews

(Story)

Sep 26, 2018

Political Focus: Why is it so hard for us to believe women's stories of sexual assault?

(Story)

Sep 18, 2018

Political Focus: Independent investigation reports thousands of savable lives after hurricane Maria, despite Trump's claims of slander

(Story)

Sep 18, 2018

Political Focus: Shooting victim Botham Jean slandered after marijuana found in his apartment postmortem

(Story)

Sep 11, 2018

Political Focus: Kavanaugh faces new resistance as hearings reach fourth day

(Story)

Sep 11, 2018

Police Files: September 12, 2018

(Story)

Sep 05, 2018

Police Files: September 5, 2018

(Story)

Sep 05, 2018

Political Focus: After 2016 election anger, DNC abandons superdelegates

(Story)

Sep 05, 2018

Political Focus: Corruption probes find Cohen and Manafort in deep water

(Story)

Aug 01, 2018

Police Files August 1

(Story)

Aug 01, 2018

Political Focus: Michigan's interesting Democratic gubernatorial primary

(Story)

Aug 01, 2018

Political Focus: The Republican double standard – Why Anthony Kennedy's replacement is making everyone so angry

(Story)

Jun 26, 2018

Political Focus: How the U.S. lost any semblance of a moral compass in one fell swoop

(Story)

Jun 26, 2018

Political Focus: Wilbur Ross — the pig hiding in Trump's cabinet

(Story)

Jun 26, 2018

Political Focus: Line 5 and big oil's grasp on the Great Lakes

(Story)

Jun 06, 2018

Standing for nothing: NFL makes rule preventing kneeling during anthem

(Story)

Jun 06, 2018

Political Focus: Convincing ourselves we don't have a gun problem

(Story)