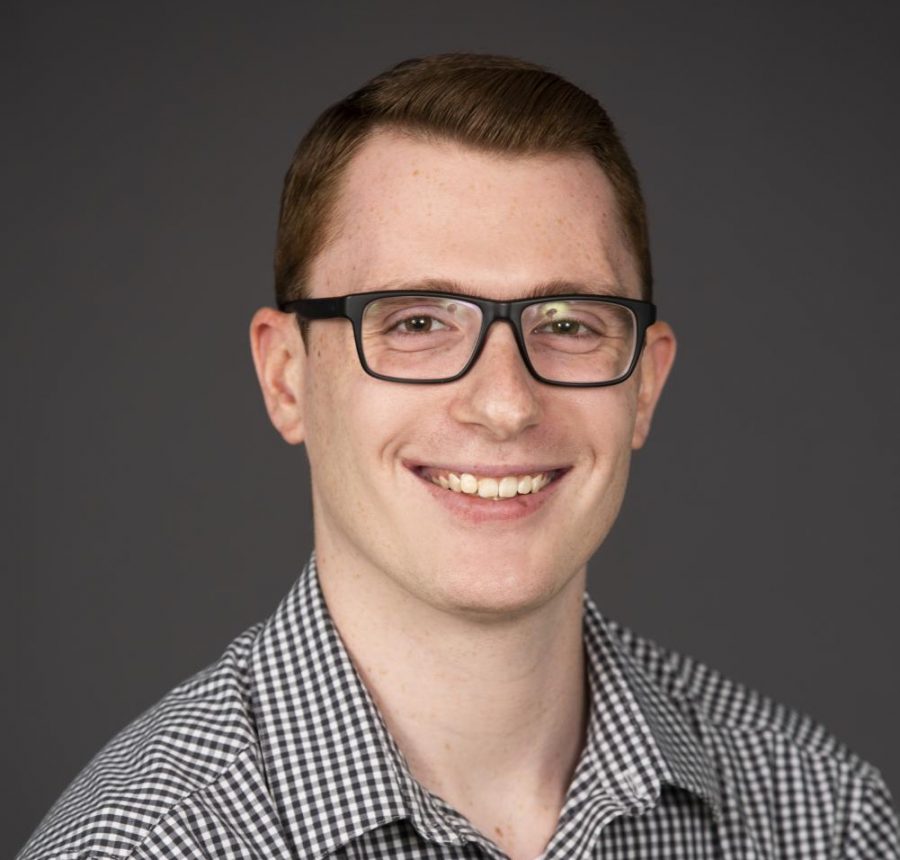 Trevor Tyle
is the editor-in-chief of The Oakland Post. He is responsible for staff management and overseeing the editorial, visual and online creation of content.
A senior at Oakland University, Tyle joined The Post in 2017 as a reporter before becoming the campus editor later that year. The following year, he made the transition to life editor, and in 2019, he was selected as the editor-in-chief of The Oakland Post for the 2019-2020 academic year.
Tyle has a passion for film, rooted in his lifelong commitment as a "Star Wars" fan. Since joining The Post, Tyle has embraced his love of cinema by taking on the role of resident film critic.
Tyle's journalistic endeavors date back to 2012, when he interviewed the touring guitarist for his favorite singer, Adele. He also previously served as the editor-in-chief of his high school newspaper,
The Venturian
, for three-and-a-half years. He is currently pursuing a Bachelor of Arts in journalism, with a double minor in cinema studies and Spanish language.
Trevor Tyle, Editor-in-Chief
Apr 08, 2020

Letter from the editor: Goodbye to the good old days

(Story)

Apr 08, 2020

Moments missed and memories mourned: The senior send-off we never got

(Story)

Apr 04, 2020

University officials confirm first case of COVID-19 on campus

(Story)

Mar 23, 2020

University Housing closing facilities, residents forced to move out

(Story)

Mar 23, 2020

Oakland University to offer satisfactory/unsatisfactory grading option for winter 2020 classes

(Story)

Mar 21, 2020

Administrators provide updates on registration, housing, student employment amid COVID-19 outbreak

(Story)

Mar 18, 2020

Letter from the editor: Moving forward in trying times

(Story)

Mar 17, 2020

University officials provide updates one week after COVID-19 hits Michigan

(Story)

Mar 14, 2020

Campus facilities adjust operating hours in response to COVID-19 outbreak

(Story)

Mar 12, 2020

Campus facilities provide updates following suspension of in-person instruction

(Story)

Mar 11, 2020

Oakland University suspends face-to-face classes for remainder of semester in response to coronavirus outbreak

(Story)

Mar 11, 2020

Dixie Chicks make triumphant comeback with 'Gaslighter': Why we need them now more than ever

(Story)

Mar 04, 2020

Director Dan Scanlon discusses the magic of new film 'Onward'

(Story)

Feb 19, 2020

Board of Trustees appoints new distinguished professors, announces new online MBA

(Story)

Feb 12, 2020

2020 Oscars dominated by 'Parasite,' politics and plummeting ratings

(Story)

Feb 10, 2020

'Birds of Prey' — a ferociously fun celebration of female badassery

(Story)

Feb 05, 2020

Jean Ann Miller receives 2020 George Wibby Award

(Story)

Jan 22, 2020

2020 Oscar nominations prove the Academy is still out-of-touch

(Story)

Jan 08, 2020

'The Rise of Skywalker' — an immensely satisfying, yet notably flawed, finale to the 'Star Wars' saga

(Story)

Dec 04, 2019

'Frozen 2' plays it safe, but is still full of magic

(Story)

Dec 04, 2019

Christmas songs that grind my gears, part 2

(Story)

Nov 20, 2019

President Pescovitz addresses student debt, campus renovations and sustainability at Ask Ora

(Story)

Nov 12, 2019

Director Rian Johnson masterfully revives the murder mystery genre with spectacular 'Knives Out'

(Story)

Oct 23, 2019

'Countdown' confuses creepy with clichéd

(Story)

Oct 16, 2019

South Foundation Hall renovation, enrollment covered at BOT meeting

(Story)

Oct 15, 2019

'Queer Eye' star Antoni Porowski visits campus, talks visibility in media and the importance of kindness

(Story)

Oct 09, 2019

Letter from the editor: Changing the conversation around mental health

(Story)

Oct 09, 2019

Active Minds at OU works to 'stop the silence' surrounding mental health

(Story)

Oct 08, 2019

'Joker' is a crookedly compelling anthology film with a distorted take on mental illness

(Story)

Oct 03, 2019

'Queer Eye' star Antoni Porowski to replace Karamo Brown as homecoming guest speaker

(Story)

Oct 02, 2019

Satire: Managers rejoice as Tropical Storm Karen nears its end

(Story)

Oct 02, 2019

Letter from the editor: Diminishing the digital divide for those with disabilities

(Story)

Sep 23, 2019

25 years later, 'Friends' is still better than whatever you're currently binge-watching

(Story)

Sep 18, 2019

OU alum hopes for living kidney donor after failed transplant

(Story)

Sep 11, 2019

Charter school students approach Board of Trustees to resolve conflict with administration

(Story)

Sep 11, 2019

'It: Chapter Two' is a hauntingly humorous saga finale

(Story)

Sep 04, 2019

$3 million Dodge Hall renovation among approvals at Board of Trustees meeting

(Story)

Sep 04, 2019

Letter from the editor: Cleaning slates and keeping gates

(Story)

Aug 30, 2019

'Queer Eye' star Karamo Brown to visit campus in October

(Story)

Aug 06, 2019

Inside the School of Health Sciences' new nutrition major

(Story)

Aug 06, 2019

'The Lion King' — a visual and vocal accomplishment that dies in the shadow of its predecessor

(Story)

Jun 18, 2019

Despite dynamic leading duo, 'The Dead Don't Die' ultimately disappoints

(Story)

Jun 14, 2019

Shane Lewis hired as director of Undergraduate Admissions

(Story)

Jun 05, 2019

Disney's 'Aladdin' — a mediocre remake that lacks a bit of magic

(Story)

May 29, 2019

Olivia Wilde stuns with amusingly authentic directorial debut 'Booksmart'

(Story)

May 09, 2019

Comedians Ramy Youssef and Dave Merheje are "redefining the expectations" of Muslim representation with new Hulu series

(Story)

Apr 07, 2019

Oscar-winning costume designer Ruth Carter talks 'Black Panther,' importance of representation during campus visit

(Story)

Apr 03, 2019

Music alumna works to positively impact Flint community

(Story)

Mar 27, 2019

Jordan Peele's 'Us' is a terrifying cinematic triumph

(Story)

Mar 20, 2019

Seth Rogen and Charlize Theron defy the odds in hilarious new political rom-com 'Long Shot'

(Story)

Mar 13, 2019

'Captain Marvel' is a flawed — but fun — superhero flick

(Story)

Mar 06, 2019

OU alum aims to fight femmephobia with new film 'Making Masculine'

(Story)

Feb 27, 2019

2019 Oscars prove the Academy has taken one step forward and two steps back

(Story)

Feb 22, 2019

Oscar predictions: What to expect from Hollywood's biggest — and most unpredictable — night

(Story)

Feb 13, 2019

'Green Book' isn't racist, it just doesn't understand racism

(Story)

Feb 06, 2019

Why Netflix's 10 Oscar nominations for 'Roma' matter

(Story)

Jan 24, 2019

OUCARES director wins Oakland County 40 Under 40 'Best of the Best'

(Story)

Jan 23, 2019

'On the Basis of Sex' is a feminist masterpiece

(Story)

Jan 16, 2019

Christian Bale steals the show in Dick Cheney biopic 'Vice'

(Story)

Jan 09, 2019

Sandra Bullock stuns in new Netflix thriller 'Bird Box'

(Story)

Jan 06, 2019

'Mary Poppins Returns' — a practically perfect sequel to a Disney classic

(Story)

Dec 05, 2018

Satire: Christmas songs that grind my gears

(Story)

Nov 28, 2018

"Instant Family" will hit you right in the feels

(Story)

Nov 14, 2018

"Overlord" is the zombie movie you didn't know you needed

(Story)

Nov 14, 2018

Exclusive: Wyatt Russell talks new J.J. Abrams film 'Overlord'

(Story)

Nov 07, 2018

"Bohemian Rhapsody" has little highs, many lows

(Story)

Oct 31, 2018

Exclusive: 'Mid90s' cast talks working on Jonah Hill's directorial debut

(Story)

Oct 24, 2018

"Halloween" — a killer revival of a horror classic

(Story)

Oct 16, 2018

Number of deer crashes in Rochester Hills goes down, but OU still affected

(Story)

Oct 10, 2018

"Bad Times at the El Royale" — a morbid mystery that's a little messed up

(Story)

Oct 07, 2018

'A Star Is Born' is an Oscar-worthy masterpiece

(Story)

Oct 03, 2018

National Assessment of Service and Community Engagement to be offered to students

(Story)

Sep 26, 2018

"Life Itself" is one tearjerking, tragic trainwreck

(Story)

Sep 18, 2018

OU celebrates Taiwanese culture and arts

(Story)

Sep 11, 2018

OUSC to bring Arbor Initiatives Committee to campus

(Story)

Sep 05, 2018

Paralegal Certificate Program hires new coordinator

(Story)

Sep 05, 2018

Local institutions sign articulation agreement

(Story)

Sep 05, 2018

"Christopher Robin" — a sentimental serving of bittersweet nostalgia

(Story)

Sep 05, 2018

"BlacKkKlansman" — the must-see film of 2018

(Story)

Aug 01, 2018

"Mamma Mia! Here We Go Again" is the feel-good movie of the summer

(Story)

Aug 01, 2018

"Mission: Impossible – Fallout" is one epic, jaw-dropping thrill ride

(Story)

Aug 01, 2018

University Libraries launch new catalog management system

(Story)

Jun 26, 2018

"Jurassic World: Fallen Kingdom" is a periodically pleasurable, dino-sized disarray

(Story)

Jun 26, 2018

OU English professor wins the Chapbook Contest for her memoir, "Ink"

(Story)

Jun 26, 2018

"Incredibles 2" is an "up-to-Parr" sequel to a Pixar classic

(Story)

Jun 26, 2018

"Ocean's 8" prioritizes stars over substance, but the payoff is worth it

(Story)

Jun 06, 2018

Personal trainer certification program coming to OU

(Story)

Jun 06, 2018

Department of Writing and Rhetoric renames teaching award to honor late professor

(Story)

Jun 06, 2018

"Solo: A Star Wars Story" is fan service at its finest, for better or worse

(Story)

Jun 06, 2018

"Action Point"? More like "Action Pointless"

(Story)

Apr 30, 2018

"Avengers: Infinity War" is Marvel's biggest and boldest effort yet

(Story)

Apr 10, 2018

"A Quiet Place" is terrifyingly terrific

(Story)

Apr 03, 2018

Students encouraged to lobby for state funding increase during OU Day at the Capitol

(Story)

Apr 03, 2018

New student body president and vice president elected

(Story)

Mar 27, 2018

Streaming: Is it dominating or destroying the music industry?

(Story)

Mar 27, 2018

"Sherlock Gnomes" is the sequel nobody asked for

(Story)

Mar 20, 2018

OU looking to expand online learning

(Story)

Mar 13, 2018

"A Wrinkle in Time" is time you won't get back

(Story)

Mar 06, 2018

90 years later, the Oscars are finally moving into the future

(Story)

Mar 03, 2018

Oscar predictions: What to expect from Hollywood's biggest night

(Story)

Feb 26, 2018

Natalie Portman shimmers in thrilling new film "Annihilation"

(Story)

Feb 13, 2018

Justin Timberlake's new album could be great, but isn't

(Story)

Feb 13, 2018

Reflection room to be included in OC update

(Story)

Feb 06, 2018

National Survey of Student Engagement to be offered to students

(Story)

Jan 30, 2018

Is "The Shape of Water" worth the Oscar hype?

(Story)

Jan 23, 2018

Students set sail for Titanic-themed Casino Night

(Story)

Jan 16, 2018

OPINION: Oprah keeps MLK's dream alive with powerful Golden Globes speech

(Story)

Jan 09, 2018

"Molly's Game" deals a winning hand

(Story)

Jan 09, 2018

OU production receives sweet invitation from prestigious theatre festival

(Story)

Jan 02, 2018

Eminem makes a radiant return with "Revival"

(Story)

Dec 05, 2017

Opinion: Should Trump really be trying to end the "war on Christmas"?

(Story)

Dec 05, 2017

Opinion: Are the Grammys trying too hard?

(Story)

Dec 05, 2017

"Coco" is another tear-jerking triumph for Pixar

(Story)

Nov 28, 2017

Lights brighten up local businesses in downtown Rochester

(Story)

Nov 28, 2017

"Justice League" is the year's most anticipated letdown

(Story)

Nov 14, 2017

"Daddy's Home 2" is familiar, but a whole lot of fun

(Story)

Nov 12, 2017

"Murder on the Orient Express" is a ride (mostly) worth taking

(Story)

Nov 07, 2017

"She's a good person, not just a famous person"

(Story/Media)

Nov 07, 2017

"Thor: Ragnarok" is fierce, fresh and fun

(Story)

Oct 31, 2017

OU Embraces the Halloween spirit: Pennywise would be proud

(Story)

Oct 31, 2017

"Suburbicon" is everything it shouldn't be

(Story)

Oct 23, 2017

"The Snowman" will send shivers down your spine

(Story)

Oct 23, 2017

OPINION: Do journalists need to be licensed?

(Story)

Oct 17, 2017

Public relations major approved for fall 2018

(Story)

Oct 17, 2017

P!nk proves she's still got it with new album, "Beautiful Trauma"

(Story)

Oct 17, 2017

"The Foreigner" is Fun, but Forgettable

(Story)

Oct 09, 2017

"Blade Runner 2049" is a Modern Cinematic Classic

(Story)

Oct 03, 2017

Taiwan Week Comes to OU

(Story)

Oct 01, 2017

Emma Stone serves a gripping spin on sexuality and equality with "Battle of the Sexes"

(Story)

Sep 26, 2017

Tutoring Center receives national certification

(Story)

Sep 26, 2017

Jake Gyllenhaal gives "strong" performance in powerful new film

(Story)

Sep 19, 2017

OU alum experiences hurricane Irma firsthand

(Story)

Sep 19, 2017

Jennifer Lawrence hits the mother load with riveting new film

(Story)

Sep 12, 2017

"Tulip Fever" falls flat despite star-studded cast

(Story)

Sep 12, 2017

Oakland welcomes new bio-ethics society

(Story)

Sep 05, 2017

"Ingrid Goes West" gets honest about the dangers of social media

(Story)

Sep 05, 2017

OPINION: Has the entertainment industry been corrupted by politics?

(Story)

Aug 01, 2017

Broadway producer sits in director's chair for new film

(Story)

Jul 14, 2017

"Spider-Man: Homecoming" Welcomes iconic hero home

(Story)

Jun 23, 2017

OPINION: Lorde finds pop perfection in sophomore album

(Story)

Jun 23, 2017

OPINION: "Transformers: The Last Knight" Will blow audiences away — and not in a good way

(Story)

Jun 13, 2017

Reviving feminism in film: Why "Wonder Woman is the film we need right now

(Story)

May 30, 2017

"Pirates Of The Caribbean: Dead Men Tell No Tales"— fifth installment sinks an already wrecked ship

(Story)

May 30, 2017

New specialization in film making added to cinema studies program

(Story)

May 22, 2017

Alien: Covenant—A Promising Prequel To A Sci-Fi Classic

(Story)