Seth Rogen and Charlize Theron defy the odds in hilarious new political rom-com 'Long Shot'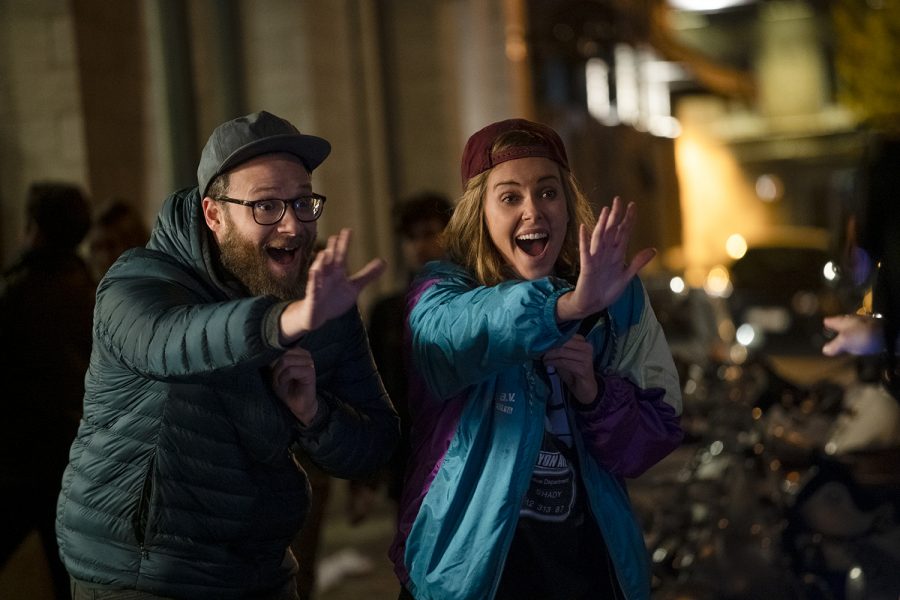 There's nothing really appealing about a film that's labelled a "political romantic comedy." I mean, come on, how many people really like politics or rom-coms?
But that's exactly how Seth Rogen and Charlize Theron's new film, "Long Shot," is being marketed, and in spite of my initial reservations, it's beyond a pleasant surprise.
The film follows Fred Flarsky (Rogen), a journalist who quits his job after the newspaper he works for is bought out by conservative media conglomerate Wembley Media. While mourning his employment, he reconnects with Charlotte Field (Theron), his former babysitter and the current secretary of state.
Charlotte is pursuing the American presidency in 2020 and preparing for a rigorous campaign, which she hopes will culminate in an endorsement from the current president (Bob Odenkirk). Despite the reservations of her team (June Diane Raphael and Ravi Patel), she hires Fred as her speech writer. But his appointment to her staff quickly develops into a passionate romance, one that poses the threat of jeopardizing Charlotte's career — and her chances at becoming the first female president.
"Long Shot" is incredibly ambitious — seemingly to a fault — in trying to fit within the constraints of so many genres, many of which are difficult to do successfully. But it flourishes in spite of those odds, creating a film that perfectly balances gritty politics with tear-inducing comedy.
Much of this can be attributed to the brilliantly crafted writing team of Dan Sterling ("The Office") and Liz Hannah ("The Post"). Sterling's clear mastery of comedy, combined with Hannah's undeniable understanding of politics, makes for a wonderful collaboration that is worth revisiting for future projects. Direction from Jonathan Levine ("Mike and Dave Need Wedding Dates") completes the creative package, guaranteeing this film is undoubtedly one of the funniest of the year.
But that's not the film's only dream team. I was, naturally, surprised to learn Rogen and Theron would be playing opposite each other in a romantic comedy — which is, perhaps, a bit shallow on my part. (Theron being "out of Rogen's league" is both a crucial plot point and an important life lesson that features prominently in this film.) But their combined forces are truly magnificent. Rogen is known for his natural comedic ability, but Theron — who has dabbled in comedy projects before — is surprisingly hilarious. (I say "surprisingly" only because of the overpowering memorability of her more serious roles.)
Needless to say, "Long Shot" is a film that thrives on chemistry. And while Rogen and Theron steal the show, the film's supporting cast — which also includes O'Shea Jackson Jr., Alexander Skarsgård and a remarkable Andy Serkis — provides some stellar performances as well. My only true complaint is the brief appearance of "Friends" star Lisa Kudrow, whose character is criminally reduced to one scene.
On the political spectrum, "Long Shot" makes some very clear digs at Republicans. Wembley Media is an obvious jab at Fox News, while Odenkirk's character — a dimwitted television star-turned-president — is an undeniable jab at Donald Trump's history as a celebrity before becoming commander in chief. In spite of that, this is a film that mostly appeals to both sides.
"Long Shot" is a nearly faultless film that drives home the long-overdue universal messages of bipartisan agreement, the sexist double standards of American politics and beauty extending beyond the surface. And it will still have you roaring with laughter for the entirety of its two-hour duration. Unfortunately, its May 3 release date may jeopardize its box office success ("Avengers: Endgame" hits theaters just one week prior), but make no mistake — this film is one worth seeing.
Rating: 4.5/5 stars