'Frozen 2' plays it safe, but is still full of magic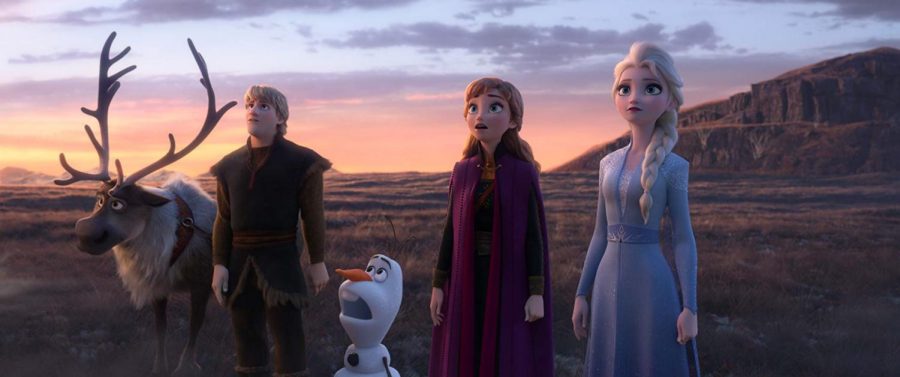 When "Frozen" hit theaters back in 2013, no one could've predicted it would become the phenomenon that it did. Its surprise success made its protagonists — namely, the ice queen Elsa (Idina Menzel), her sister Anna (Kristen Bell) and the lovable talking snowman Olaf (Josh Gad) — a staple in the ever-growing catalogue of iconic Disney characters. It also made Disney a lot of money. 
But after its abrupt launch from a singular film into a global franchise, the pressure of "Frozen's" inevitable sequel loomed over Disney executives. For six years, the world waited to see how co-directors Chris Buck and Jennifer Lee approached the daunting task of recreating the magic of the original film, and though it doesn't quite manage to capture what made its predecessor so special, I'm relieved to say "Frozen 2" manages to come closer than I ever thought it would. 
Narratively, it pretty quickly becomes clear that the "Frozen" fever that took the world by storm was just as unanticipated by Disney execs as it was by all of us. The bar was set very high, and the sequel's attempts to live up to that make for an occasionally convoluted storyline. (For a kids' movie with a talking snowman and magical princess, this doesn't pose too much of a problem for its core audience, though.) Buck and Lee rely heavily on formulas from its predecessor — perhaps a little too much — but considering how great the original was, who could blame them?
Set three years after the events of the first film, Elsa, having grown more capable and confident in her powers, now leads Arendelle with her sister Anna by her side. But a mysterious voice has been calling out to her, and after deciding to answer it — followed by Anna, Olaf, ice harvester Kristoff (Jonathan Groff) and his trusty reindeer Sven — she's led to an enchanted forest that holds secrets of both past and future. 
While it sounds like "Frozen 2" is all about Elsa — and believe me, she gets plenty of her own show-stopping moments (we'll get to that in a minute) — Olaf is, unsurprisingly, the real star of the show. Though "Frozen 2" is comprised of a flawless ensemble vocal cast, Gad brings an incomparable charm to the character that ensures he hasn't lost an ounce of what made audiences fall in love with him in the first film. 
And speaking of voices, perhaps the most defining voice of the film is Menzel, who is given several moments to showcase her Tony Award-winning vocal pipes, perhaps even more impressive now than before. "Frozen 2" doesn't boast any numbers that reach the greatness of "Let It Go" — or anything from the previous soundtrack, to be honest. But its clearest — and most successful — attempts at replicating it come in Menzel's numbers, "Into the Unknown" and "Show Yourself." They're not quite as memorable, but they're effective enough, serving as a reminder of Menzel's incredible vocal skills.
"Frozen 2" is also visually stunning from beginning to end. Though hardly surprising, the animation in this film is a whole new level of mesmerizing. A few key sequences featuring Elsa and some water are particularly noteworthy, though for the sake of spoilers, I'll keep it vague. (You'll know what I mean when you watch the film.)
For what it's worth, "Frozen 2" could've been complete crap and it would still be a box office success. Thankfully, it's not, though, and that's why it works so well. "Frozen 2" pales in comparison to the original, but it's still absolutely worth the wait — and the watch. 
Rating: 4/5 stars