OUCARES director wins Oakland County 40 Under 40 'Best of the Best'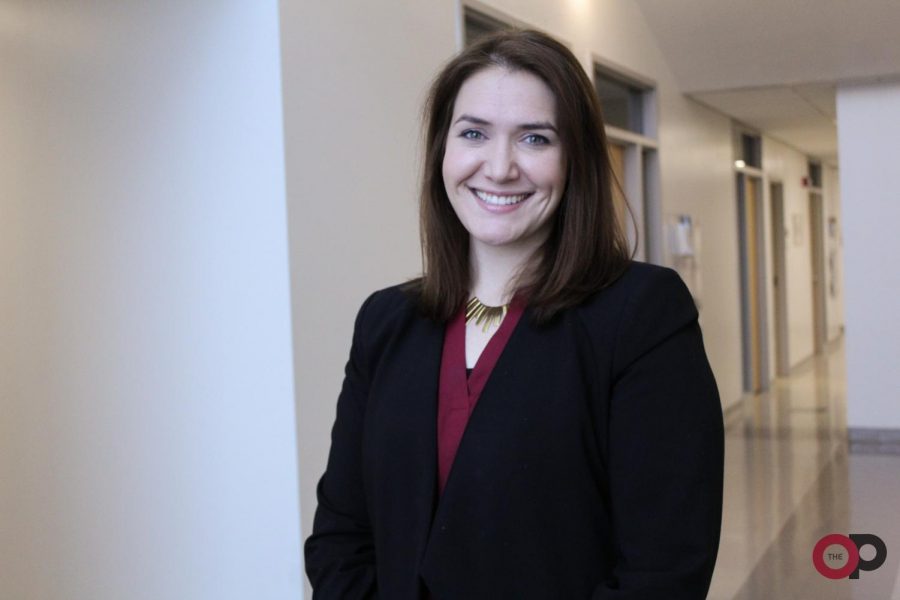 The director of one of Oakland University's most successful programs is being recognized for her work with individuals with autism.
Kristin Rohrbeck, director of the Joanne and Ted Lindsay Foundation Autism Outreach Services (OUCARES), has been selected as a member of the Oakland County Elite 40 Under 40 Class Set for 2019.
The Elite 40 program, now in its eighth year, "recognizes and spotlights dynamic leaders under the age of 40 who are making a difference in Oakland County and beyond," according to the Oakland County website.
"To be selected to be one of the top 40 makes me feel extremely proud for the accomplishments that I have achieved, and to be recognized for a lot of hard work along the way," Rohrbeck said of the nomination.
Out of the approximately 250 applications received, Rohrbeck was one of the three individuals with the highest scores, qualifying her for entry in an online public vote that will determine the 2019 winner. She is competing against Dr. Candice Colby-Scott of the Michigan Ear Institute and OU graduate Nicholas C. Kristock, CEO of Empathy 313, for the top spot.
"To be one of the top three is remarkable," Rohrbeck said. "It makes me feel like all the hard work and the time and the effort that I put into my professional life means to others what it means to me."
The winner will, among other opportunities, introduce Oakland County Executive L. Brooks Patterson at his State of the County address on Thursday, Feb. 7.
"I'm excited about this outstanding class of talented and passionate leaders who are committed to improving their professions and their communities every day," Patterson said in a statement. "These young leaders are wonderful ambassadors for Oakland County."
OUCARES serves roughly 1,200 individuals with autism every year, and 2,300 individuals total when factoring in family members, educators and other community members. They also offer over 100 annual programs.
Rohrbeck's experience working with people on the autism spectrum goes back several years, having been inspired by the effects of autism on her own family.
"I saw the lack of opportunities oftentimes for people with autism, the lack of awareness and understanding by the community, and the lack of inclusion in the community," she said. "I wanted to make a difference to help people with autism and disabilities in general to be more included in all of our communities."
Rohrbeck joined OUCARES in 2012 as the program coordinator before being promoted to director in 2015. The past year has been one of her busiest, as she and OUCARES have celebrated several big accomplishments.
In October 2018, OUCARES received a University Professional and Continuing Education Association Engagement Award for their Pre-Employment Skills Training Program for adults, which has helped over 30 participants either find jobs or continue their education to achieve career goals. Later that month, OUCARES partnered with the Office for Disability Support Services to bring autism advocate Dr. Temple Grandin to campus.
In November 2018, OUCARES received a $1 million gift from the Ted Lindsay Foundation, a direct result of a "years in the making" partnership developed by Rohrbeck between the two organizations. Consequently, both will be recognized during Autism Awareness Day at the men's basketball game against Cleveland State University on Saturday, Feb. 2.
But as far as she's concerned, none of these honors exceed the conversations she shares with families on a weekly basis about the positive effects of OUCARES' programs has on their family members' lives.
"I care about the people I work for, the community impacted by autism, I care about the people I work with," Rohrbeck said. "That's what drives me to continue to do what I do."
The Elite 40 winner will officially be announced on Feb. 7, prior to the State of the County address.
Update: Rohrbeck has officially been announced as the winner of the Oakland County 40 Under 40 Class Set for 2019. She had the opportunity to introduce Patterson prior to the State of the County address on Feb. 7, 2019.
"I am extremely humbled to have been voted the winner of this year's Elite 40 Under 40 class because I know there are many amazing individuals who make up the class," Rohrbeck said in a statement. "I am grateful to my family, friends and colleagues who supported me during the voting process, and during my professional and personal highs and lows that have led me to this point in my life."
The entire address, including Rohrbeck's speech, is available to watch on YouTube.
Updated Feb. 8, 2019.