'The Rise of Skywalker' — an immensely satisfying, yet notably flawed, finale to the 'Star Wars' saga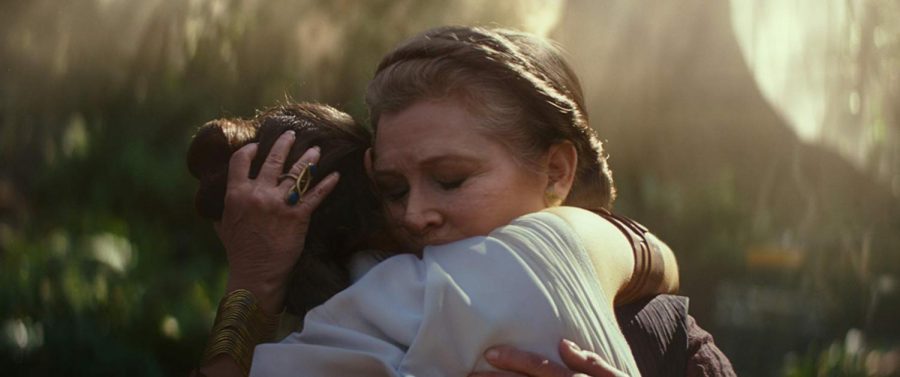 I was 5 years old when my dad showed me the first "Star Wars" film. From the moment "A long time ago, in a galaxy far, far away…" flashed on the screen in that magnificent teal blue typeface, I knew I had taken my first step into a larger world. That film — and everything that followed it — was something that I'd carry with me for the rest of my life. 
Truthfully, "Star Wars" was the reason I became a writer. To know that somebody like George Lucas could create and build on a world as incredible as the galaxy that exists in the "Star Wars" universe was mind-blowing to me, and I wanted nothing more than to be able to change lives with my writing in the same way that Lucas did with those films. In fact, I never would've even attempted a film review, or added a film minor onto my bachelor's degree, if it weren't for "Star Wars."
These films have come to define not only my childhood, but also a huge chapter of my life — a chapter that is now being closed with "The Rise of Skywalker," the conclusion to the episodic "Star Wars" saga. As a lifelong fan, the stakes were immensely high on this one, but director J.J. Abrams delivered a flawed, yet satisfying, end to the franchise, which has spanned over four decades.
Set a year after the events of "The Last Jedi," the film opens with the revelation that franchise baddie Emperor Palpatine (Ian McDiarmid) has returned after having been presumed dead for the past 31 years. Determined to end the Resistance once and for all, Palpatine summons a massive fleet to resolidify his rule over the galaxy and calls upon Kylo Ren (Adam Driver) to kill Rey (Daisy Ridley), the last of the Jedi. 
Rey, meanwhile, continues her Jedi training, now under the instruction of General Leia Organa (the late Carrie Fisher). Upon learning of Palpatine's return, Leia sends Rey and Resistance fighters Finn (John Boyega) and Poe (Oscar Isaac) on a mission to track down a Sith wayfinder, an ancient artifact once sought out by the late Luke Skywalker (Mark Hamill), to help the heroes find and stop Palpatine. As the Resistance prepares to face the First Order for one final confrontation, Rey must face the mysteries of her past and future to fulfill her destiny as the last Jedi. 
Many fans approached "Skywalker" with cautious optimism after its predecessors — 2015's "The Force Awakens" (directed by Abrams) and, far more notably, 2017's "The Last Jedi" (directed by Rian Johnson) — were met with a barrage of fan backlash. (For what it's worth, I loved both films and consider "The Last Jedi" to be the best "Star Wars" film since the Original Trilogy.) Abrams was given the daunting task of bringing an end to not only this trilogy, but the entire franchise — and doing so without one of its irreplaceable leads.
Fisher's death in 2016 loomed over this film like a dark cloud. Though she had completed her scenes for "The Last Jedi," Fisher had not filmed anything for the franchise's ninth installment, which was set to have the character of Leia front and center. Thankfully, Abrams had about eight minutes of unused footage of Fisher from "The Force Awakens" that was able to be repurposed for this film, giving both the actor and character a fitting — and extremely emotional — end. As someone who adored both Fisher and Leia, I was beyond satisfied with her role in the film, which more than fulfilled my hopes for the character.
"Skywalker" also masterfully and respectfully utilizes the remainder of the Original Trilogy heroes. Billy Dee Williams brilliantly reprises his role as Lando Calrissian for the first time since 1983's "Return of the Jedi," and the film also gives C-3PO actor Anthony Daniels — the only actor to appear in every live-action "Star Wars" film — one final chance to shine. (The character's beloved counterpart R2-D2, however, is disappointingly underused yet again in this film.) Hamill's appearance as Luke Skywalker, though brief, is also an absolute standout.
Yet the real scene-stealers in this film are yet again the electric duo of Ridley and Driver, whose characters' destinies are so vitally intertwined that it's surprising how well each character stands on their own. The dynamic between Rey and Kylo is the heart of the film, and rightfully so, but Ridley in particular also gives an incomparable performance in her bittersweet finale as Rey.
Unfortunately, this was at the expense of some of the other heroes — namely Finn and Resistance fighter Rose Tico (Kelly Marie Tran). Boyega's role as Finn has been reduced to a sidekick with minimal development whose primary purpose is to yell "Rey!" in dangerous situations.
Even more disappointing, though, is the treatment of Rose, who received minimal screentime after Tran was targeted by online trolls for her appearance in "The Last Jedi." Writer Chris Terrio has since confirmed this was, in part, due to her having scenes with the late Fisher that did not make sense in the context of the final film, though the mere minute and 16 seconds Rose appears in "The Rise of Skywalker" is still entirely unacceptable. 
Whether intentional or not, this is just one of the many ways in which Abrams rather predictably pandered to fans with this film. While the fan service was effective in some ways — particularly with regard to veteran characters — it also created a plethora of problems, including pacing issues, plot inconsistencies and convoluted storylines with little explanation. (Sorry, Palpatine fans — this film offers absolutely no context as to how he survived his fall at the end of "Return of the Jedi," or where in the hell he's been for the past 31 years.) 
Needless to say, "Skywalker" is a big film, and Abrams had a lot to cram into its two-and-a-half-hour runtime. While it is indubitably flawed, it almost immediately makes up for every issue it creates. Nearly every important question raised before the film's release — including Rey's parentage and the fate of Kylo Ren — are addressed with certainty and finality by the time the end credits roll.
For all its faults — many of which can be attributed to Disney's lack of planning with this trilogy — "The Rise of Skywalker" is still an incredibly satisfying film, and the toxicity of the "Star Wars" fan base is largely to blame for its bad rep. The film's second half in particular is absolutely breathtaking, offering some of the best fight sequences the saga has ever offered, heightened by some incredible performances and a spectacular score, courtesy of veteran composer John Williams. 
"The Rise of Skywalker" unifies all nine films within the Skywalker saga, bringing the franchise to a satisfying close. It feels very much like saying goodbye to a childhood friend. I left the theater with tears in my eyes, joy in my heart and a massive smile on my face. 
Rating: 4/5 stars