Dixie Chicks make triumphant comeback with 'Gaslighter': Why we need them now more than ever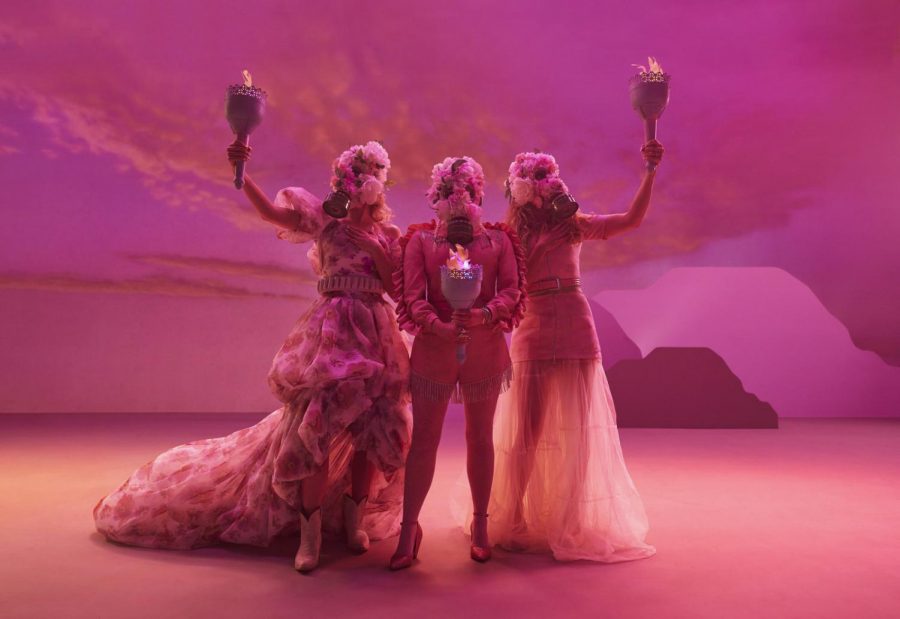 Seventeen years after getting fucked over by country music "fans" across the nation, the Dixie Chicks are finally back.
It may sound harsh, but so were the consequences of lead singer Natalie Maines' career-costing exertion of free speech against then-President George W. Bush's administration, which took the country trio from the top of the world to the depths of hell.
It was March 10, 2003 — less than two weeks before the U.S. invaded Iraq — when Maines expressed her disapproval of the Bush administration to the audience during a show in London.
"Just so you know, we're on the good side with y'all," the Texas-born songstress said at the time. "We do not want this war, this violence, and we're ashamed that the president of the United States is from Texas."
The repercussions were almost immediate. The largely conservative following of country music that had helped the band become America's best-selling female group of all-time disowned them instantly, organizing CD burning parties and banning them from country airwaves. 
That wasn't the end of the Dixie Chicks, though. They shot back stronger than ever with their magnum opus, 2007's "Taking the Long Way," which was largely ignored by country radio, but scored the trio five Grammy Awards, including Album, Record and Song of the Year. Its lead single, "Not Ready to Make Nice," a scathing "fuck you" addressed toward the Chicks' haters, became their first top five single on the Billboard Hot 100.
That was 14 years ago. Aside from a few solo projects and occasional collaborations with the likes of Beyoncé and Taylor Swift, the trio — which, in addition to Maines, comprises sisters Emily Strayer and Martie Maguire — had disappeared from music. And their absence was felt. 
But after such a long time gone, the Dixie Chicks are finally back and better than ever with a new album, "Gaslighter," set for release on May 1. Last week, the band unveiled the album's title track as its lead single, an unapologetic diss aimed at Maines' ex-husband in the wake of their messy divorce. And it's absolutely glorious.
I've been a devoted fan of the Dixie Chicks since I was 2 years old, and as a child, seeing a trio of musical goddesses I absolutely worshiped get blacklisted by their own so-called fan base was both confusing and disappointing. I've spent the majority of my life wondering if the Chicks would ever come back, and I'm elated that it was worth the wait.
Produced by frequent Swift collaborator Jack Antonoff, "Gaslighter" is as brutally honest and painstakingly catchy as the band's earlier hits — think "Goodbye Earl" meets "The Long Way Around." A defiantly feminist breakup anthem full of grit, rage and the group's signature three-part harmonies, "Gaslighter" is exactly what fans would expect — fresh, fun and fierce, just as it should be. The level of care put into the track is immediately evident — this song was made for the group's true fans, not the traitorous ex-supporters that turned their backs on the Chicks for speaking their minds. 
Within the first 48 hours of its release, "Gaslighter" had reached over three million radio listeners. The Chicks' return to country radio has been called a "cultural event," though it remains to be seen if the song will have any longevity given the genre's largely Republican audience, many of whom still resent the trio for what they said almost two decades ago.
The Dixie Chicks were unfairly made victims of cancel culture before it was even a thing — and honestly, even now, the consequences are far less critical. People who have done far worse had a much easier time finding forgiveness. Take Michael Jackson, who has somehow managed to posthumously maintain his legend status despite a legacy tarnished by continued sexual abuse allegations.
Then, there's Kanye West, who proclaimed Donald Trump a "hero" and suggested slavery was a "choice" without even the slightest decline in record or ticket sales. No one has better exemplified an inappropriate exercise of free speech than Trump himself — he says whatever the fuck he wants on Twitter, and after narrowly dodging a presidential impeachment, the repercussions for his behavior have been pretty minimal, considering he's supposed to be the leader of our country.
Only in America can a troop of powerful women be permanently punished for being outspoken about an issue for which they're entitled to have an opinion. Just as much as I'm sure the Chicks' return was, in part, intended to coincide with Trump's attempt at a second term in office, I'm sure their comeback occurring in an era of far more belief-based lenience was no accident.
I don't believe that double standard has disappeared yet, and even if it has, country music still doesn't deserve the Dixie Chicks after what it did to them. But the genre has undeniably taken a qualitative dump in recent years, and, truthfully, it needs the Dixie Chicks — perhaps now more than ever. The music industry needs them. We need them.
And damn it, I'm glad they're back.