Disney's 'Aladdin' — a mediocre remake that lacks a bit of magic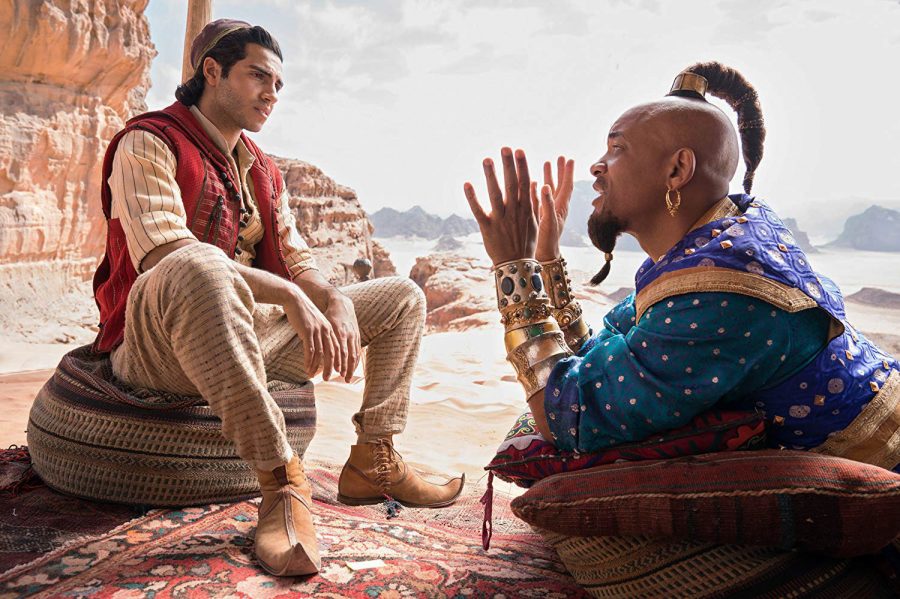 It's no secret that Disney is one of the most successful companies in the world. Forbes recently named it the eighth most valuable brand in the world, and just last month, it snagged the record for fastest film to make $2 billion at the box office with "Avengers: Endgame."
But in spite of the financial success, the House of Mouse is still struggling in the place where it should be most comfortable — its original classics.
After a slew of successful live-action remakes, including "Cinderella," "Beauty and the Beast" and "Dumbo," Disney has tackled a modernized adaptation of one of its most beloved films — 1992's "Aladdin."
The story follows Aladdin (Mena Massoud), an impoverished young man living in the streets of the desert kingdom of Agrabah, who falls in love with the kingdom's involuntarily reclusive Princess Jasmine (Naomi Scott).
After being manipulated by Jafar (Marwan Kenzari) — the wicked adviser to the Sultan (Navid Negahban) who plots to overthrow him — Aladdin comes into possession of a magic lamp, befriending the Genie that resides inside of it (Will Smith). With the help of his newfound magical acquaintance, Aladdin becomes a prince in hopes of wooing Jasmine and defeating Jafar.
"Aladdin" has always been considered one of Disney's finest offerings, which heightened the stakes for anything succeeding it. The 2019 version, directed by Guy Ritchie, is, for the most part, true to the original, which works both for and against it.
Much like its source material, "Aladdin" is a visual spectacle, from its show-stopping musical numbers to its gorgeous costume design — both of which are most evident during the Bollywood-esque "Prince Ali" sequence.  
It's certainly nothing new or innovative — and who would expect it to be? — but it does offer some intriguing changes to the narrative. This version highlights Jasmine's progressive ambitions to succeed her father as the first female Sultan of Agrabah. The film also introduces Dalia (Nasim Pedrad), Jasmine's handmaiden and the Genie's love interest, which provides some unexpectedly necessary humor and depth to the characters with whom she interacts.
But the film's most glaring change is not the fault of the filmmakers so much as it is that of time. It may be called "Aladdin," but Genie has always been the real star of this story. Originally brought to life by Robin Williams in the 1992 film, the iconic character's movement and energy warranted the usage of more extensive CGI when translated to live-action, which is a bit jarring, to say the least — in blue form, Smith's Genie could easily pass for a character in "Avatar."
Though many were skeptical, Smith does an impeccable job overall — especially given the unfair task he had of living up to Williams' legacy. Though he occasionally falters, his portrayal of Genie ultimately succeeds by refusing to replicate Williams' mannerisms. He brings his own charm and flair to the role, which is both relieving and refreshing.
The combined forces of Smith, Massoud and Scott make up some of the finest casting in any of the Disney live-action remakes, thanks to their solid acting and vocal chops. Kenzari, on the other hand, is a decent Jafar, but lacks the menacing bravado that made the animated version so despicably fantastic.
Overall, "Aladdin" is a solid, entertaining addition to the live-action Disney catalog. The film has the potential to be great, but Ritchie failed it by not realizing that a little goes a long way — it suffers from major pacing issues in its final 30 minutes and a headache-inducing dependence on CGI.
It may not offer us "a whole new world" in terms of originality, but until Disney stops profiting off our sweet spot for nostalgia, these remakes will probably be around for a while. It may not be the most necessary film at the moment, but "Aladdin" is still a fun opportunity to bring a timeless tale to a new generation.
Rating: 3.5/5 stars