"Avengers: Infinity War" is Marvel's biggest and boldest effort yet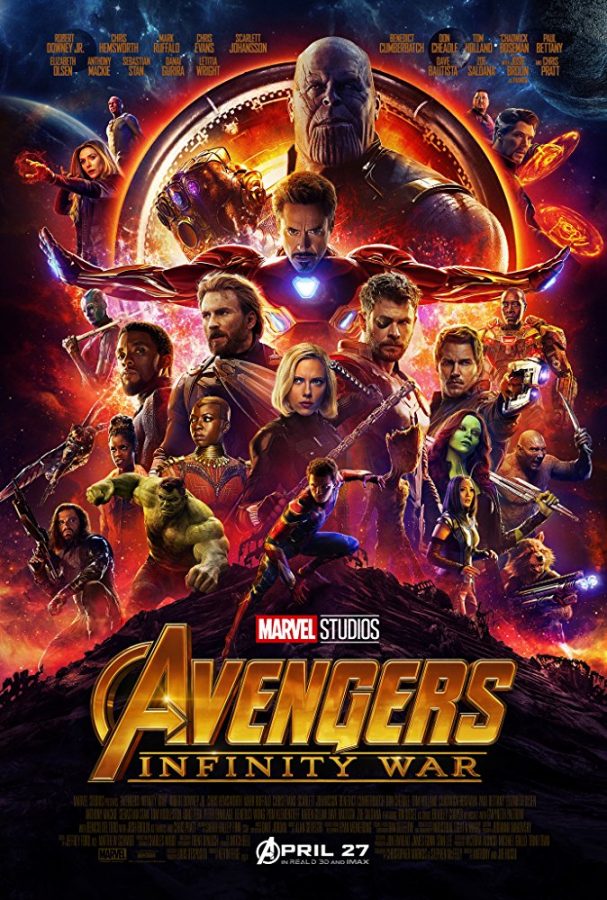 Ten years, 19 films and over $15.4 billion later, the Marvel Cinematic Universe has become the highest-grossing film franchise of all-time. But quantity and quality are two separate things, and while Marvel is generally consistent in both areas, the expectations for the franchise's newest installment, "Avengers: Infinity War," were at an all-time high.
Thankfully for fans, "Infinity War" is more than worth the wait.
Directed by Anthony and Joe Russo ("Captain America: The Winter Soldier," "Captain America: Civil War"), "Infinity War" finds over two dozen of the most iconic superheroes face-to-face with the impending threat of the Titan warlord Thanos (Josh Brolin) on a desperate quest to retrieve the remainder of the Infinity Stones, powerful objects that can destroy half of all life in the universe.
Perhaps more than any of its predecessors, "Infinity War" is a film made entirely for fans. Going into it with only a general knowledge of the heroes and their backstories will suffice, but probably won't elicit the same reaction as those of hardcore fans. (If you have the chance, you should at least rewatch "Civil War" and the "Guardians of the Galaxy" films, though.)
The Guardians, helmed by Star Lord (Chris Pratt) and Gamora (Zoe Saldana) are just a few of the newer heroes that are—surprisingly and thankfully—given plenty of screentime to spar with veteran Avengers Iron Man (Robert Downey Jr.), Captain America (Chris Evans), Thor (Chris Hemsworth), Black Widow (Scarlett Johansson) and the Hulk (Mark Ruffalo). Fan favorites Black Panther (Chadwick Boseman), Doctor Strange (Benedict Cumberbatch) and Spider-Man (Tom Holland) are also along for the ride—and that's still not everyone. Sans a few notable absences in "Infinity War," the gang's all here.
The tremendous star power of the film is both its greatest strength and its greatest weakness, but for the most part, the Russo brothers have balanced the characters' intertwining fates rather brilliantly. It's hard to even complain about the film's lack of breathing room—its complexity never extends beyond audiences' comprehension, nor will it forfeit their attention for even a second.
Still, "Infinity War" leaves much to be desired. Initially intended to be the first of a two-part finale, the film unsurprisingly culminates in a final battle that is one for the ages, before ending on a cliffhanger—and yes, there is a post-credits scene that you HAVE to stay for.
Fans will get enough answers to hold them over until the release of "Avengers 4" next May, but this story is far from over.
Without delving too deep into spoiler territory, knowing Marvel's current lineup of films in production will certainly affect how viewers perceive certain characters' predicaments by "Infinity War's" conclusion. Though a film this massive inevitably sparked countless fan theories prior to release, "Infinity War" dances around them and then goes places that nobody could've seen coming.
But the unpredictable nature of "Infinity War" is what makes it so great. Ten years after its conception, the Marvel Cinematic Universe is finally starting to take some risks—and let me tell you, they are bold. Slowly, creators and consumers are coming to terms with the realization that the end is near for many of our favorite heroes, and the losses experienced throughout the film will—for the most part—soften the inevitable blows that "Avengers 4" will bring.
At its core, "Infinity War" holds an unequivocal emotional impact, but at its surface, it's still an explosive, thrilling experience that has probably set the bar too high for every other summer blockbuster this year.
It may not reach the highs of the incomparable "Black Panther," but "Infinity War" is hands down one of Marvel's strongest offerings. The excitement you feel at the beginning of the film will have only intensified by its conclusion, leaving "Avengers 4" with the difficult, but doable, job of tying up the loose ends in a fulfilling way.
As Black Panther's right-hand woman Okoye (Danai Gurira) declares in the film's pulsating finale, "It will be the noblest ending in history."
Rating: 4.5/5 stars