Board of Trustees appoints new distinguished professors, announces new online MBA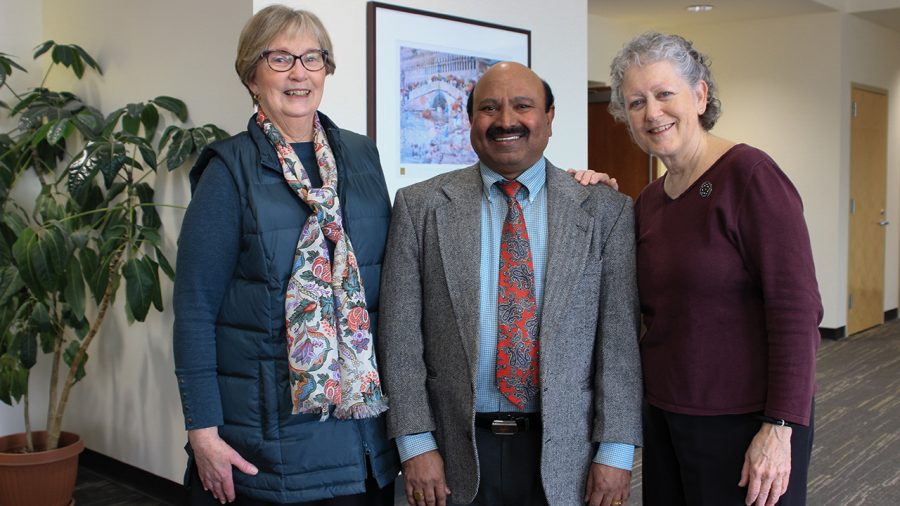 Professor promotions and program changes were among the topics discussed at the most recent Oakland University Board of Trustees (BOT) formal session, which took place Monday, Feb. 10 in the Oakland Center.
Advisory board reports
The meeting began with a series of updates from the advisory boards for the Golden Grizzlies Champions Club (GGCC) and the Young Alumni Chapter.
The GGCC, the official fundraising arm of OU Athletics, was represented by advisory board chair Anne Dieters-Williams and vice chair Mark Guthrie. According to their report, the GGCC has received $246,457.51 in philanthropic gifts since its inception, all of which goes toward offering financial support to student athletes. 
The Young Alumni Chapter was represented by Kristen Macha, assistant director of alumni engagement, and Young Alumni Chapter Chair Amy Ring Cebelak. The organization's purpose is to encourage continued engagement in the campus community among young alumni beyond their four years at OU. The Young Alumni Chapter has seen a 100% giving rate from its members within the last four consecutive years.
President's report
President Ora Hirsch Pescovitz provided the BOT with progress reports for several ongoing campus initiatives, including the recently launched Golden Grizzlies Graduate program, which was comprised of nine graduates in the fall 2019 semester. The goal of the program is to increase degree completion among students with college credits who have not completed their degrees. The program has 20 additional degree candidates scheduled to graduate this spring, with 126 total participants.
Additionally, Pescovitz announced a 10.1% increase in transfer students for the fall 2019 semester — more than any competing institutions across the state.
"This requires a huge amount of effort — it doesn't just happen," she said, "but it is a reflection of the fact that Oakland is increasingly a university of choice."
Pescovitz also reported an increase in employer recruitment for OU students. Among the statistics she shared was a 90% employment rate for current OU graduates. 
"Our contributions to the Michigan economy are significant," Pescovitz said. "These students are receiving extraordinary employment, and they are working at top jobs, and I am really, really proud of this."
Among other highlights were the $535,252 raised during the All University Fund Drive, the $273,475 raised in the OU/University of Detroit Mercy Annual Giving Challenge, the establishment of seven new endowments and a recap of last month's Keeper of the Dream celebration.
Online MBA announced
Michael Mazzeo, dean of the School of Business Administration (SBA), was also present at the BOT meeting to discuss the school's current and future endeavors. His presentation was largely focused on student success, including the ACHIEVE program and the student-managed investment fund. 
Mazzeo also announced that, in correspondence with SBA's 50th anniversary, a new online Master of Business Administration (MBA) program is being implemented to assist in student retention and influence new enrollment. 
"The MBA market in general is on a decline, but not in southeast Michigan," Mazzeo said.
The new program will officially launch in the fall 2020 semester. The school's previously existing executive MBA program has also been relaunched with a more leadership-based focus.
Professor appointments
The BOT also unanimously approved a request to appoint Linda Pavonetti (School of Education and Human Services), Karen Sheridan (School of Music, Theatre and Dance) and Vijayan Sugumaran (School of Business Administration) to the rank of distinguished professor.
"These professors are outstanding examples of people who are not only really excellent in their discipline, but also people who have been here a long time and committed a lot of their career and lives to Oakland University," said Senior Vice President for Academic Affairs and Provost James Lentini. "They really fit the bill for people who make a real impact on the institution and on our students."
The distinction includes a one-time salary stipend of $2,500 and an annual supplies and services allocation of $1,500, up to five years, to be paid from the provost's discretionary fund.
 The professors' appointment will go into effect Aug. 15.
Charter renewals
The BOT meeting concluded with charter renewals for Four Corners Montessori Academy, Universal Academy and Weston Preparatory Academy, all of which operate under the Office of Public School Academies at OU. 
Universal Academy came under fire at the August 2019 BOT meeting after students alleged that administrators were diminishing the quality of their education. According to PSA Executive Director Judeen Bartos, those conditions have improved drastically since then, largely thanks to site visits and ongoing meetings between the PSA office and student, parent and faculty groups.
"I think [the communication is] much better," she said. "There has been a different tone and a different experience this year in the school."
The next Board of Trustees meeting will be Monday, April 6 at 2 p.m. in Founders Ballroom A.