"Action Point"? More like "Action Pointless"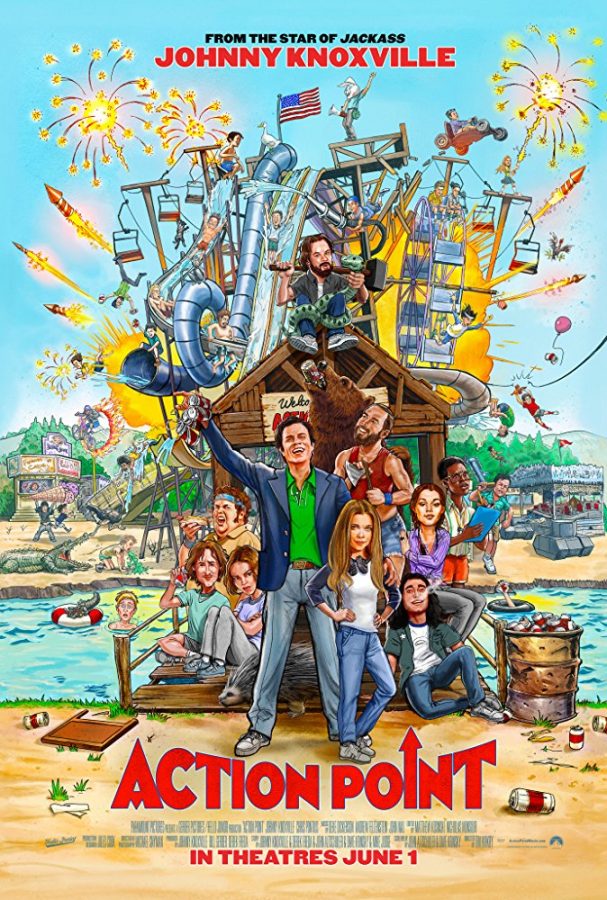 Johnny Knoxville films are infamous for senseless stunts, comedic chaos and lots of broken bones. The trademark ridiculousness of pretty much every Knoxville project has been cemented by the success of his "Jackass" franchise, a trend he has continued with his latest film, "Action Point."
The film is loosely based on the infamously dangerous, real-life Action Park in New Jersey, which was closed in 1996 as a result of several personal injury lawsuits. It centers on D.C. Carver (Knoxville), the eccentric owner of Action Point, a hazardous, low-budget amusement park that encourages reckless conduct from its mostly underage visitors. This, of course, is the perfect place for his estranged teenage daughter Boogie (Eleanor Worthington-Cox) to visit for the summer—and with a name like that, it's no wonder she and her father have such a rocky relationship.
Meanwhile, Action Point is threatened by the rising success of a rival corporate amusement park located nearby. With the help of Boogie and the park's misfit employees, D.C. seeks to save Action Point from a permanent closure—which, of course, entails a plethora of not-so-hilarious hijinks. To solidify the film's Knoxville trademark status, it's narrated to us by an older version of his character—in the vein of his elder appearance in the titular role of 2013's "Bad Grandpa"—through conversations with his granddaughter.
The list of things wrong with this film is probably too lengthy for one article, but it starts off on a rough note with the inclusion of the aforementioned flashback sequences. Not only are they completely unnecessary—just like this movie as a whole—but the film appears to be structured this way solely to remind audiences that Knoxville's "Bad Grandpa" makeup somehow got an Oscar nod a few years back. (Believe me, this isn't even a slight distraction from the rest of the movie's flaws.)
The run time of "Action Point" is, thankfully, rather short—a mere 84 minutes—but at times, it feels much longer. The flashback sequences drag it out, while the rest of the film isn't entertaining enough to keep audiences invested. The number of times I cringed far exceeds the number of times I laughed, the latter of which I can probably count on one hand.
The stupidity of "Action Point" is beneath even the foolish nature of the generally well-received "Jackass" films. Aside from "Bad Grandpa," the franchise's other installments have generally been devoid of plot, which "Action Point"—a spinoff film of sorts for the series—tries too hard to make up for. Though its attempt at integrating a sappy subplot focusing on D.C. and Boogie's sometimes complicated relationship is admirable, it lacks the substance and, quite frankly, the audience to pull it off. (I don't know anyone who goes to see a Knoxville flick for the emotional depth.)
To make matters worse, "Action Point" often heavily relies on the chemistry between Knoxville and Chris Pontius, the only two "Jackass" alums to appear in the film, to carry it. Despite excluding ties to "Jackass" from much of its marketing, the film often feels as if it desperately wants to be another installment in the franchise, but knows it's not good enough. In spite of its attempts, it fails miserably—and deep down, I think most of the cast and crew attached to the film know it, too.
"Action Point" feels like a cheap way to make a buck. It's neither funny nor fun, and unfortunately, it's pretty forgettable, too.
Gone are the days where Knoxville could make stupid funny. The 47-year-old appears to spend much of his latest effort attempting to come to terms with the fact that he's physically—and perhaps creatively—unable to pull off what he once could in the stunt department.
If it's any consolation, Knoxville still does all his own stunts. This movie doesn't have much going for it, but he gets an A for effort there.
Rating: 1.5/5 stars