Satire: Managers rejoice as Tropical Storm Karen nears its end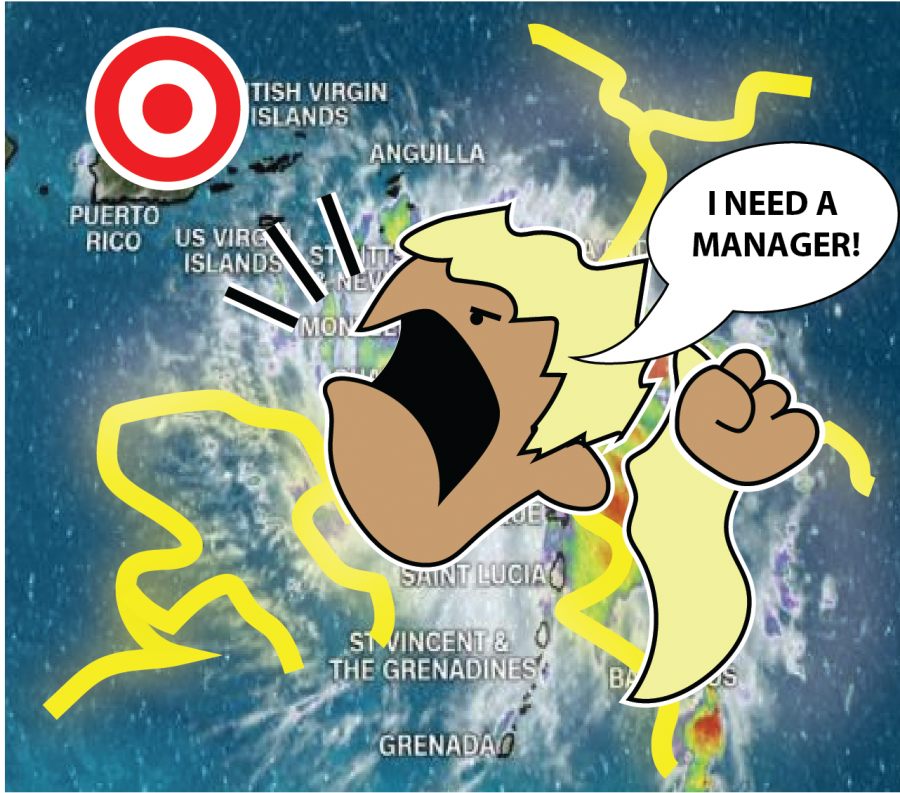 Store managers across Puerto Rico and the Virgin Islands were trembling last week after hearing reports of an extremely agitated, bloodthirsty, middle-aged white woman named Karen speeding across the Atlantic Ocean in her minivan, with one simple demand — "Can I speak to the manager?"
It all started after a local Target manager refused to let Karen use several expired coupons, prompting her to end his existence and enter a fit of rage, after which she headed toward one of Target's corporate offices in Puerto Rico.
According to witnesses, the manager — whose last words were allegedly "ma'am, I'm gonna need you to calm down" — had his soul sucked out of his body after Karen simply removed her Gucci sunglasses and stared into his eyes. Witnesses told investigators that Karen allegedly threatened the man before he evaporated into thin air.
"She told him, 'Honey, you've got a big storm coming,'" one witness said through tears. "It was some Medusa-level shit."
Karen had reportedly been triggered prior to being unable to use her coupons. According to Ben Dover, a barista at the Starbucks located inside Target, Karen accused him of giving her "one too many shots of espresso and a little bit of a 'tude."
"I wrote down her order: a venti vanilla iced latte with skim milk, three pumps of espresso and exactly two iced cubes — no more, no less," Dover said. "She told me too much ice would give her an allergic reaction because of her keto diet or something."
After her meltdown, Karen's husband Chad said she "took the kids" and zoomed off in her silver minivan, leaving nothing but a trail of essential oils in her path of destruction.
Karen was also allegedly responsible for the tremendous amount of rain that hit Puerto Rico and the Virgin Islands last week. Deemed an "unstoppable force of nature," weather officials have since named the phenomenon "Tropical Storm Karen." Several of the locals claimed the rainwater had a "salty aftertaste," with some even alleging it was made from the tears of Karen's victims. 
Upon arriving at Target's corporate offices, she cornered an employee and demanded to speak to the manager, to which he replied, "I am the manager."
Security footage showed Karen exiting the office shortly after, with one singular vein in her forehead protruding with such force that it could burst at any moment. 
"I'm shook," she wrote in a Facebook post, which has since become so popular that it was liked and shared more than two times.
Last Friday, officials reported that the threat of Karen had significantly declined. Sources close to the situation say she backed down after realizing her kids were late for soccer practice.
Stores are now being urged to recall Monster Energy drinks and Axe body spray products to avoid spreading the impending Kyle epidemic, which experts believe originated in one of Karen's unvaccinated children. Symptoms include an inexplicable spike in rage and the irresistible urge to put one's fist through drywall.
Authorities are currently on the lookout for Karen after her husband Chad expressed concerns that she "might be unstable." She was last seen styling her signature blonde bob cut into a messy bun, prompting concerns that she might be rallying an army of VSCO girls to help her seek revenge.