"Solo: A Star Wars Story" is fan service at its finest, for better or worse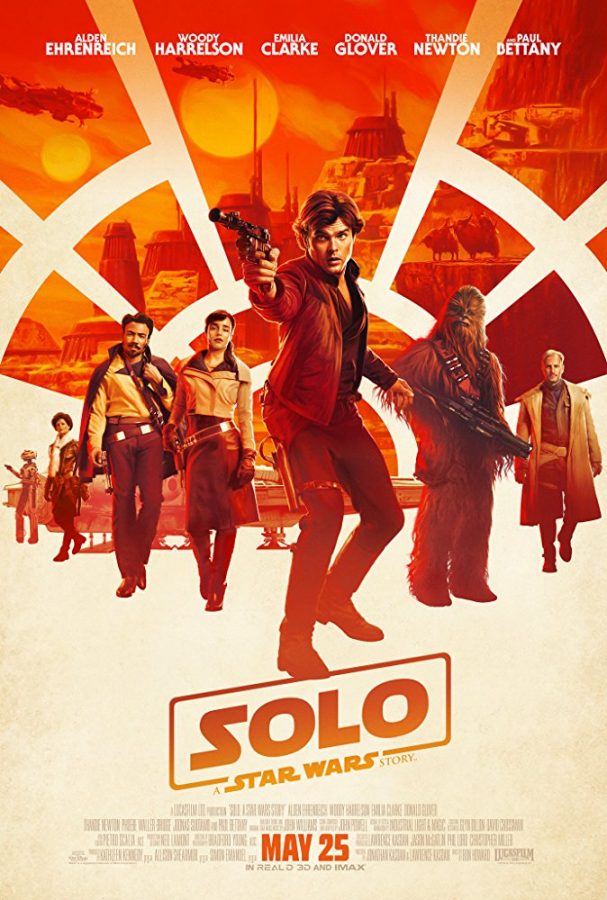 Those who know me best know that I can probably count the things I love more than "Star Wars" on one hand. I've been a devoted fan of the franchise since I was 5 years old, making my expectations for every new "Star Wars" film rather high.
The series' latest installment, "Solo: A Star Wars Story," was no exception. In fact, it was the first "Star Wars" release since Disney's acquisition of Lucasfilm in 2012 that I had reservations about. But in spite of my skepticism, "Solo" is mostly worth the wait.
The film follows everyone's favorite smuggler Han Solo, 10 years before he was made famous by Harrison Ford in the original "Star Wars." In this adaptation, the iconic role has been taken over by Alden Ehrenreich, who does a fine job holding his own in spite of his lacking likeness to Ford. Though initially difficult to accept the two actors are indeed the same character, it doesn't take long to realize "Solo" simply represents a completely different era in Han's life.
At this point in his life, we see Han in his final days as an Imperial soldier, gravitating toward the life of a smuggler after chance encounters with his future copilot Chewbacca (Joonas Suotamo) and the ruthless Tobias Beckett (Woody Harrelson). After a failed attempt to steal a shipment of expensive starship fuel for crime lord Dryden Vos (Paul Bettany), the trio is forced to redeem themselves or pay with their lives.
They join forces with Vos' top lieutenant, revealed to be Han's childhood friend and lover Qi'ra (Emilia Clarke), as well as the smooth-talking smuggler Lando Calrissian (Donald Glover) and his sassy droid counterpart L3-37 (Phoebe Waller-Bridge), to retrieve more fuel from the spice mines of Kessel. Boarding the Millennium Falcon, the crew embarks on a journey that will shape some of the most important heroes and villains the galaxy has ever known.
If it sounds like a lot to take in, that's because it is. "Solo," unsurprisingly, thrives on intense action sequences and daring escapades, but suffers from occasionally clunky dialogue and poor pacing—in just over two hours, it feels more dragged out than the nearly three-hour runtime of last year's "The Last Jedi," which masterfully utilized its every last second. Within that timeframe, there's still a fun adventure story that audiences will surely embrace, but it leaves much to be desired in the background of a beloved character whose mysterious nature was probably better left untouched.
First and foremost, "Solo" is a film built on fan service. It's rather predictable—sans one killer cameo toward the film's conclusion—but never feels exclusive to diehard fans. However, in spite of its unwillingness to take risks, director Ron Howard has still delivered something fresh and new to the franchise, a difficult feat given the film's unprecedented director change late into production.
While the groundbreaking new additions to the "Star Wars" universe may be limited in "Solo," the film is encompassed by a brilliant cast. The aforementioned Ehrenreich is surprisingly delightful; Clarke, Harrelson and Bettany are all unsurprisingly delightful; but it's the unstoppable Glover and his remarkable reincarnation of Billy Dee Williams' Lando that really steals the show. Glover's spunky droid cohort L3–who is vocal about her fervor for feminism and droid rights, and unafraid to tell Han Solo to move his "presumptuous arse"–is equally charming with enough clever one-liners to keep audiences roaring with laughter.
Overall, "Solo" is a solid "Star Wars" movie, but fails to leave the impression the previous three Disney installments did. It's a whole lot of fun, but often struggles to induce the thrills of the original and sequel trilogies or "Rogue One."
But you best believe if the sequel teased at the film's conclusion becomes a reality, I've still got a good feeling about this.
Rating: 3.5/5 stars