"A Quiet Place" is terrifyingly terrific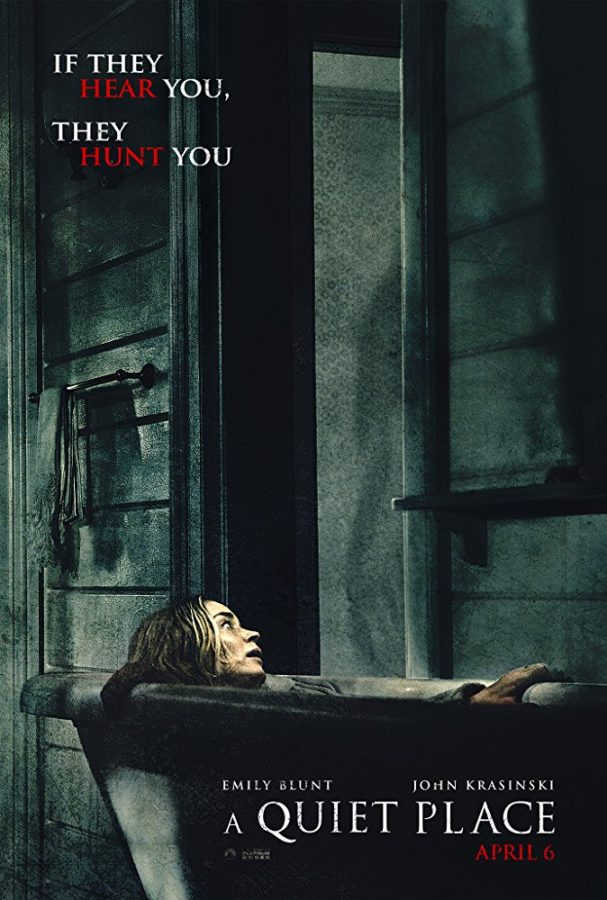 For most of us, John Krasinski will forever be known as the wisecracking, mild-mannered prankster Jim Halpert from "The Office." That is, until you see his new horror flick "A Quiet Place," which he directed and starred in alongside wife Emily Blunt.
Set in a post-apocalyptic society in 2020, "A Quiet Place" follows a family living in silence and solitude amid an extraterrestrial invasion of sorts. These creatures—essentially the lovechild of a Xenomorph from "Alien" and a Demagorgon from "Stranger Things"—are visually impaired, but have stellar sound senses that they use to hunt the survivors of the human race.
Lee and Evelyn (Krasinski and Blunt, respectively) have three children—Regan (Millicent Simmonds), Marcus (Noah Jupe) and Beau (Cade Woodward)—with a fourth on the way. The family communicates through sign language to stay alive, as even the faintest of noises can attract the creatures, sending them into a deadly rampage. (This also proves useful to Regan, who is deaf.)
As the family continues to fight for survival, living as ordinary a life as possible, they all become separated, leaving everyone—including a heavily pregnant Evelyn—to fend for themselves.
The film feels as fresh as it does simple from beginning to end. Though only 90 minutes long, Krasinski makes every moment of this action-packed thrill ride count. The film is so intoxicating that you feel breathless for its entirety. Though it prides itself on jump scares, they never feel cheap or overbearing. Rather than visual terror, "A Quiet Place" brilliantly uses familial themes in a way that traps viewers in the story, though it remains subjective whether their investment in the unfolding narrative is voluntary.
Marco Beltrami's impeccable score further escalates "A Quiet Place" toward greatness. Though much of the film is quiet—as the title implies—the musical hints throughout create an additional layer of suspense that will leave audiences clinging to the edge of their seats, desperately trying to wipe the sweat from their palms.
It's a rarity for a horror film to leave audience members feeling sadness as profound as their inevitable terror. The film is driven into tearjerker territory at multiple points, thanks to the exceptional performances of the entire cast. Krasinski and Blunt are as glorious as expected, but their child costars truly give them a run for their money—the raw authenticity of Simmonds' performance is particularly noteworthy.
"A Quiet Place" excels where so many of its contemporaries have failed by doing the most with the least. There are no gimmicks or mindless violence here—it's just a classic horror film, and a damn good one, mind you. Even compared to recent critical successes in the genre, "A Quiet Place" exceeds expectations, shedding the political weight of "Get Out" and the aesthetic gore of "IT" for a story that hits much closer to home.
At its core, though, "A Quiet Place" is more than just a terrifying film about a doomed family against unfathomable odds. It's a statement on the triumphs and failures of parenthood and the barrier of parental protection which children must overcome.
"A Quiet Place" is riveting, spine-chilling and full of substance and life. It defies the conventions of horror in a way that feels both innovative and welcome.
Though it may be a bit premature, I think it's safe to say—or rather, whisper—that this will go down in cinematic history as one of the greatest horror films of all time.
Rating: 5/5 stars