"Mission: Impossible – Fallout" is one epic, jaw-dropping thrill ride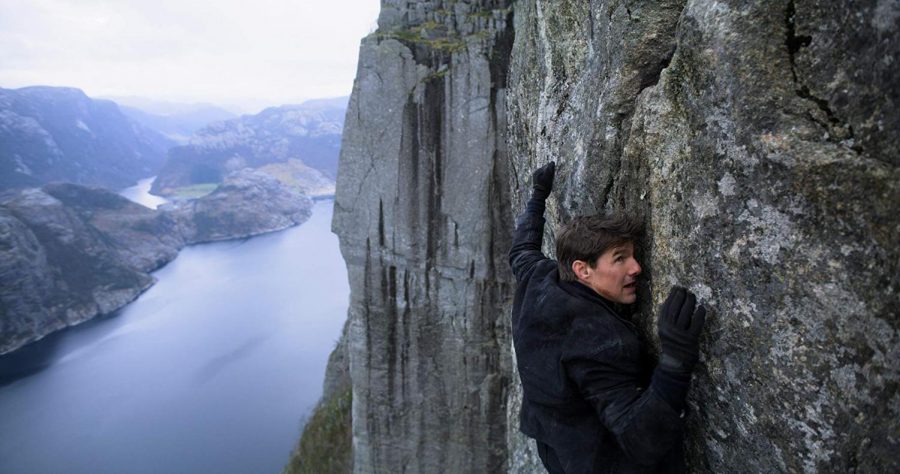 At 56 years young, it's hard to believe the apparently unaging Tom Cruise is still doing the impossible and being an all-around on-screen bad-ass. But 22 years after the release of the first film in his "Mission: Impossible" franchise, its latest installment, "Mission: Impossible – Fallout," has offered what may be his best work yet.
"Fallout" once again follows Cruise's seemingly immortal protagonist, Impossible Missions Force (IMF) Agent Ethan Hunt. This time around, he and his teammates, Benji (played brilliantly by Simon Pegg) and Luther (the equally fantastic Ving Rhames), are—surprise, surprise—yet again tasked with a, for lack of a better term, impossible mission. After a failed mission to retrieve three plutonium cores, which are the key to an imminent nuclear attack, the trio is forced to team up with mysterious CIA assassin August Walker (Henry Cavill) to find them.
Hunt's nemesis, Solomon Lane (Sean Harris), is crucial to the mission, as he is directly connected to the Apostles, the terrorist organization plotting the attack. IMF Secretary Alan Hunley (Alec Baldwin) and CIA director Erica Sloane (Angela Bassett) both want Lane captured. An enigmatic femme fatale arms dealer known as the White Widow (Vanessa Kirby) wants Lane in exchange for the plutonium. And, as if that wasn't enough, MI6 agent Ilsa Faust (Rebecca Ferguson), who worked with Hunt's team in 2015's "Mission: Impossible – Rogue Nation," has been assigned to assassinate Lane.
As complicated as it sounds, somehow, it works. (And hey, when you're six films into a franchise that keeps upping the stakes, there needs to be some depth to the plot.) Thankfully, the intricate—and occasionally convoluted—storyline of "Fallout" is a relatively easy pill for general audiences to swallow. Written by returning director Christopher McQuarrie, who previously worked on "Rogue Nation," the screenplay is clever, thrilling and, most of all, entertaining.  
"Fallout" thrives where so many of its contemporaries fail in that it lets its larger-than-life action sequences serve the purpose of progressing the narrative. It successfully balances story and spectacle, surely the result of McQuarrie's impeccable screenplay. Even those unfamiliar with previous "Mission: Impossible" films will be able to not only comprehend its latest installment, but enjoy it too.
What makes the action sequences even more impressive is Cruise's incredible dedication to the role. As he cruises toward 60 (no pun intended), the veteran actor—who suffered a broken ankle while filming "Fallout"—is still doing his own stunts. Whether he's leaping from one rooftop to another or walking away from a lethal motorcycle crash without even the faintest of scars, Cruise effortlessly continues raising the bar higher and higher.
His chemistry with his co-stars makes this film that much more delightful. The whole cast is absolutely stellar, and even the dullest of moments—which are few and far between—are intensified by the charm and spunk of Cruise's on-screen cohorts. Each individual does a fine job holding their own against Cruise's inevitable star status, much like how the "Mission: Impossible" franchise holds its own at a time where "Star Wars" and Marvel films assert their dominance over the box office.
It probably goes without saying, but "Fallout" left me thoroughly impressed. I'd even go as far as to say it was the best spy film since 2012's "Skyfall" (though I slightly prefer the latter) and one of the best action films of the year.
Whether you're a die-hard "Mission: Impossible" fan or just a casual moviegoer, "Fallout" provides all the thrills a good blockbuster movie should. This is one film you do not want to miss.
Rating: 4/5 stars