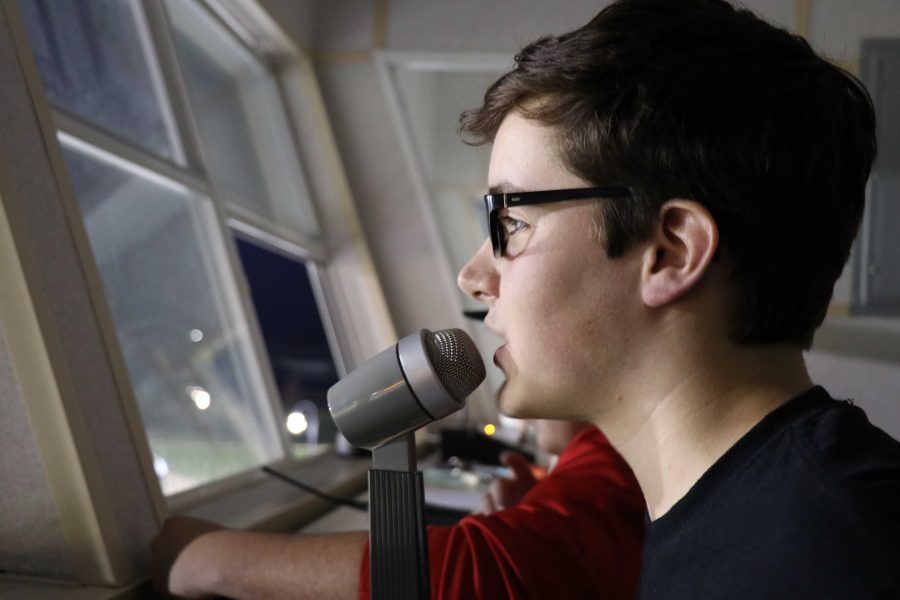 Michael Pearce
was the sports editor at The Oakland Post for two years, and now is the Editor-in-Chief. Since he was a freshman, he has had an amazing time growing as a person and journalist within the walls of the Post.
His favorite sport to cover, watch and play is basketball, and his favorite team is the Boston Celtics.
Pearce has always loved the big city lifestyle. A senior in the journalism program at Oakland University, he hopes to live in a big city as a prominent sports journalist as he progresses further into his career. His dream is to work for a big media company like ESPN or The Ringer, using experience in video, radio and writing to make great content.
He also works at WXOU Radio as the Sports Director, after spending a year as the PSA Director. At WXOU, he and his friends Brendan Triola and Nate Bennett host a talk show, "Hot Takes and Mistakes."
Outside of journalism, Pearce enjoys rap and video games. Three of his favorite rappers are Drake, Juice WRLD (RIP) and Roddy Ricch.
This year, he hopes to win more games in IM basketball, because his team is an impressive 1-13-1 in their first three seasons.
Michael Pearce, Editor-In-Chief
Jan 13, 2021

Letter from the editor: Not protestors, terrorists

(Story)

Jan 13, 2021

The elusive Playstation 5 beats past consoles, for now

(Story)

Jan 11, 2021

The Townsend family: the golden genes

(Story)

Dec 02, 2020

Association of Black Students president Sean King looks to the future

(Story)

Nov 30, 2020

BioButton made available for students, faculty

(Story)

Nov 16, 2020

Softball coach enters fourth season in pursuit of a title

(Story)

Nov 11, 2020

Basketball schedules released with new format

(Story)

Nov 11, 2020

Samantha Nelson brings passion for sports to new role

(Story)

Nov 07, 2020

Joe Biden projected to be 46th U.S. president

(Story)

Nov 04, 2020

The ever changing relationship between media and politicians

(Story)

Nov 04, 2020

OUPIECE works to provide internet for Pontiac families

(Story)

Oct 28, 2020

Baseball team hosts alumni for fall world series

(Story)

Oct 27, 2020

Great Lakes Poll explores election, race relations, COVID-19

(Story)

Oct 21, 2020

Oakland to co-host 2024 NCAA regionals

(Story)

Oct 21, 2020

Housing offers room reassignment period

(Story)

Oct 12, 2020

Rashad Williams sets sights on a league title

(Story)

Oct 11, 2020

Reigning Goalkeeper of the Year forced into advisory role

(Story)

Oct 07, 2020

New trustee Joe Jones plans to listen, show empathy

(Story)

Oct 07, 2020

TreeRunner Adventure Parks adapts to pandemic

(Story)

Oct 03, 2020

'Savage Mode II' brings strong replay value

(Story)

Sep 30, 2020

Women's golf team begins practice in a new way

(Story)

Sep 28, 2020

All three Esports teams compete for first time

(Story)

Sep 23, 2020

New board member returns to alma mater

(Story)

Sep 23, 2020

Men's basketball begins shootarounds with uncertainties

(Story)

Sep 16, 2020

Madden 21: Still flawed

(Story)

Sep 16, 2020

Women's basketball coach fully healthy after 10 years

(Story)

Sep 09, 2020

Senior volleyball star leads team through postponement

(Story)

Sep 09, 2020

Get off Twitter, old democrats

(Story)

Sep 09, 2020

Golf team adapts to adjusted schedule

(Story)

Aug 31, 2020

Water mind control drug will make you fail your classes

(Media)

Aug 31, 2020

NBA sit out illuminates societal blind spots

(Story)

Aug 30, 2020

Letter from the editor: The Bigger Picture

(Story)

Aug 25, 2020

New chief of staff works to advance Oakland's impact

(Story)

Aug 25, 2020

Fall sports coaches adapt to postponed fall season

(Story)

Aug 24, 2020

Housing implements honor system to dispel guests

(Story)

Aug 10, 2020

Opinion: The NBA shows us what the MLB has done wrong

(Story)

Aug 10, 2020

Oakland esports announces inaugural teams

(Story)

Aug 10, 2020

Bringing lacrosse to the greater Detroit area

(Story)

Aug 07, 2020

BioButtons become optional after public outcry

(Story)

Jul 29, 2020

Juice WRLD's posthumous album brings the pain

(Story)

Jul 23, 2020

Cross country, soccer, volleyball start date delayed

(Story)

Jul 17, 2020

Breanna Perry rediscovers her passion for basketball

(Story)

Jun 08, 2020

Students, alumni protest for Black Lives Matter

(Story)

Jun 04, 2020

New baseball coach returns to home state

(Story)

May 28, 2020

Board of Trustees to vote on tuition freeze

(Story)

May 26, 2020

Alumnus wins Pulitzer Prize with The Washington Post

(Story)

May 19, 2020

Polo G makes mark with "The GOAT"

(Story)

May 12, 2020

Title IV eligible students will receive $500 from CARES act

(Story)

May 08, 2020

Transfer guard looks to bring back winning culture

(Story)

Apr 29, 2020

Administration takes pay cuts for anticipated funding loss

(Story)

Apr 29, 2020

Campus prepares for fall 2020 hybrid learning

(Story)

Apr 26, 2020

Bookstore extends rental textbook due date

(Story)

Apr 11, 2020

Season three of 'Ozark' cements itself as a must-watch

(Story)

Apr 08, 2020

Fifth-year senior says goodbye to Oakland basketball

(Story)

Apr 08, 2020

Esports team announces Carl Leone as head coach

(Story)

Apr 01, 2020

Volunteerism takes shape at OU with TEAM

(Story)

Apr 01, 2020

'Paul Blart' 2: Hollywood royalty

(Story)

Mar 25, 2020

Oakland coaches react to cancellations and limitations

(Story)

Mar 21, 2020

Editorial: Make billionaires pay hourly wages during quarantine

(Story)

Mar 18, 2020

COVID-19 outbreak halts sports world

(Story)

Mar 18, 2020

Horizon League cancels competition due to coronavirus

(Story)

Mar 11, 2020

Oakland University to bring in O.J. Simpson to speak

(Story)

Mar 08, 2020

The Blitz: March 11, 2020

(Story)

Mar 04, 2020

The Blitz: March 4, 2020

(Story)

Mar 04, 2020

Women's basketball loses season finale in final seconds

(Story)

Mar 04, 2020

The caffeine hierarchy of the Oakland Center

(Story)

Mar 04, 2020

Men's basketball moves onto Horizon League quarterfinals

(Story)

Feb 19, 2020

The Sweetheart Hot Dog: Slam dunk or air ball?

(Story)

Feb 16, 2020

The Blitz: Feb. 19, 2020

(Story)

Feb 15, 2020

Men's basketball wins second in a row, 72-64

(Story)

Feb 12, 2020

The Blitz: Feb. 12, 2020

(Story)

Feb 12, 2020

The dirty truth behind the open concept Bear Cave

(Story)

Feb 06, 2020

Oakland defeats UIC on women and girls in sports night

(Story)

Feb 02, 2020

Ke'Sha Blanton takes over head coaching duties in first season

(Story)

Jan 29, 2020

#FreeRashad comes to an end as league play continues

(Story)

Jan 29, 2020

Introducing Moodle+

(Story)

Jan 26, 2020

Celebrating Kobe and Gigi Bryant

(Story)

Jan 22, 2020

Roddy Ricch breaks out in a big way

(Story)

Jan 22, 2020

Freshman sharpshooter earns his spot in rotation

(Story)

Jan 22, 2020

Keeper of the Dream celebration asks: Why not me?

(Story)

Jan 19, 2020

The Blitz: Jan. 22, 2020

(Story)

Jan 12, 2020

Women's basketball improves to 3-2 in league play

(Story)

Jan 12, 2020

The Blitz: Jan. 15, 2020

(Story)

Jan 08, 2020

Cats: The horniest, worst movie of all time

(Story)

Jan 08, 2020

Women's Basketball Blitz

(Story)

Dec 17, 2019

Oakland falls 72-49 to Michigan State Spartans in Detroit

(Story)

Dec 16, 2019

Athletics adds esports to varsity roster

(Story)

Dec 04, 2019

How to get therapy during your Graham wait

(Story)

Dec 04, 2019

Maggie Schneider competes in National Championship

(Story)

Nov 20, 2019

The Blitz: Nov. 20, 2019

(Story)

Nov 20, 2019

Moe's Southwest to be replaced by The Halal Shack

(Story)

Nov 12, 2019

Women's basketball loses 74-58 in home opener

(Story)

Nov 11, 2019

#JusticeforJarvis, my Fortnite King

(Story)

Nov 07, 2019

How to tell if your roommate needs to go

(Story)

Nov 07, 2019

Men's Soccer draws Milwaukee 0-0 in 2OT

(Story)

Oct 30, 2019

A spooky good vacation plan

(Story)

Oct 30, 2019

Chartwell$: Exploiting Students for Money

(Story)

Oct 23, 2019

AD Waterfield details new off-field initiatives

(Story)

Oct 23, 2019
Oct 16, 2019

The best places to make out on campus

(Story)

Oct 16, 2019

Chris D'Elia performs at OU

(Story)

Oct 16, 2019

Volleyball defeats No. 1 Milwaukee

(Story)

Oct 16, 2019

Women's soccer shuts out IUPUI

(Story)

Oct 13, 2019

Men's soccer remains undefeated

(Story)

Oct 09, 2019

Plum Market becomes new worldwide food provider

(Story)

Oct 09, 2019

Greg Kampe's contract extended until 2023

(Story)

Oct 02, 2019
Oct 02, 2019

Men's soccer ties Horizon League rival in 2OT

(Story)

Sep 29, 2019

Men's basketball transfer shares his story

(Story)

Sep 25, 2019

Satire: New Netflix original 'Short King'

(Story)

Sep 22, 2019

Horizon League schedules released for basketball

(Story)

Sep 14, 2019

Kevin Beers: the voice of the O'rena

(Story)

Sep 11, 2019

Local prophet visits OU

(Story/Media)

Sep 11, 2019

The Sporting Blitz

(Story)

Sep 11, 2019

SATIRE: The VSCO Girl Diet

(Story)

Sep 10, 2019

Grizzlies take Greece

(Story)

Sep 04, 2019

Oakland Soccer Players Win Title with Flint City Bucks

(Story)

Sep 04, 2019

Basketball non-conference schedules released

(Story)

Aug 22, 2019

Satire: What you'll do after drinking a "Four Loko Seltzer"

(Story)

Aug 06, 2019

Satire: What it do, baby

(Story)

Aug 05, 2019

Stop saying "it's a mental health problem."

(Story)

Jul 28, 2019

Colin Kaline takes the reigns of Oakland baseball

(Story)

Jul 28, 2019

Jeff Tungate's new team and coaching staff

(Story)

Jun 26, 2019

Former soccer star enlists in Peace Corps

(Story)

Jun 19, 2019

Oakland basketball adapts after transfer-filled summer

(Story)

Jun 05, 2019

Ben Fielder hired as new associate athletic director for development

(Story)

Jun 04, 2019

New Grizz Gang e-board looks to grow

(Story)

Apr 15, 2019

SPB Brings KYLE and blackbear to Meadowbrook

(Story)

Apr 10, 2019

The Sporting Blitz: April 10

(Story)

Apr 10, 2019

Not your grandma's country song

(Story)

Apr 03, 2019

The Sporting Blitz: March 31

(Story)

Mar 27, 2019

The Sporting Blitz: March 27, 2019

(Story)

Mar 20, 2019

The Blitz: March 20, 2019

(Story)

Mar 20, 2019

Satire: Three ways to finish the semester strong

(Story)

Mar 13, 2019

Satire: Inside the mind of anti-vaxxers

(Story)

Mar 13, 2019

The Cumberlands: Splash Cousins

(Story)

Mar 06, 2019

Men's basketball advances to semifinals with win against Youngstown State

(Story)

Mar 06, 2019

"Spring Break" causes national waves, promotes climate change awareness

(Story)

Feb 27, 2019

The Sporting Blitz: Feb. 27, 2019

(Story)

Feb 13, 2019

The Blitz: Feb. 13, 2019

(Story)

Feb 13, 2019

Satire: Oakland's Valentine's Day Hotspots

(Story)

Feb 10, 2019

Board of Trustees unanimously approves construction projects

(Story)

Feb 06, 2019

Stop it, Tom Brady is the GOAT

(Story)

Feb 06, 2019

Meet Meta Kern, Oakland basketball's biggest fan

(Story)

Jan 31, 2019

Men's basketball enters middle of season with shallow bench

(Story)

Jan 23, 2019

Satire: Who SPB SHOULD have gotten for the spring concert

(Story)

Jan 23, 2019

New Athletic Director's focus for Oakland

(Story)

Jan 21, 2019

Oakland beats rival UDM Titans, improve to 5-2 in league play

(Story)

Jan 16, 2019

The Men's Basketball Avengers

(Story)

Jan 16, 2019

Satire: Michael's Declassified School Survival Guide

(Story)

Jan 13, 2019

Oakland falls to Milwaukee at home, 67-64

(Story)

Jan 09, 2019

Oakland defeats No. 1 Northern Kentucky, 76-74

(Story)

Jan 09, 2019

The Sporting Blitz, Jan. 9

(Story)

Dec 05, 2018

Kay Felder arrested on Domestic Violence charges

(Story)

Dec 05, 2018

The Sporting Blitz: Dec. 5, 2018

(Story)

Dec 05, 2018

Men's Basketball falls to Xavier 73-63

(Story)

Nov 28, 2018

Satire: Three unknown facts about Ora Hirsch Pescovitz

(Story)

Nov 28, 2018

The Sporting Blitz: Nov. 28, 2018

(Story)

Nov 14, 2018

The Sporting Blitz: Nov. 14, 2018

(Story)

Nov 14, 2018

Show Thanksgiving some respect you hooligans

(Story)

Nov 07, 2018

My (least) favorite season: Election Season

(Story)

Nov 07, 2018

Rebuilding Detroit with candy corn

(Story)

Nov 06, 2018

Men's Soccer season ends vs sixth-seeded Milwaukee Panthers

(Story)

Nov 06, 2018

Men's Soccer defeats Green Bay on senior night

(Story)

Oct 31, 2018

EDITORIAL: Takeaways from the Men's Basketball preseason opener

(Story)

Oct 31, 2018

Alex VanHolder's battle with childhood brain cancer

(Story)

Oct 31, 2018

The Sporting Blitz: Oct. 31, 2018

(Story)

Oct 24, 2018

The Sporting Blitz: Oct. 24, 2018

(Story)

Oct 24, 2018

Babatunde Sowunmi: From Nigeria to the O'rena

(Story)

Oct 16, 2018

Satire: What to expect when you're existential

(Story)

Oct 16, 2018

SATIRE: The three spookiest sights at OU

(Story)

Oct 16, 2018

The Blitz: Oct. 17, 2018

(Story)

Oct 13, 2018

Oakland Administration strengthens international relations with Chinese universities

(Story)

Oct 03, 2018

SATIRE: Fall brings beautiful scenery and depression

(Story)

Oct 03, 2018

Grizz Madness brings excitement for basketball season

(Story)

Oct 03, 2018

Men's soccer loses 2-1, sets attendance record vs UM

(Story)

Sep 26, 2018

Richard: Unsung hero of Oak View Hall

(Story)

Sep 22, 2018

Men's soccer tops Duquesne 2-0 in tough match

(Story)

Sep 18, 2018

The Blitz: Sept. 19

(Story)

Sep 11, 2018

Volleyball falls 3-0 to LSU on "Overflow the O" day

(Story)

Sep 10, 2018

Men's soccer loses first game of the year, 4-1 to UIC

(Story)

Sep 05, 2018

Horizon League releases preseason polls for soccer, volleyball

(Story)

Sep 05, 2018

Commentary: Colin Kaepernick is an american hero

(Story)

Sep 05, 2018

SATIRE: A new species has emerged on campus

(Story)

Sep 05, 2018

WNBA vs NBA Debate: The Issue

(Story)

Aug 01, 2018

Cheer team relegated to club sport status

(Story)

Jun 26, 2018

Album Review: "Goodbye and Good Riddance"

(Story)

Jun 26, 2018

SATIRE: The nation's new epidemic: Summer Vacation

(Story)

Jun 26, 2018

Taylor Gleason continues professional basketball career

(Story)

Jun 26, 2018

Two former Golden Grizzlies enter the MLB

(Story)

Jun 22, 2018

Kendrick Nunn signs with Golden State Warriors

(Story)

Jun 06, 2018

SATIRE: Missing yOU

(Story)

Jun 06, 2018

Commentary: Former athletes are not worthy of special treatment in broadcasting

(Story)

Apr 27, 2018

Isaiah Brock transfers to GVSU men's basketball

(Story)

Apr 10, 2018

SATIRE: Spooky sightings on campus

(Story)

Apr 08, 2018

Chris Palombizio has left men's basketball

(Story)

Apr 03, 2018

The Lepley Center Project: the O'rena's upgrade

(Story)

Mar 27, 2018

SATIRE: Six ways to make money while sitting on your lazy ass

(Story)

Mar 20, 2018

Men's, Women's Golf gain optimism from tournament finishes

(Story)

Mar 20, 2018

SATIRE: More than a chef

(Story)

Mar 13, 2018

Kendrick Nunn nominated for Jerry West Shooting Guard of the Year

(Story)

Mar 13, 2018

Jake Kneen sets sights on title, pro career

(Story)

Mar 06, 2018

Oakland defeats IUPUI in tournament opener

(Story)

Mar 06, 2018

Oakland loses out of Motor City Madness

(Story)

Feb 27, 2018

Horizon League tournament preview

(Story)

Feb 26, 2018

Oakland defeats Milwaukee on senior night

(Story)

Feb 13, 2018

Men's basketball: Buckets and bars

(Story)

Feb 10, 2018

Oakland wins second game to sweep Metro Series against UDM

(Story)

Feb 04, 2018

MBB welcomes IUPUI to Horizon League with close game

(Story)

Jan 30, 2018

Kendrick Nunn: possible NBA pick at end of season

(Story)

Jan 22, 2018

Womens basketball battles the Milwaukee Panthers

(Story)

Jan 16, 2018

OU defeats Youngstown State

(Story)

Jan 16, 2018

After an ACL tear, Chris Gilbert is ready for the court

(Story)