New board member returns to alma mater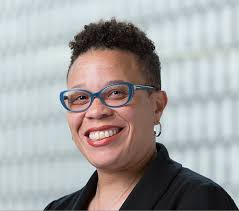 After giving the keynote speech at Oakland University's 2019 spring commencement, Trina Scott thought she had reached the peak at OU.
A year and five months later, she was named to the OU Board of Trustees, appointed by Gov. Gretchen Whitmer for an eight-year term.
"Having the ability to come back and make a greater impact at the administrative level is a dream come true for me," Scott said. "I thought that giving the commencement speech last year was the pinnacle but being appointed to the board by the governor …  I really can't put it into words."
Scott is a former OU women's basketball player and alumna, and before being appointed to the Board of Trustees, was a member of the Oakland University Alumni Association (OUAA).
For the past three years, Scott worked at Quicken Loans as the Chief Diversity Officer. There, she learned the power of diversity, equity and inclusion in the work environment.
As chief diversity officer, Scott worked to create diverse opportunities for all citizens, whether it was home ownership or access to career opportunities.
"When I think about being on the board, I'm elated," she said. "I think those same principles are transferred there. Inclusion has to be at the forefront for the university."
A former Golden Grizzly on the court and in the classroom, Scott described coming full circle back to her alma mater as "utopia."
Not only did Scott play for the basketball team, but she also tutored students.
"I think the university gave me different perspective — I had a chance to get involved with many organizations on campus," she said. "Now, having the ability to come back and make an impact at the administrative level is a dream come true."
After earning a degree from OU, Scott expressed her excitement, optimism and a few nerves over being able to enact change at a higher level.
"I'm super stoked, super excited and I'm also a little nervous because I want to make sure that I bring about continued growth from the university," Scott said.
With diversity as a focus of her job at Quicken Loans, Scott is familiar with the diversity of Metro Detroit, as well as the immediate surrounding area of Oakland.
"I think there's a great opportunity [for diversity]," she said. "And, the university is already partnered with the city of Pontiac, which is arguably the second or third most diverse city in the state. I think there's more opportunity there to be able to leverage the resources of Oakland for supporting educational efforts in Pontiac."
At the university level, Scott sees opportunity to grow the brand and notoriety of OU in Oakland County to the level of the University of Michigan and Michigan State University.
"I'm so excited about that," she said. "I see billboards everywhere advertising that we are also a viable option that isn't as far as others but also gives you that same communal feeling that you could have if you went away somewhere like Lansing or Ann Arbor."
On her senior year visit to OU, Scott was partnered up Reverend Joe Jones' then-girlfriend and now-wife, Jessie Powell. Years later, Jones was appointed to the board with Scott.
"They have been good friends of mine since 1991," Scott said. "To think about Joe and I both being appointed at the same time on the board — I don't even know how to put that into words."