Students, alumni protest for Black Lives Matter
Protests which stemmed from the George Floyd, Ahmaud Arbery and Breonna Taylor murders took place during the first weekend in June.
On Saturday, June 6, Rochester was occupied by hundreds of protesters in support of the Black Lives Matter movement. The protest started and concluded at the Rochester Public Library, as protesters marched to and from the Rochester Municipal Park.
Police supervised the march, blocking off streets and providing a path to protest.
Protesters of all ages, races and backgrounds lined the street, marching to the park, where organizer Dex Roman held an eight minute and 46 second knee for George Floyd. Eight minutes and 46 seconds is how long officer Derrick Chauvin had his knee on Floyd's neck for before he was killed.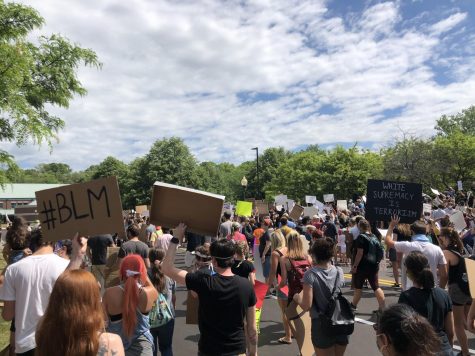 Alumnus Joseph Javier participated in the Rochester protest with his friends from the Theta Chi fraternity. Javier and his friends also participated in the Detroit protest on Friday, June 5 on Gratiot Ave.
"It's amazing to see every state and dozens of countries around the world protesting police brutality and against racism," Javier said. "I think we're at the precipice of a revolution."
The protest was one of many which took place over the weekend. Multiple protests were held across Southeast Michigan for Black Lives Matter.
Oakland alumnus and graduate student Daryl Blackburn participated in the Macomb County protest on Hall road.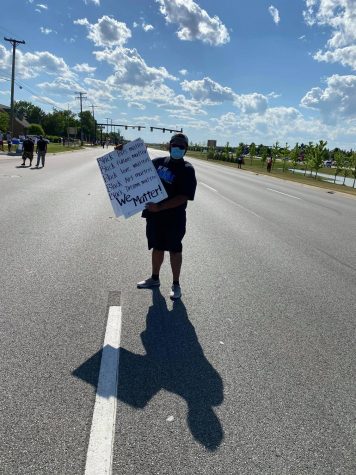 "At first the experience was nerve wracking, as in the back of my mind I was constantly thinking about what could happen to me — because I am a black male — at the protest," he said. "But that is also the main reason I decided to go because a change needs to happen, and my voice needs to be heard."
Javier and Blackburn were impressed by the amount and variety of people participating in the local protests.
"The world is not equal — some people have more privilege than others," Javier said. "Being far removed from a lot of these issues, you'd think people wouldn't be aware — but it's great to see that Rochester is out in full force and people are aware."
Both graduates expressed a desire to see change continue moving forward.
"Seeing thousands of people come together to help fight for change left me feeling slightly better than when I arrived," Blackburn said. "It's important to remember that we are not done and cannot be done here because there is so much more that needs to happen. We need to be able to come together not just during times of trouble but all the time. Black lives forever matter."