Baseball team hosts alumni for fall world series
New baseball Head Coach Jordon Banfield has dealt with an unusual fall season. In order to get more competitive reps for his guys, Banfield started a fall world series.
The fall world series split the 42-man roster into two teams, picked in a fantasy draft style. The series is a best of five, which takes place over two weeks. The winning team wins a high-end meal.
"This is something new and something I'm really into," Banfield said. "I think it's really interesting to see what the players think of each other and where they draft guys." 
The second game of the series coincided with the team's alumni day, where Oakland Baseball alumni were welcome to watch the game and meet the new team. Players' families and friends also came to watch the fall championship.
Pitcher Dan Rutan and pitching coach Dan McKinney's team won on alumni day, 5-3, giving them a 2-0 lead in the series. 
This was the most game-like atmosphere the team had competed in since Banfield took over as head coach in May.
"I think it is a good way to wrap up the fall to give us as much of a game-like atmosphere as possible," Banfield said.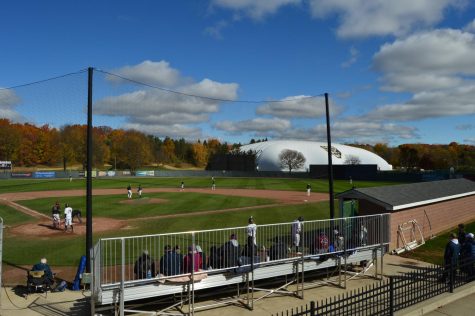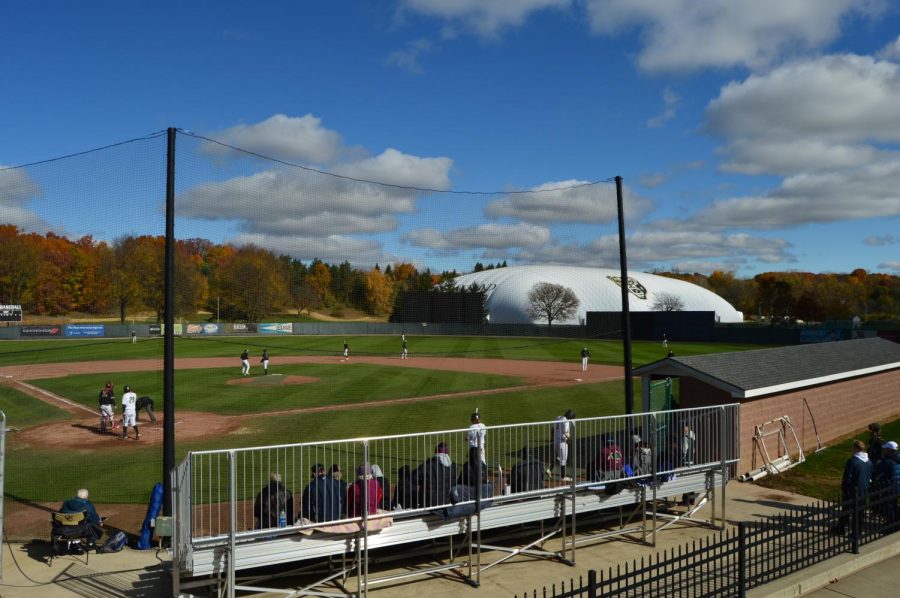 With a new atmosphere comes some challenges. Players and coaches had to wear masks at the plate and in the dugouts. Banfield also noticed some spots where his team could improve in the new format.
"Our focus level and execution level wasn't where it needed to be, but the competitiveness was really good," he said. "The guys really want to win — which sounds simple, but it's important and isn't always the case."
Banfield decided to switch things up and create a fall classic because the team has been in the same routine all fall. Usually, they'd play a few games in the fall against other schools.
"We lost that this year with all the changes and everything," Banfield said. "This sort of replaces that and it gave us a chance to go through gameday protocol."
The second game of the series on Saturday, Oct. 24 had more people in the stands than the first, as alumni from multiple years mingled and watched their alma mater.
For Banfield, fostering a positive relationship with alumni and creating a "family" atmosphere is important for the success of his program. After the game, Banfield, his staff and the alumni went to RJ's Pub in Rochester Hills for dinner.
"It's really good for our program to get those guys back, have them around and make sure they know they're welcome," he said. "We decided to hang out with them for a couple hours and introduce myself, my coaching staff and let them know that we want them around the program."
The alumni are the group which supports the team the most, according to Banfield, so keeping a good relationship with them is a priority.
"We want to do everything we can to make sure that we foster a relationship that makes it clear to them that they're wanted and in turn will support us in a number of ways," Banfield said.