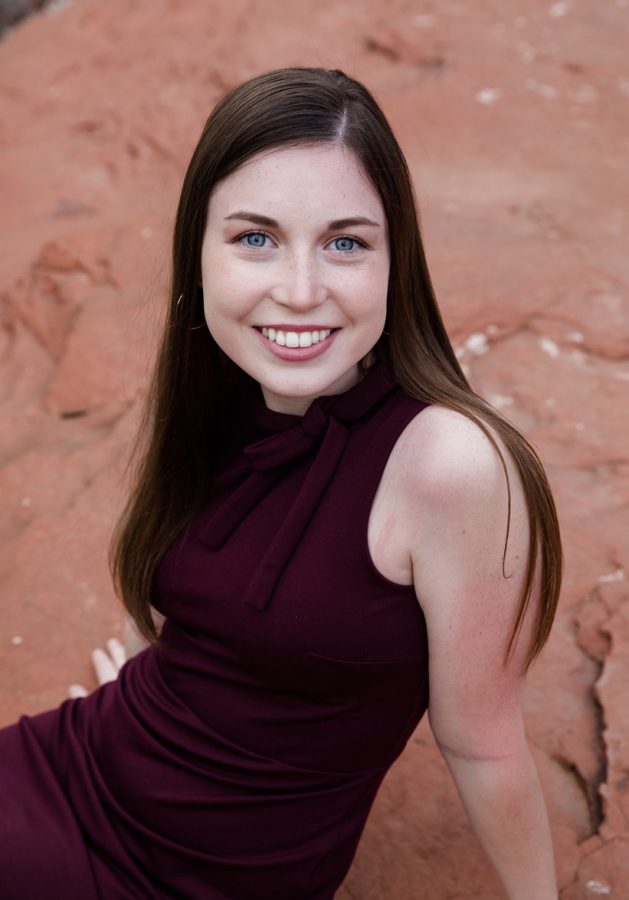 Emily Morris is the managing editor of The Oakland Post. Her speciality is multimedia creation, editing articles and overseeing The Oakland Post's weekly production.
Eight years ago, Morris began her media career with her hometown newspapers, The Sandusky Tribune-Recorder and The Sanilac County News — she fell in love immediately with the buzz of newsworthiness and the connection with her audience. 
Upon stepping foot on Oakland University's campus, she dove into a staff reporter role and began producing weekly articles for The Oakland Post. During her time at OU, she has also occupied the role as WXOU's news director for two years and took on an internship with Fox 2 News. Currently, she can still be found at WXOU as their public service announcement (PSA) director. 
In the spring, she will be graduating this year with a double major in journalism and communication. Then she plans to take the hands-on experience The Oakland Post has given her and keep telling stories at her next media position. If you have any OU news tips, drop a line to her email (
[email protected]
). 
Emily Morris, Managing Editor
Nov 18, 2020

Missing art sculpture leads to a mission

(Story/Media)

Nov 18, 2020

Students cope with switch to online learning

(Story)

Nov 11, 2020

Justice Bernstein promotes disability inclusivity

(Story)

Nov 10, 2020

BREAKING: Virtual commencement ceremony for winter graduates

(Story)

Nov 04, 2020

Young voters overcoming barriers this election

(Story)

Nov 04, 2020

Campus Black lives matter March promotes voting

(Story)

Oct 28, 2020

Baseball team hosts alumni for fall world series

(Media)

Oct 28, 2020

Michigan movies for the spooky season

(Story)

Oct 24, 2020

Matilda's 137th Birthday Bash remembers OU's founder

(Story)

Oct 21, 2020

Haunted hallway, door decorating and prizes for Halloween

(Story/Media)

Oct 21, 2020

The haunting of Meadow Brook Mansion

(Story/Media)

Oct 14, 2020

Cultivating culture: from 'snowflake' to 'yeet'

(Story)

Oct 14, 2020

Social distant birds and the bees

(Story)

Oct 07, 2020

OU endorses Gov. Whitmer's 'Spread Hope, Not COVID'

(Story)

Oct 07, 2020

The future of the Meadow Brook Ball

(Story/Media)

Oct 02, 2020

President Trump's character and COVID-19

(Story/Media)

Sep 30, 2020

Netflix's 'Ratched' is worth a rewatch

(Story)

Sep 30, 2020

OUPD partners with Housing for training video

(Story)

Sep 23, 2020

Swim team alters routine to adjust to loss of Rec

(Story)

Sep 23, 2020

Wilson Hall renovations underway

(Story)

Sep 16, 2020

Black women experience dangerous racial bias in healthcare

(Story)

Sep 16, 2020

Arts students squished into Pillsbury dough tube

(Story)

Sep 09, 2020

Live theater takes on a new look

(Story)

Sep 09, 2020

Professor parenting during the pandemic

(Story)

Aug 29, 2020

Students virtually choose their own GrizzCard photos

(Story)

Aug 28, 2020

Graduates gather in parking lot one for drive-in ceremony

(Story)

Aug 25, 2020

Fall sports coaches adapt to postponed fall season

(Media)

Aug 24, 2020

Oakland University introduces a new dean of University Libraries

(Story)

Aug 24, 2020

Anti-maskers force seagulls into higher education

(Story)

Aug 18, 2020

Students express concern about the cost of online classes

(Story)

Aug 11, 2020

Rose Cooper celebrates 47 years of teaching at OU

(Story)

Aug 07, 2020

Oakland University alumnus starts COVID-19 testing company

(Story)

Aug 02, 2020

Free OU branded facial masks

(Story/Media)

Jul 29, 2020

Netflix's "365 Days" teeters between misogyny and marketable

(Story)

Jul 29, 2020

Oakland Center reopens, prepares to welcome students back in fall

(Media)

Jul 14, 2020

Trump administration reverses restrictions on international students

(Story)

Jun 19, 2020

New housing policies under criticism

(Story)

Jun 07, 2020

Kresge is collecting everyday experiences from COVID-19

(Story)

May 21, 2020

"Zoey's Extraordinary Playlist" hits the right notes

(Story)

May 19, 2020

Political conversations coaxing COVID-19 vaccine

(Story)

May 16, 2020

Oakland may offer a drive-thru graduation

(Story)

May 06, 2020

Oakland University doctor's pandemic prognosis

(Story)

May 04, 2020

Oakland Center turns into community safe haven

(Story)

Apr 30, 2020

COVID-19 changing customs during Ramadan

(Story)

Apr 29, 2020

Oakland University: Still the safest in Michigan

(Story)

Apr 29, 2020

"Downton Abbey" steps into history

(Story)

Apr 11, 2020

'Modern Family' has one last goodbye hug

(Story)

Mar 13, 2020

COVID-19 pandemic interrupting student internships

(Story)

Mar 11, 2020

Netflix releases new 'coming of rage' series 'I Am Not Okay with This'

(Story)

Mar 08, 2020

Olga's Kitchen offers women free snackers for International Women's Day

(Story)

Mar 04, 2020

History left by Michigan lefts

(Story)

Jan 29, 2020

'Sex Education' offers genuine and gritty lessons to learn

(Story)

Jan 08, 2020

'The Handmaid's Tale' is unnervingly believable

(Story)

Nov 20, 2019

Former president of Poland Lech Wałęsa reflects on career

(Story)

Nov 17, 2019

From the court to color commentating: Chatting with Greg Kelser

(Story)

Nov 12, 2019

The problem with smiling more

(Story)

Oct 16, 2019

Dominique Daniel and the clues to Kresge's collections

(Story)

Oct 09, 2019

Eastern Equine Encephalitis cases confirmed in 12 Michigan counties — here's how to avoid it

(Story)

Oct 09, 2019

The freshman 15: Real or a myth?

(Story)

Sep 09, 2019

OU senior moves from recording as a child to becoming general manager at WXOU

(Story)

Aug 06, 2019

The root of protecting Oakland's nature

(Story)

Apr 10, 2018

"Hot-N-Ready" heats up March Madness

(Story)

Apr 10, 2018

Careers, colleges and other cash

(Story)

Apr 03, 2018

Waiting for a snap in the pay gap

(Story)

Mar 20, 2018

"Hands on a Hardbody" — a musical you "can't keep your hands off"

(Story)

Mar 18, 2018

Clean air with an extra puff

(Story)

Mar 13, 2018

Roommates of differing faiths develop close friendship

(Story)

Mar 13, 2018

The best stress in college

(Story)

Mar 06, 2018

How close to home is drug abuse?

(Story)

Mar 06, 2018

How diverse is student employment?

(Story)

Feb 27, 2018

College labels: Being a young mom

(Story)

Feb 13, 2018

Invest-igating cryptocurrency

(Story)

Feb 06, 2018

The Dangers of Easy Mac

(Story)

Jan 30, 2018

Couples in college: Married life as an OU student

(Story)

Jan 16, 2018

How OU and UCLA use unused meal swipes

(Story)

Dec 05, 2017

"Bah, Humbug" is far from Thomas Mahard's attitude on "A Christmas Carol"

(Story)