Missing art sculpture leads to a mission
Stapled outside of South Foundation Hall, there was an abstract sculpture — Motherwell by Joseph Wesner — that's been moved for the first time in over thirty years. 
The sculpture rested on a trailer behind Oak View Hall until restoration could begin. Now its permanent home will be in front of Oak View Hall, alongside another piece by Wesner: Echo Cognitio.
Refurbishing and adding to Oakland University's art is a passion project of Dick Goody, Oakland University art gallery director. He believes access to art is especially important now.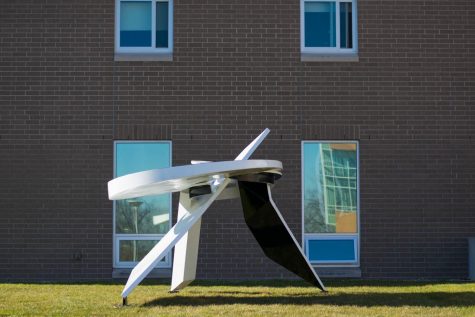 "It is especially [important] now, good public sculpture like this allows us, for a moment to daydream beyond the constraints of daily life and helps us transcend our difficulties," Goody said. 
There was an art competition, called Meadow Brook Invitational: Outdoor Sculpture, that spurred OU's collection in the 1980s. Wesner's contributions followed this movement, and he continued to stay involved. He chose to periodically come back and repaint his art, but after his death in 2002, the sculptures were left to the elements. 
"The artist would come back periodically and paint it. There wasn't a contract for him to do that, but he was happy to do it," Goody said.
Because of the size and structure of the outdoor sculptures on campus, they can pose restoration difficulties, according to Goody. Most contractors don't have adequate facilities to accommodate the sculptures, but one contractor agreed to do the project outside. 
The steel was stripped of its paint, and any rust holes were patched. Then the sculpture was repainted in its original black and white colors. 
Motherwell's restoration is only the beginning of a project to repair all of the sculptures on campus, eventually establishing a "sculpture walk." Next, there are plans to restore Sunset Cube — a yellow cubic design near Sunset Terrace — and Day Star — a red and white design adjacent to Treerunner Adventure Park. These projects will have to wait for warmer weather though, because of the outdoor restoration.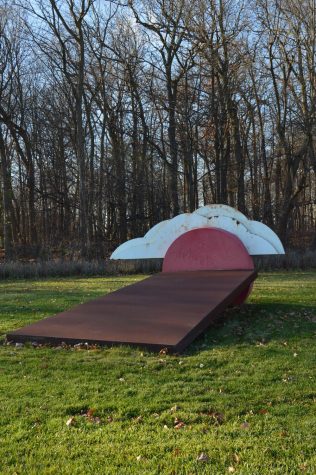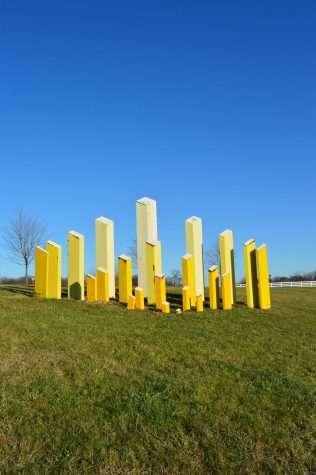 "Once we get those — those three done — we'll have something under our belt that we can be proud of because those are the ones that are made of steel and need attention," Goody said.
Returning all campus sculptures to mint condition will take roughly five years, according to Goody, but that's only possible with sufficient funding. Then Goody wants to add more art to create an extensive "sculpture walk" on campus, a roughly ten year goal. Anyone interested in helping improve OU's campus art can visit ouartgallery.org/joinus.
"Eventually we'd like to have more sculptures at different locations so you could actually go on a sculpture walk," Goody said. "It will be a great thing to do, and I think this is a sort of initiative that gets us to start thinking about that."