Settling in at Sunset Terrace: The home of presidents
If walls could talk, Oakland University's Sunset Terrace — the retirement of OU founder Matilda Dodge Wilson and her husband Alfred G. Wilson — could tell countless stories of cutting-edge architecture and art, extravagant events and vast visitors. 
The structure was made to the "home of the future," according to Madelyn Rzadkowolski, curator of Meadow Brook Hall. 
Sunset Terrace has a mid-century modern style, highlighted in exclusively curved walls, brick wall features and expansive windows. The main living room is an inlet oval with windows spanning across the back to feature OU's nature and the Meadow Brook Amphitheater.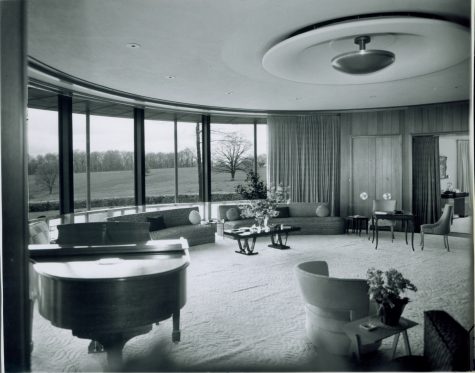 "It's been attributed to two different things: the Wilson's built it for their sunset years — for them to retire in — and those windows have a really great view of the sun setting over their farm property," Rzadkowolski said.
Rzadkowolski noted Wilson was warned about the proximity to loud amphitheater — which was built in 1964 after Sunset Terrace — but Wilson simply responded, 'I like music too.' Since, new presidents are sometimes jokingly warned to be a fan of music or purchase earplugs before moving. 
Wilson also appreciated other types of art and incorporated them into the home. The curved walnut staircase is lined with etched-glass portraits of her horses and her plane. 
After the death of her husband, Wilson left the property in 1963. Since then, Sunset Terrace has been home to OU's first Chancellor D.B. "Woody" Varner and former Presidents and interim Presidents Donald O'Dowd, former President Joseph Champagne, Sandra Packard, Garry Russi, Betty Youngblood and George Hynd. 
Today, Sunset Terrace is home to President Ora Hirsch Pescovitz.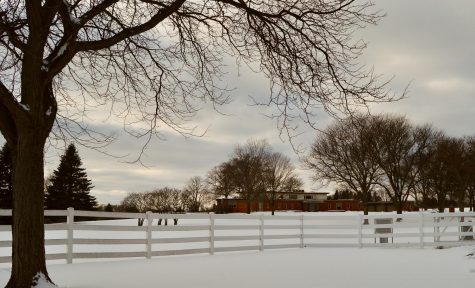 "President Pescovitz has actually decorated it in a similar way to how the Wilson's had it, but her art especially makes the house shine," Rzadkowolski said. 
Every room and hallway has pieces of Pescovitz personal art collection puzzled into the decor. 
In the entryway, there's a 12-panel set by María Magdalena Campos-Pons that fills the entire wall. Adding to its grandness, Campos-Pons paid a visit to Sunset Terrace, where she spoke about her art. 
The house is "fantastic for entertaining," according to Pescovitz. Before the pandemic, Pescovitz would host up to eight events a month, ranging from six to sixty people in attendance. 
"[The events] have been just wonderful," she said. "That is one of the things that has made the pandemic hardest for me… It's the university's house, and Dan [Pescovitz's partner] and I treat it like that. We feel privileged to live here." 
With the onset of the pandemic, Pescovitz has also shifted more to her at-home office space, instead of her on-campus office in Wilson Hall. She's felt "moved" by the university history she's involved in, occupying Wilson's old office. 
Wilson originally ran their family's 1400-acre farm, and similarly, Pescovitz runs Oakland University from that office.  
Today the office is primarily decorated with family photos and Pescovitz's book collection, which includes dozens she's contributed to writing.
There is one aspect that doesn't fit into these categories, though. Positioned directly behind her desk is a photo of the Wilsons as a reminder of OU's history, according to Pescovitz. 
"When I'm thinking about running the matters of the university I also think about the fact that our founder sat here and ran a very important business," she said. "I think — well — if she could do it, I can do it."