Housing responds to students' spring break return
University Housing skips testing and quarantine period after spring break, after campus COVID-19 cases lower. 
Housing Director Jim Zentmeyer accredited lessening campus COVID-19 cases to university policies: wearing masks, social distancing and the biobutton. 
"That's probably why we are not mandating testing upon immediate return from spring break or the quarantine, because — so far — the behavior has been successfully producing low positivity rates," Zentmeyer said. 
Prior to OU's December break, classes shifted online due to rising COVID-19 cases. When students returned to campus in January, classes continued online and students were expected to quarantine for two weeks. 
Following spring break, students have been given less restrictions, despite previous protocol. 
"As far as faculty… students on campus, the positivity rate is [.1%]," Zentmeyer said. "So Oakland University is probably the safest place to be in the county right now, which is great news."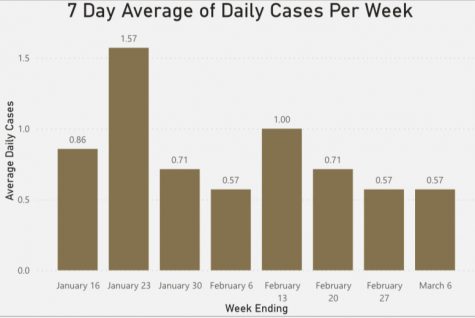 There were four positive COVID-19 cases — two off-campus students or faculty and two on-campus students. After the December break, there were six positive cases — two were off campus, and four were on campus. 
Because it's common to travel during spring break, Zentmeyer assures OU will welcome students back "carefully."
"I'm very hopeful for the future … but we will have a quick response should we come across any infections," he said. 
Zentmeyer recommends students who did travel "seriously consider" getting a COVID-19 test before returning to campus. Even if students didn't travel, he wanted to remind all students to fill out health reports — available on MySail — because it helps Graham Health Center monitor campus safety. 
Cases at OU continue to lessen, but cases have risen slightly state and county wide. These increases are only a fraction of cases from December. 
To accommodate for any concerns, Housing is also already planning for the fall semester. 
"We are seeing a drop off with regard to students signing up for fall housing… I think this is certainly going to be a happy place to be in the fall so I don't want students to rule that out," he said. 
In past years, Housing has issued fines for anyone who cancels their contract too late — usually May 1 — according to Zentmeyer. Now, the cancellation deadline has been extended to July 15. 
"[We are] giving people more flexibility, more opportunities to reserve a space plan for the fall, and if in the beginning of July, they [students] believe they need to make a change, they can do so at no penalty," he said. 
While OU Housing is skipping a post-spring-break quarantine and extending deadlines, Zentmeyer says "we're in very good shape" and encourages students to return to campus.