Wilson Hall renovations underway
Beginning this month, Wilson Hall will have its first complete renovation since establishment in 1965. Wilson Hall is rooted in Oakland University's history — the buildings namesake is university founder, Matilda Dodge Wilson. Its opening ceremony was on her 82nd birthday and it is an original feature of the Michigan State University-Oakland (MSUO) campus.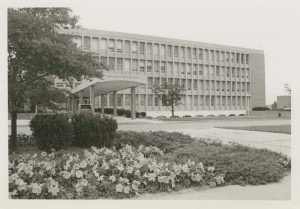 Wilson Hall was originally home to social science and humanitarian departments. Now the building features some classrooms on lower levels and many faculty offices, including President Ora Hirsch Pescovitz. 
Wilson Hall will introduce several areas that will make the building more student focused, making it a focal point on campus. 
The impending renovation and additions will give the building room for Admissions, Disability Support Services (DSS), a tutoring center and a testing center, according to John Beaghan, vice president for finance and administration. Many of these departments — admissions, DSS and the tutoring center — are being relocated from North Foundation Hall. 
The structure's initial construction was followed closely by Wilson, its benefactress, for almost a decade. In fact, Wilson Hall's inception predates OU's founding date: 1957. 
The building was literally one of the first pieces of OU's foundation — Wilson placed the final cornerstone to officially welcome the hall to campus. Then Wilson died two years after its completion, making it one of her last donations to campus. 
"The opportunities to, here, develop an institution of higher learning of great significance to the region, the state, the nation and the world are almost without bounds," Wilson said in a proposal for MSUO. "Here again in the words of Andrew Carnegie, there will be erected 'ladders upon which the aspiring can rise.'"
This reflects her aspirations for OU as a whole, but Wilson Hall was a personal project that was the basis for further development. 
The current development of Wilson Hall has been under consideration since 2017. The project will include roughly 40,000 square feet incorporated into four new stories — this is nearly half of the size of the building now: 98,153 square feet. To put this in perspective, Wilson Hall will surpass the Engineering Center's size — 127,000 square feet — post-renovation. 
Oakland University has allotted $20.54 million of bond proceeds to finance the project. Considering inflation, this price tag is roughly the same as the original cost ($2.28 million) to construct the hall. With the price tag implying modernization and new square footage, Wilson Hall could be a new hub on campus once completed. 
Although the renovation will not interfere with any classes, students and faculty will have the wait until 2022 to use the new spaces. Parking lot two will be temporarily closed to account for space for construction workers. 
Further renovations to campus can be expected in the future. 
"The Wilson Hall expansion and renovation project is one of several large projects on campus," Beaghan said. "A second project, that is awaiting final State of Michigan approval, is the South Foundation Hall expansion and renovation.  A third project that is in the design phase is the Varner Hall expansion and renovation."
Oakland University will continue to evolve as years tick by — the master plan of expected renovations has lofty changes in mind for almost every corner of campus.