Matilda's 137th Birthday Bash remembers OU's founder
Students and faculty celebrated what would have been Oakland University's founder Matilda Dodge Wilson's 137th birthday with music, giveaways and gourmet hot chocolate. 
Matilda's Birthday Bash has become a staple of nostalgia during Homecoming Week, building community and honoring OU's history. Attendees gathered under Elliott Tower on Monday, October 19 at noon to sip a seasonal sugary beverage and listen to music provided by WXOU, the campus radio station. 
The hot chocolate bar was made with frothy milk with optional whipped cream. Then each customer could choose additional toppings to add, including caramel, fudge, sprinkles and a variety of chocolate chips. 
There were also OU swag giveaways. WXOU had fleece blankets with their logos on them for attendees, and there was a table full of small OU buttons.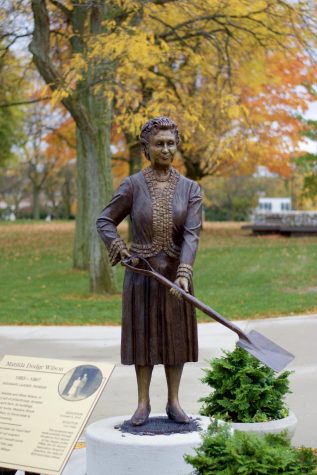 Oakland University is still in its infancy compared to other universities in Michigan, but some of its history, including Wilson, is more intimate. Many may still remember Wilson's presence on campus as her former home rests on the edge of campus, which has become a national historic landmark, the Meadow Brook Mansion. 
Wilson donated 2 million dollars and her estate, where the campus was built. In fact, her monetary donation alone would be equivalent to over 18 million dollars today. Then she continued to stay involved with the campus's growth — she placed the first stone of one of OU's oldest buildings, Wilson Hall. To put her philanthropy and OU's growth in perspective, Wilson Hall is currently navigating a similar sum of money — roughly 20 million dollars — to update the facility. 
Although Wilson died 10 years after OU's origin on September 19, 1967, she continued to make contributions. In 1971, the Meadow Brook Mansion was opened to the public, unveiling more history. Today students are welcome to take a tour of her home, complete with original furniture and fixtures, for free. 
Wilson ignited Oakland University's origin, and although she isn't a fixture of the campus anymore, her personal touches are scattered thoughtful OU: university history, events, like Matilda's Birthday Bash, buildings on campus and tours at the Meadow Brook Mansion. The annual Birthday Bash is a way to remember her contribution to Oakland University.