Campus Black lives matter March promotes voting
Two days before the election, students gathered around a snow-filled Hamlin Circle for a Black Lives Matter (BLM) Peace March, setting the timely tone for the week — voting, mental health and supporting Black lives.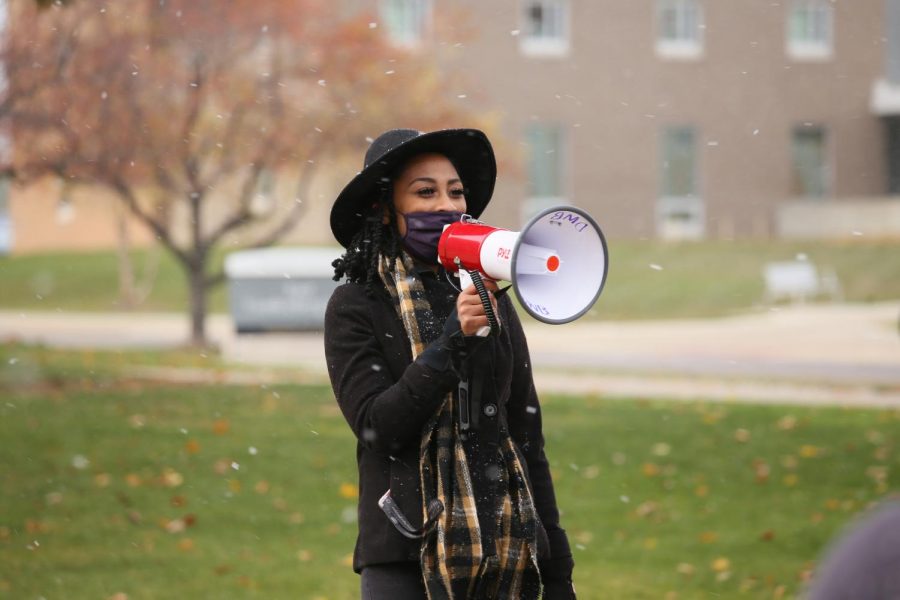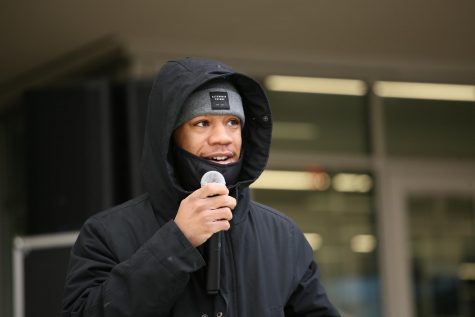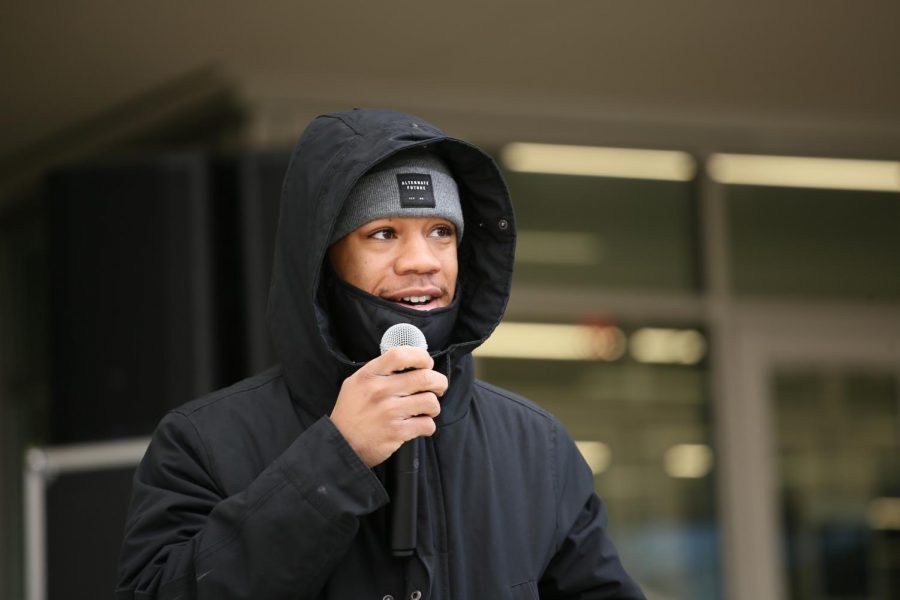 Despite a weather advisory alert accompanying the day, a crowd of 20-30 students assembled in the afternoon, hosted by members of Oakland University Student Congress (OUSC), the Association of Black Students (ABS) and Black Lives Matter Oakland University (BLMOU).  The muffling 20-40 mph wind lessened as Senior Jai Carrero and President of ABS Sean King directed the voices of everyone gathered in a rotation of BLM and voting opening statements and chants.
"Some people are staying inside, staying warm, but that's easy to stay warm, easy to stay in bed," King said. "There's bigger things going on that we need to fight for."
The snow clusters paused while the group marched on the sidewalk, curving toward the Elliot Bell Tower. Moving strategically past Hamlin Hall, Oak View Hall and Vandenberg Halls, Carrero assured the messages would be heard. 
"Let's get our voices heard," Carrero said. "Even for those who are inside, they will hear our voices. Remember that you are doing the work. We are all activists right at this moment." 
During the peace march, Carrero and King led a rhythmic set of call and response chants. They emphasized Black votes by shouting, "Black votes matter," "Black kids matter," "Black women matter" and "Black men matter." The crowd following roared back in repetition.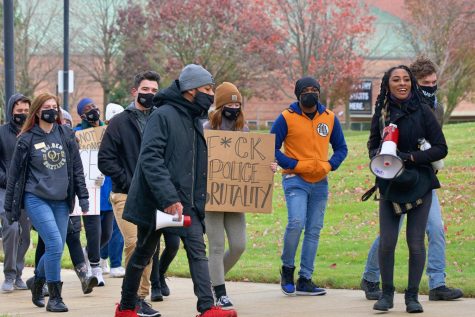 Once the group sprawled across the stairs behind the Oakland Center, Carrero unpacked their main message, voting on Tuesday, Nov. 3. The music of James Brown's "Say It Loud" plateauing and lowering to welcome her.
"I still want you all to understand that you are very important — your voices are important," Carrero said. "Get out there, and vote." 
Carrero acknowledged the uncertainty and history that this election will bring. The BLM movement has caught the attention of the U.S., and her speech served as a reminder of the year's news. However, she noted votes can change the "leadership" and direction of 2020. 
"You've seen what's gone on in 2020," Carrero said. "You've seen a lack of leadership. You've seen people claim to have our backs… kill us in the middle of the street. You've seen it on [social media]." 
King took the stand to thank everyone for attending and point out the resilience of everyone "fighting for this movement." Making "history" is not "easy," but attending marches, having a voice and voting is a part of "…the fight we have to fight." 
After Carrero and King established the energy, they invited Student Congress President Ethan Bradley to offer voting assistance. The two most important actions people can take are "actively fighting" and "voting," according to Bradley. Attendees were encouraged to pick up a voter registration form, which was available on table at the Oakland Center's entrance. Help filling out the form was also offered.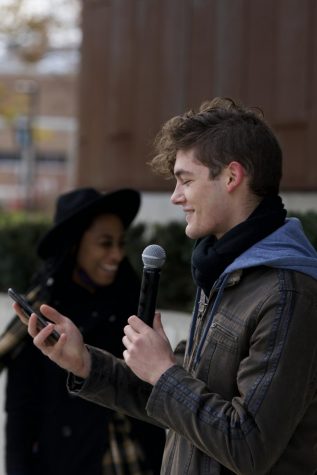 To maintain a supportive message, Carrero swayed from the informational and history-focused speeches. Mental health is an important aspect of activism, according to Carrero, and she led the group in a collective BLM-focused meditation session, produced by Dr. Candice Nichole. 
"Many of our students haven't had the opportunity to regroup without having more and more thrown at them… Black students are dealing with two pandemics — COVID-19 and racism," Carrero said. "We can't just bypass that."
She wants BLMOU to focus on fighting racism but also give "opportunities to center ourselves and hear positive affirmations." Students are facing alternative classes, pandemic precautions and a heated political climate this year, and each of these elements are new experiences for many too. BLMOU is a "beacon of empowerment" to help students through challenges.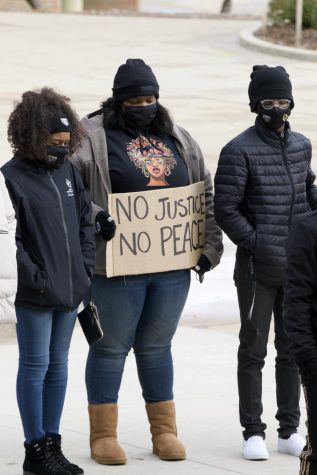 Following the series of speakers and mediation, everyone was welcomed to take a voter registration and continue the conversation. The crowd dispersed, but the message continues through their conversations, social media and votes. 
"Our ancestors fought, and some died for us to sign our names on ballots… this is a pivotal moment for us right now," she said. "We have loud voices, and they know that."