Oakland University's perfect and precarious picnics
Emerging from winter and a pandemic leaves a questionable list of springtime activities, but visiting OU's picnic spots should be near the top of your list. 
There's countless cozy spots across campus, but these picnic tables are the peak.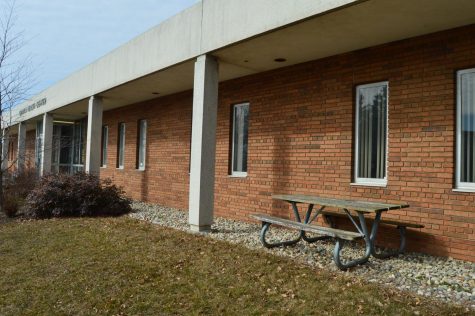 Countryside counseling 
The pandemic has taken a toll on many, but OU has a solution. Nuzzled up against a counseling room in Graham Health Center, there's a picnic table. 
Guests normally schedule indoor therapy sessions, but the picnic table is much more versatile. Picnickers can choose from two therapy methods: knocking on the window for service or eavesdropping on someone else's session. 
For a private session, students can talk through the window, similar to a McDonald's drive-thru. Even though there's no chicken nuggets or burgers, therapy can be even more satisfying. 
Don't let the Catholic confessional set-up be a detour either, there is actual counseling on the other side. 
On the other hand, a second-hand therapy session is more eco friendly. Eavesdroppers can balance improving mental health and hearing a little gossip — helpful and entertaining feedback.

(On a serious note, Dr. David Schwartz reminds all students that "all counseling services are confidential," "the OUCC [Oakland University Counseling Center] is currently operating out of HHB [Human Health Building]" and "there are no picnic tables by the windows [used for counseling].")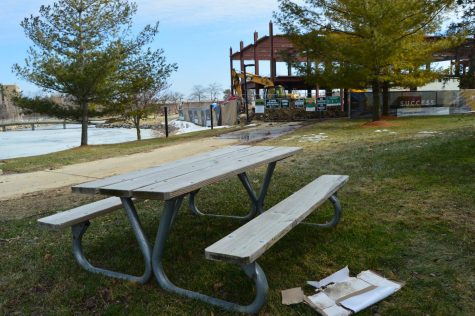 Music making 
A step over from Graham Health Center, new construction is beginning on Wilson Hall, alongside another picnic table. 
The Wilson Hall picnic table doesn't offer the services of its counterpart, but it is cozied into a corner of construction. 
Relaxing rhythmic clanks and smashes are not only within ear sight, but only about five feet away. In fact, some even report hearing improvised yells and calls. 
The location is currently OU's rendition of "Stomp," only more musically experimental. 
"Most of our audiences just don't have a trained-enough ear to recognize any sense of music, but that's just how unique my work is," Robert Builder, a construction worker, said. 
Picnic-goers can take in each mechanical marvel — even if not musical — at least reviving memories of driving in Michigan.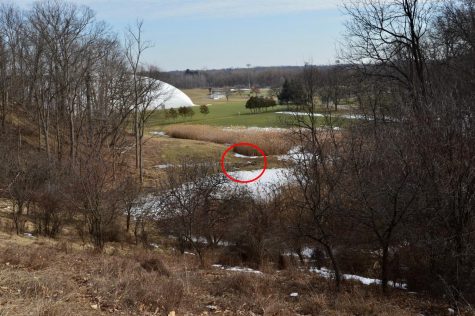 Picnic pit 
A quieter spot is just a plummet away, near the heating building. 
Visitors can either somersault into the abyss or scooch down, like a sticky playground slide. While there's no clear path to this picnic table, the challenge can make the summit more rewarding. 
This is the perfect date spot for picnickers — an activity and meal spot. 
"Every date I've brought here is always so surprised," Barney Stinson, avid dater, said. "I try a new falling technique every time, but still haven't fallen in love."
The red circle highlights the tables. If you squint really closely you can see the picnic destination that might make you fall [in love] at the bottom of the pit.
Once you're there, watch out for the springtime mud though, you might become love-stuck instead of lovestruck.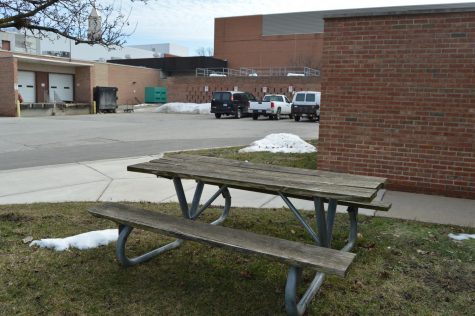 Tasty trash 
Right outside the Oakland Center, picnickers can find a more eco-friendly version of farm-to-table — there's a picnic table squished near a trash compactor. 
Guests can choose to bring their own snacks or take a snack dip in the dumpster. Either way, picnickers can truly experience the ambiance with each inhale. 
This is often overlooked natural reservoir, where guests can really understand where their meal is coming from — Chartwell's leftovers. 
This isn't Gordon-Ramsay fine dining, but dumpster divers may find gory and risky dining, depending on the day.
Picnickers should plan ahead to visit this location though. The time of the day and season will determine if hot or cold lunch is on the menu for the day.
Each location has their own alluring atmospheres, but there's still time left in the semester, maybe you can try them all — just try not to lose your appetite.