New housing policies under criticism
On-campus housing is also making adjustments to minimize the spread of COVID-19, in compliance with Oakland University's hybrid learning plan for fall classes. Students should expect an updated move-in process, restricted guests and visitors, changes to academic peer mentors' (APM) availability, distanced dining and increased online classes. 
Move in process 
Oakland University's move in process will be extended throughout five days, instead of three, and the on-campus residences will be less compact to promote social distancing. 
Dorms with bathrooms dedicated to each suite — Hamlin, Vandenburg and Oakview — will have a maximum of two students assigned to each bedroom. Students living in dorms with community bathrooms will only have one person assigned to each room, according to the housing policy. 
James Zentmeyer, Oakland University housing director, explained that after "14 days" students sharing dorm areas or apartments will become "family units." Then these students have a lower risk of spreading COVID-19 because they're only near the same set of people.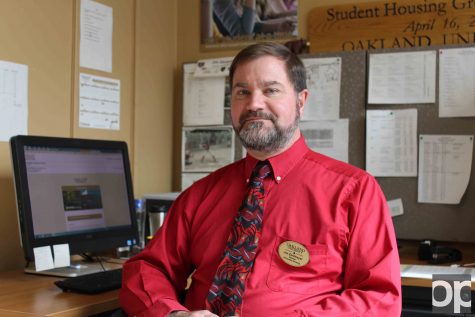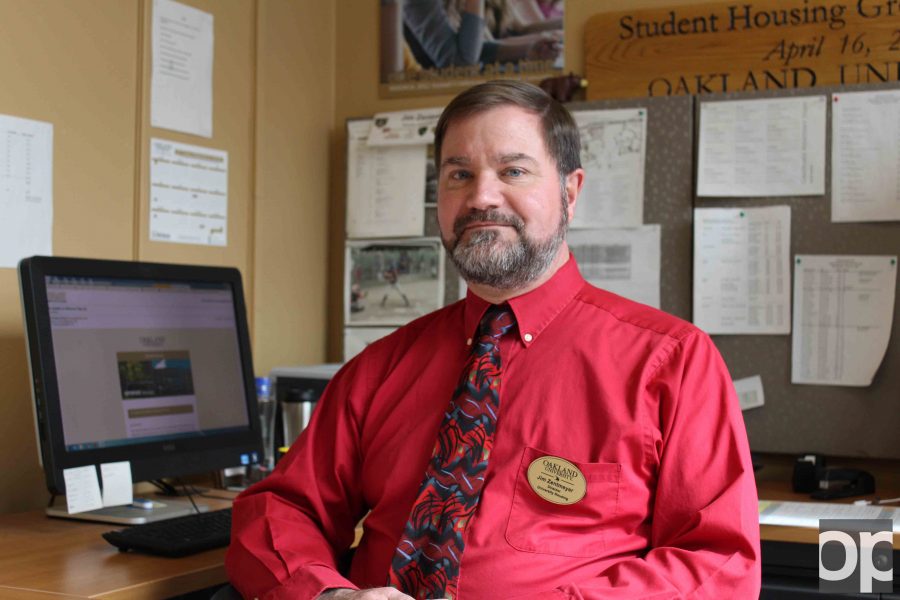 In turn, all room assignments are also final to minimize contact with other students.
If a student still were to contract COVID-19, they would be expected to find a new residence to quarantine for 14 days, but there can be exceptions if necessary. "Environmental Health and Safety, Graham Health Center and local Oakland County health officials" will be handling updated housing if COVID-19 is involved, but housing does anticipate most students having their own alternate plans. 
"We're asking all residential students to also engage in planning, and in the event that they do test positive [for COVID-19] they do have a backup plan, ideally at their primary home residence," Zentmeyer said. 
Guest and visitor policy 
Guests are "an outside visitor… someone who is not a current student at OU," according to Zentmeyer. The updated housing policy will not allow students living on campus to invite guests to their dorm, apartment or any common areas in buildings. 
On the other hand, visitors — "a fellow OU student" — are permitted to enter "public lounges" but not bedrooms, suites or apartments, according to Zentmeyer. Visitors must be let in to any foreign residence areas, though, because students' card access — entering a residence building with an OU I.D. — will be narrowed to the building that is home for each student. 
"We really can't effectively guard against the spread [of COVID-19] and have that same level of flexibility for visitation," Zentmeyer said. "We are going to have to limit that for the term of the pandemic. That's going to fall on the university community… We are going to have to create a culture where we are looking out for one another." 
These changes are meant to limit the spread of COVID-19 through social distancing, but some students are concerned about the "dangerous" mental health effects the guest and visitor policies could create, according to junior Heide Ashman. 
"While I understand the difficult situation the university is in during these unprecedented times, I do not have high hopes for the effects of these new rules on myself or anyone else's mental health on campus," Ashman said. 
Oakland University will offer virtual counseling sessions for all students. 
"It's going to be a primary thrust of their [The Graham Counseling Center] efforts," Zentmeyer said. "They're planning a lot of outreach with regard to helping students work through the issue of working more in isolation."
Zentmeyer does expect there to be an "increased need" for mental health tools this year though. As of now, he does not anticipate a change in the amount of mental health professionals in the Graham Health Center, but virtual sessions "might be able to increase their efficiency." 
APM availability
As many in-person classes revert to an online platform, APMs will also be assisting students virtually. All tutor nights will be online in the fall semester. 
Additionally, format changes have led to APMs having to adapt. In previous years, every APM was guaranteed a housing contract and a stipend for the year, but their payment is currently up in the air. Housing will no longer be automatically provided and an updated salary has not been released, according to an anonymous Oakland University APM. 
"I'm a little upset because I would have applied for other positions on campus," an APM, who wished to remain anonymous, said. "I would have applied for an SPB [Student Program Board] position or something like that, but now they're already full. It's too late to get another job, and now I have to figure out my living situation too."
Unlike resident assistants (RAs), APMs are no longer considered "a direct necessity by the International Revenue Service (IRS)," which renders them unable to receive housing as a form of compensation, according to Zentmeyer. APMs will instead receive an hourly wage, but the university has yet to decide on that amount. 
All APMs for the fall semester were notified through email and given a week to decide if they chose to remain on campus without their housing being compensated by the university and without an updated specific salary in place.  
Nightwatch employees were also notified through email that their positions would be moved to an hourly rate and housing would no longer be compensated. No specific hourly rate is decided for nightwatch at this time either.
Other APMs were contacted, but declined to comment on their changing housing policies. 
Distanced Dining 
All dining halls and residence convenience stores — The Hive and Tilly's — are scheduled to continue serving in the fall. However, students will notice a few changes to their structure. 
To promote social distancing, tables will be separated further apart and "one station meals and full entree selections" will be increased, according to the updated policies. 
Additionally, dining workers will clean the tabled areas and their work stations every 30 minutes to maintain a clean environment for the circulation of students and faculty. Increased sanitation measures will be noticed throughout dining and housing areas. 
"We also will put in Plexiglas shields in service areas of the housing facilities, increase the sanitization efforts in high touch areas, monitor and plan safe dining options and limit building access to residents to reduce the potential spread of the virus," said Glenn McIntosh, Senior Vice President for Student Affairs and Chief Diversity Officer. 
Additional Online Classes 
Many students will notice that some of their formerly in-person classes have switched to an online format as a part of OU's hybrid learning plan for the fall. This is another health safety measure for the university, but some students are choosing to alter their housing in correspondence with new online classes. 
"Once I found this out, I decided that paying 10 grand or more for a dorm wasn't worth it when I would only need to be on campus for four hours a week," junior Garret Green said. "Financially, that just didn't make sense to me." 
Although Green made his decision to opt out of university housing because his classes were almost all moved online, he is still expected to pay the traditional $100 cancellation fee. Recently, having some classes moved online has become the norm for many students, but some are waiting to hear more details. 
Zentmeyer acknowledged that some students agreed to their housing contracts "long before there even was COVID-19." In response, there has been a proposal made to "university leadership" to resolve concerns surrounding housing contracts that will be decided upon in about a week. 
"I would be hard pressed to push someone on a housing contract when they have only now learned that all their classes are online," Zentmeyer said. "We want to take that into very serious consideration." 
Another student, Joshua Robinson, has faced similar updates as Green — all of his five classes have been moved online. However, his concerns are focused on the OU's communication during these updates — he would like to be aware of "Oakland's full plan" for the fall. 
"I understand why they're [Oakland University Housing] doing these policies because of COVID-19 and safety, but they have to tell us about them," Robinson said. "We can't plan for this… They already broke a lot of trust with students by not being transparent to begin with — transparency is key in trust."
Zentmeyer assured that there aren't many policies "set in stone" as of now and housing policies will be evolving throughout the year.
"This is what we know as of today," Zentmeyer said. "We have been responding to Michigan executive orders on a weekly basis." 
Students and faculty are still unraveling the ways Oakland University will be changing for the fall semester, but the university will have a different environment for everyone and some details are still being discussed. 
The evolving policies still give some students unease — Ashman hopes her concerns will not solidify during the fall semester.
"I would like to see a game plan on how, if they keep these policies, they plan to monitor and protect students," Ashman said. "I want to see students being allowed to take responsibility for their own health, and see this campus beat COVID without destroying the community that makes Oakland great. I want better."