Transfer guard looks to bring back winning culture
Simeon High School in Chicago, IL has seen multiple basketball players reach the National Basketball Association (NBA).
Kendrick Nunn, Jabari Parker and Derrick Rose have all made noise in the NBA after leaving Simeon.
Zion Young is the newest Oakland University recruit to come from Simeon and has committed to the Golden Grizzlies for the remaining two years of his college basketball career.
Before making the Miami Heat roster, Nunn won Horizon League player of the year at OU. Young learned about the Golden Grizzlies through Nunn and others.
"Through Kendrick Nunn and some other Simeon players and coaches, I was informed about Oakland," Young said. "They told me about the coaching staff and the history at Oakland, so I was interested."
Among players who entered the transfer portal, Young was the 19th-ranked prospect.
Young compared his style of play on the court to Bradley Beal, Dion Waiters and LeBron James. His mentality, though, is more like that of Kobe Bryant.
"My mindset when I'm on the floor is — whoever is on the floor with me — I kill my opponent," he said. "At any moment I'm looking to score whatever is needed. If a 3-point shot is open for me, I take it. If a mid range shot is open for me, I take it. But also, I am always looking to get my teammates involved."
In his sophomore season at Western Illinois, Young averaged 13.2 points per game, shooting 41.3% from the 3-point range. Oakland University Head Coach Greg Kampe has always been a fan of the 3-point shot, and both he and Young believe the player and the coaching philosophy fit.
"He's a scorer — he's got a scorer's mentality," Kampe said in a Twitter video. "He runs the floor, he has a big body, he can get in there and rebound and boy does he fit the way we play. He can make transition threes or catch the ball on the fly and get to the rim."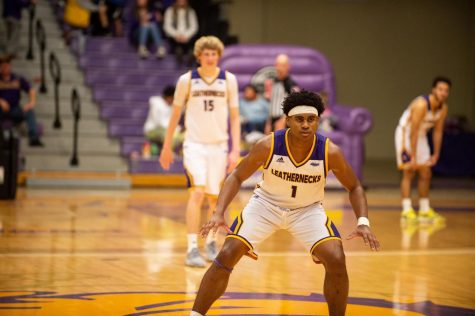 The Golden Grizzlies enter the 2020-2021 season with a 3-point shooter already on the team in Rashad Williams, and now add another in Young.
The 6-foot-4-inch guard is currently figuring out his eligibility status. When he last spoke to Kampe about whether he'd be available, Kampe said he was working on getting him eligible.
Whether he is available or not, Young was most focused on getting back in the swing of things and getting to know his new teammates.
"I'm most looking forward to getting the flow right with everybody and becoming comfortable with each other's play," he said. "Just winning, going out there and winning games. I want to bring the winning culture back to Oakland and make a name for ourselves."