Jason Ross Jr. goes beyond the stats as Golden Grizzlies play-by-play announcer
It wasn't long ago that the voice of the women's basketball team was attending high school football games and commentating to himself for practice.
Jason Ross Jr., the play-by-play announcer for the Oakland University women's basketball team, has always dreamed of being a professional broadcaster. Now, before even graduating college, he has earned a permanent play-by-play role, started his own Detroit sports brand and is working for major media companies. 
The Lawrence Tech University (LTU) student has been honing his craft for years and has described his broadcasting passion as "the most fun thing ever."
"When I was five or six years old, I began going to games with my dad, watching games on TV and listening to games on the radio," Ross said. "I loved watching games and listening to how they were documented by these voices who had the opportunity to go to the games, it was very compelling to me."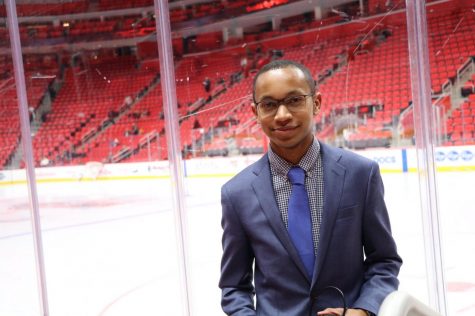 Around eighth grade, Ross began exploring the possibility of becoming one of the voices that shaped his childhood. He read books, listened to broadcasts and gathered information from professional announcers.
After graduating high school, he would go to high school games in Southfield and practice calling games into his recording device. Ross continued to practice and network, which opened the door for opportunities.
"I can't count the number of sports on my hand that I've done here [at Lawrence Tech]," Ross said. "We just have so many opportunities to hone our craft, so that's really helped as well." 
Through his work at LTU, he met Neal Ruhl, the voice of the men's team at Oakland. Ruhl, who previously called women's basketball games as well, let Ross know the position was opening. Ross got the job, and has been calling Golden Grizzlies games for the entire 2020-2021 season.
"This has been a wonderful experience with the Golden Grizzlies family, I've really enjoyed my time at Oakland," Ross said. 
Some of Ross' role models in the broadcasting industry are Mike 'Doc" Emrick, Mike Tirico, Gus Johnson and Trevor Thompson. Ross had the opportunity to meet Thompson, and over time Thompson became a mentor for Ross in his broadcasting career.
Ross met Thompson early in his college career and gave him the chance to report at Red Wings, Pistons and Tigers games. Thompson also let Ross pick his brain and ask about the ins-and-outs of the industry. 
"He's someone that has really pushed me over the years," Ross said. "The first time I met him at Joe Louis Arena, I was starstruck because I had watched him on TV for so many years. Now, it's such a blessing to be able to text him and have a conversation with him, like he's just a friend of mine now."
The biggest challenge of Ross' career came when he was given the chance to call the Horizon League swimming and diving championship at OU. Ross had never called swimming and diving before, but he rose to the challenge the only way he knows how — a ton of research.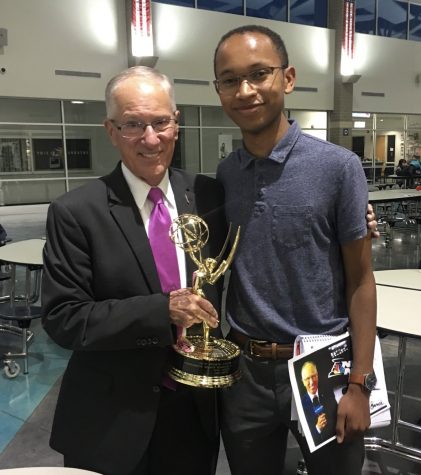 "I did a month of preparation leading up to that event," he said. "I don't think I slept that entire week."
Preparation is Ross' calling card. At a women's basketball game, he can be seen on press row with pages full of notes about everything imaginable. 
"That's probably my favorite part about the job — the preparation that goes into it," Ross said. "I enjoy finding stories on players, because one of my goals as a broadcaster is to humanize the athletes beyond the stats."
Ross was recently recognized for his work by the Black Play-by-Play Broadcaster Grant and Scholarship Fund as one of four scholarship recipients. 
"It was an amazing honor," he said. "It truly meant a lot that they respected my play-by-play enough to be able to entrust me with that scholarship."
Once Ross graduates from LTU, he hopes to continue building his new media brand, "The Motor City Roundup," with his friend and co-host Genna Rose. 
"Our goal is to be the 'one stop shop' for all of your Detroit sports needs," Ross said. "Genna is an amazing friend of mine, and she actually worked on the Oakland broadcast with me one weekend. She and I have attacked this as a duo, and we're hoping to blossom it into what could potentially be a television show one day."
For Ross, the pinnacle of sports broadcasting would be play-by-play for college sports on ESPN or the Big 10 Network. But, his goals go deeper than a title. He hopes to be an inspiration, just like his idols, like Thompson, were for him.
"I'd really love to pass that [knowledge] down to the next generation and help out others like he [Thompson] has helped me," Ross said.