Volunteerism takes shape at OU with TEAM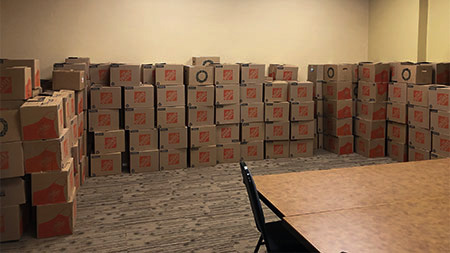 After closing most residential facilities and opening the Oakland Center as a hub for COVID-19 relief, Oakland University established The Engagement And Mobilization (TEAM).
Since Gov. Gretchen Whitmer put the state of Michigan under a stay-at-home order, TEAM has worked to provide relief to the people of Oakland County.
President Ora Hirsch Pescovitz spoke on the challenge of social distancing while still helping others in the OU magazine's official release.
"We are mindful that it is of paramount importance to maintain good health and social distancing, yet we know there are many needs in our community that Oakland University campus community members can assist in fulfilling," Pescovitz said. "That is why OU has established The Engagement And Mobilization, or TEAM, group to find places where we can help our community through this crisis."
TEAM consists of volunteers, which are comprised of students, staff and alumni. Local businesses have volunteered goods and services as well.
Examples of items donated to assist TEAM include trucks, enclosed trailers and staff to help with food donation, and the OU Food Pantry donated some of its supply.
"Seniors now are homebound, and they're saying, 'we need food, how do we get it?'" said Diane Baldwin, campus-community engagement coordinator. "We're working with OPC [Older Person's Commission] because some are Meals on Wheels qualified and some aren't."
Companies and departments on campus have also donated time and services to help TEAM in the community. Glenn McIntosh, co-lead of OU Engagement & Mobilization TEAM and OU/Pontiac Initiative, announced on Friday, March 28 that residential facilities would be turned into sleeping quarters for healthcare workers who cannot return home.
Chartwells donated refrigerator space to help accommodate storage for food, and the School of Music, Theatre and Dance began sewing homemade masks, are being donated to Beaumont Hospital, Oakland County Sheriff's Office, food distribution workers, in-home caregivers and others in need.
"We have a huge web that is working across all schools, including students and faculty," Baldwin said. "Even though this work is somber, it is exciting to see people pop up. They are responsive, intuitive and they're just there saying, 'Yep, I can do that.' They take it and run with it."
The masks were initially denied, but on Wednesday, March 25 at 5 p.m., Beaumont announced they were accepting homemade masks that were made under proper safety precautions.
Masks are in high demand for healthcare workers, who have seen their supplies dwindle as cases of COVID-19 increase.
"The handmade masks are also really good for food workers, front-line volunteers, visitors at hospitals or people who are caring for someone in their home, too," Baldwin said. "There's so many volunteers now. They [masks] are very useful in minute contact. Oakland County Sheriff Department also reached out and asked for our masks."
TEAM is working seven days a week, adapting to the hour-by-hour changes in COVID-19 news and gradually expanding its reach.
Those interested in volunteering in person or virtually, can email [email protected] or call the communication hotline (248) 556-3330 for more information.
Volunteers can also visit mycovidresponse.org. This site, led by The Pontiac Community Foundation and Oakland University, has taken the lead in creating a centralized database connecting a network of volunteers and a wide range of community organizations and agencies.
Current volunteer opportunities include:
Working at Pontiac High School or the Oakland Center to distribute food to school children.
Collaborating with OUWB SOM students to provide groceries to families who visit the Gary Burnstein Clinic in Pontiac.
Delivering food and supplies to people's doorsteps
Assembling boxes of food and supplies for distribution
Volunteering at community food distribution events
Providing social support through e-mail, phone and/or video calls
Virtually tutoring K-12 and college students
Collecting, sorting and distributing books for children
Staffing phone lines
Providing child care for essential workers