Sug Williams overcomes adversity, finds her role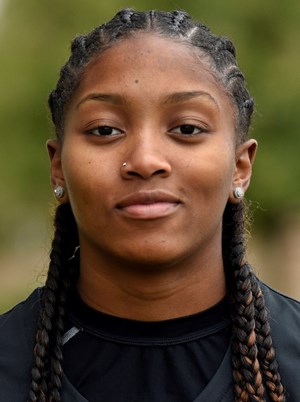 Freshman Lamariyee Williams has steadily been playing more for the women's basketball team as the season progresses, but she almost wasn't wearing the bear.
Had it not been for her relationship with associate head coach Ke'Sha Blanton, the 5-foot-8-inch guard who goes by "Sug" might be playing in New York.
Originally, Williams was verbally committed to Niagara University in New York. As it grew closer to high school graduation, she began to realize that distance wasn't for her.
She asked her high school coach to help her figure out where to go. He connected her with Blanton, who coincidentally Williams already knew from her AAU days. After a visit to campus, Williams decided on the Black and Gold. 
"My family was here," she said. "I had decided this is where I wanted to be when I was on my visit, after we took a tour of campus."
Since graduating high school, Williams has displayed toughness, according to Head Coach Jeff Tungate. Williams lost her senior season on a team that both Williams and Tungate feel could have won the state title.
Then, during the summer, she dealt with sitting out due to COVID-19 concerns, missing vital practice time. Due to COVID-19, the team was unable to practice either, which can be difficult for a freshman.
"She has had unbelievable toughness for what she's had to overcome," Tungate said. "For her to play the way she's playing, with the attitude she's got right now after overcoming all of that — it shows the type of toughness and character she has."
Coming into her first season, Williams had to adjust to not being the star of a team like she was in high school.
"It was just an adjustment I had to make," Williams said. "It was difficult, but it was worth it now."
Williams scored 22.3 points per game, grabbed eight rebounds per game and recorded six assists per game in her full junior season at River Rouge High School. As a senior, she was the No. 13 guard in the state, according to goldengrizzlies.com.
In her last four games, Williams has seen more action on the court. Against Robert Morris on Saturday, Feb. 6, Williams recorded a season-high 11 points in a seven-point win. Against Milwaukee the next weekend, Williams hit a deep 3-pointer to help secure a one-point overtime win. That deep ball is what Williams believes she needs to improve upon the most. Her playstyle resembles NBA MVP Russell Westbrook, and she tries to emulate the same fast-paced, slashing, athletic style. 
"Without the dunks, I like to say I'm kind of like Russell Westbrook," she said. "I'm a slasher, that's what I like to do — get to the basket."
Just like Westbrook, Williams has that swagger. According to Tungate, she's ahead of the game as a freshman.
"She has a really good basketball IQ for a freshman," he said. "She plays with an unbelievable swagger, she knows she can get to the rim at any time."
During a season with uncertainty and a lack of confidence due to COVID-19 restrictions, Tungate feels it's very important to have players who bring confidence and uplift others.
"Having someone like Sug in the locker room — there aren't too many people who've had to overcome more than her — that's a great influence to have in the locker room," he said.