Five Oakland elevators to ride and thrive in
Elevators are heroes of architecture. While the common staircase and ladder are strong components of indoor geography, the humble elevator lifts up the slack where the former modes are lacking. While one must make conscious and laborious steps when going up stairs — presenting the risk of tripping should the mind lapse into idle thought — the elevator allows for a relatively safe and accessible ascent (or descent) with only the push of a button.
In honor of these unsung heroes of internal mobility, I have taken it upon myself to highlight some of the more notable lifts found around Oakland University and assigning each of them a rating based on their aesthetics, performance and usefulness. 
Math and Science Center West Tower Elevator
A classic OU elevator, the MSC's west tower elevator is one of the most distinctive elevators on campus. Riders are able to access seven floors within the eight-story tower and do so with a fast and fairly smooth ride from the ground level to the seventh floor. The interior is moderately open and offers a worn — but functional interior featuring adequate lighting and tactile buttons. A ride in this elevator is nice, efficient and hardly memorable.
Rating: 7/10
Engineering Building Service Elevator
The Engineering Building offers several elevators for vertical mobility needs, but none are quite like the service elevator at the north end of the building. It can almost feel a bit clandestine going past heavy doors and exposed pipes when boarding at the ground floor, but the journey adds to the elevators' whole aesthetic. Stainless steel adorns everything from the frame to the doors to the wall to the buttons, each part reflecting the unobstructed overhead lights and making the ride bright as day. And outside of the lengthy journey at the ground level, this elevator is arguably one of the most accessible with a massive amount of space, an easy to read digital floor display and audio callouts. This is the epitome of a modern elevator.
Rating: 8.5/10
Pawley Hall Parking Structure Elevator
Located at the northwest corner of the parking structure next to Pawley Hall, this Otis elevator accesses each of the three parking decks and does so quickly — and you will be glad about that. While the top deck shelter provides nice cover from the elements and the interior is visually interesting — the tactile buttons and wedge floor display feel more at home in "Blade Runner" than in a college parking garage — there is a thick, dusty musk in the elevator that made my lungs feel like they were filling up with black mold. This probably would not be great for anyone with respiratory issues, and the small dimensions could make it a tight fit for anyone using a wheelchair. If you can, consider taking the stairs.
Rating: 4/10
Anton/Frankel Center Southwest Elevator
Not everyone knows about OU's Macomb County locations, but they exist and they have elevators. 
This elevator is located in the southwest side of the Anton/Frankel Center in downtown Mount Clemens. But before you pack your bags and go east to ride this OU deep cut, be aware that this ride is not what it is all cracked up to be. The inside is a bit too small for one person, let alone two people or even someone with a wheelchair, and the ride is a short but rough journey between two floors. Unless you plan on spending some time on the east side, this lift is not enough to make a day out of.
Rating: 5/10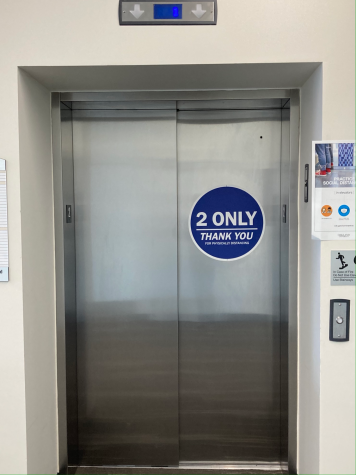 Oakland Center Southern Elevator
All elevators fill mobility needs by making it easier to navigate buildings when stairs are impractical, but rarely does a single elevator solve just about every lifting need a building has. 
Dear readers, meet the silver bullet of elevators: the OC's southern elevator. A byproduct of the 2018 OC expansion, this new ThyssenKrupp elevator features unique weaved metal walls and a spacious and undetectably smooth ride up and down. But it is not the nice aesthetics or vibrationless ride that makes this elevator so special, it is that it serves all three levels of the OC while every other elevator serves just two. For filling a clear gap left by previous elevators, this ride is one you must not miss out on.
Rating: 10/10