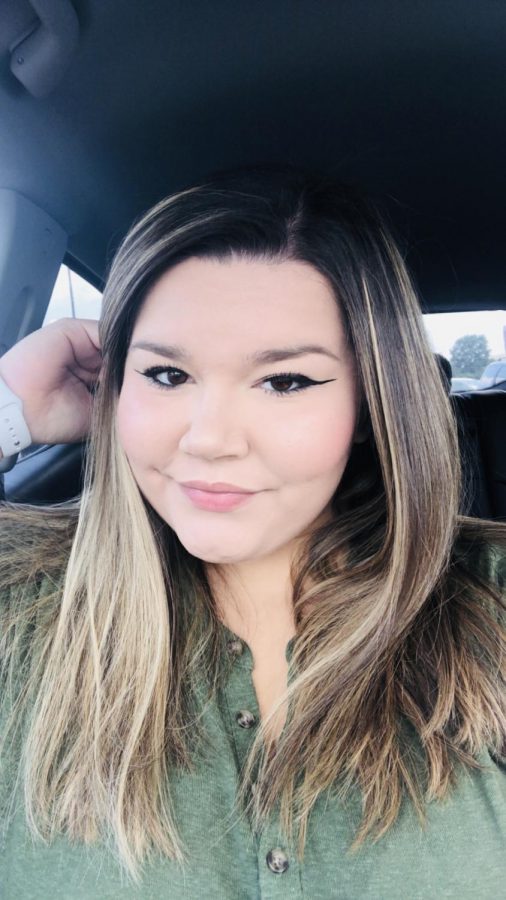 Katie LaDuke is the managing editor of The Oakland Post. She is responsible for content creation, editing and overseeing the design and copy team for the production of print issues. 
In 2016, LaDuke joined the staff as a reporter, mainly focusing on sports. She then made the transition to copy editor and eventually chief copy editor in 2018 before becoming the managing editor for the 2019-2020 school year.
Besides writing about sports for The Post, LaDuke has also highlighted student organizations and Oakland administration. Her most recent journalistic venture has been dabbling in the art of satire to expand her evolving skill set.
In high school, LaDuke was the editor-in-chief of her school's yearbook for two years but did not know if she wanted to continue with journalism in college. Once she started at Oakland in 2016, she fell back in love with writing and design. In April 2020, she will be graduating with a double major in journalism as well as public relations and strategic communication. 
Katie LaDuke, Managing Editor
Apr 08, 2020

Moments missed and memories mourned: The senior send-off we never got

(Story)

Apr 01, 2020

Majors as different breeds of dogs

(Story)

Mar 27, 2020

Stay home or you're stupid

(Story)

Mar 14, 2020

Professors, faculty and staff prepare for transition to fully online courses

(Story)

Feb 05, 2020

Dealing with anxiety in college

(Story)

Jan 29, 2020

Questions and voices heard at first Student Concerns Forum

(Story)

Oct 09, 2019

To the people with blinding headlights

(Story)

Oct 02, 2019

The types of boys you encounter in a lifetime

(Story)

Sep 11, 2019

SATIRE: Birds are not real

(Story)

Aug 27, 2019

Satire: The roadblocks to my problems

(Story)

Aug 06, 2019

Satire: Living with a shopping addiction

(Story)

Jun 26, 2019

Fishfly season is upon us

(Story)

Jun 11, 2019

Board of Trustees unanimously approves tuition increase, new health sciences degree

(Story)

Jun 05, 2019

How to torture your keto friends

(Story)

Jun 05, 2019

Oakland collaborates with Detroit Drives Degrees for debt relief and degree completion program

(Story)

Oct 03, 2018

Blitz: Sept. 30, 2018

(Story)

Aug 01, 2018

Campus environment keeps bringing trustee back

(Story)

Jun 26, 2018

Two out-of-state athletes stay as Michigan-made couple

(Story)

Mar 27, 2018

Rate My Professors' Chili Peppers Heat Up Conversation

(Story)

Feb 27, 2018

Club Sports spotlight: Swimming club

(Story)

Feb 27, 2018

A high price for higher education

(Story)

Feb 13, 2018

Oakland tennis calls for leadership from young staff

(Story)

Feb 12, 2018

The Blitz Feb. 14, 2018

(Story)

Feb 06, 2018

Somerfield named Horizon League player of the week

(Story)

Feb 05, 2018
Jan 30, 2018

The Blitz Jan. 31, 2018

(Story)

Jan 30, 2018

Ballroom and Latin Dance Club Highlight

(Story)

Jan 22, 2018

The Blitz Jan. 24, 2018

(Story)

Jan 22, 2018

Emmy-nominated show takes a look at men's basketball

(Story)

Jan 16, 2018

The Blitz Jan. 14, 2018

(Story)

Jan 10, 2018

Padraic McMeel named interim Athletics Director

(Story)

Jan 09, 2018

Club figure skating's hopes for Nationals

(Story)

Jan 02, 2018

Winter break blitz

(Story)

Dec 05, 2017

Inaugural board of advisors for the Golden Grizzlies Athletic Fund

(Story)

Nov 28, 2017
Nov 14, 2017

Club sports highlight: The running club

(Story)

Nov 06, 2017

Cross gains win after win

(Story)

Oct 31, 2017
Oct 29, 2017

New to the O'rena and Oakland basketball this season

(Story)

Oct 23, 2017

Trick or Treating for a cause at the O'rena

(Story)

Oct 17, 2017
Oct 17, 2017

Oakland volleyball player selected as 2017 CLASS Award candidate

(Story)

Oct 09, 2017

Club sports highlight: Vitality Dance

(Story)

Oct 03, 2017
Sep 26, 2017

Oakland Softball's first games under new head coach

(Story)

Sep 26, 2017

Integrated dance and cheer team: where are they now?

(Story)

Sep 19, 2017

Students construct mixed feelings about changes on campus

(Story)

Sep 12, 2017

Winter Guard Highlight

(Story)

Sep 05, 2017

Club Sports Highlight introduction

(Story)

Aug 10, 2017

Isaiah Brock steps down from Oakland University men's basketball

(Story)

Aug 01, 2017

Konya gets contract extended into 2022

(Story)

Aug 01, 2017

OU Night at Comerica

(Story)

Jun 29, 2017

Miner resigns as head coach of Oakland softball

(Story)

Jun 23, 2017

Valparaiso leaves Horizon League

(Story)

May 30, 2017

Oakland soccer player pays tuition and supports soccer team for kids in Liberia

(Story)

May 26, 2017

Integrated Cheer and Dance starts from scratch

(Story)

Apr 19, 2017

Baseball tops EMU in home-opener slugfest

(Story)

Apr 18, 2017

Circle K rakes in over 1,600 service hours, awards

(Story)

Apr 18, 2017

The Blitz: April 19, 2017

(Story)

Apr 11, 2017

Softball picks up second sweep of the week

(Story)

Apr 11, 2017

Oakland softball sweeps Cleveland State in mid-week series

(Story)

Apr 04, 2017

Despite venue change, softball takes series over NKU 2-1

(Story)

Apr 04, 2017

Former Oakland golfer set to compete in Masters

(Story)

Apr 01, 2017

The Blitz: March 29, 2017

(Story)

Mar 28, 2017

Softball swept by YSU in league opener

(Story)

Mar 21, 2017

Baseball team looks for redemption

(Story)

Mar 14, 2017

The Blitz: March 15, 2017

(Story)

Mar 07, 2017

Kownacki pitches her way to back-to-back Horizon League Pitcher of the Week titles

(Story)

Mar 07, 2017

Student-athletes excel on both sides of the hyphen

(Story)

Mar 07, 2017

The Sporting Blitz March 7

(Story)

Feb 26, 2017

Athletics to fund Motor City Madness tickets, transportation for students

(Story)

Feb 20, 2017

Softball off to best start in program history

(Story)

Feb 20, 2017

Baseball's Kaline and Healey get first win as co-head coaches in series finale

(Story)

Feb 14, 2017

New coaching staff leads baseball team into the 2017 season

(Story)

Feb 07, 2017

Go Red Week concludes with first annual Go Red Dance Jam

(Story)

Feb 03, 2017

Women's basketball stuns No. 21 Green Bay

(Story)

Jan 31, 2017

Little makes a big name for herself in Oakland's lineup

(Story)

Jan 31, 2017

Recruiting the finest for Greek life at OU

(Story)

Jan 24, 2017

Oakland dance team shines in Orlando

(Story)

Jan 21, 2017

Offensive woes strike women's basketball once again

(Story)

Jan 08, 2017

Women's basketball loss heats up Horizon League rivalry

(Story)

Dec 22, 2016

Little posts multiple career highs in win over Vermont

(Story)