Recruiting the finest for Greek life at OU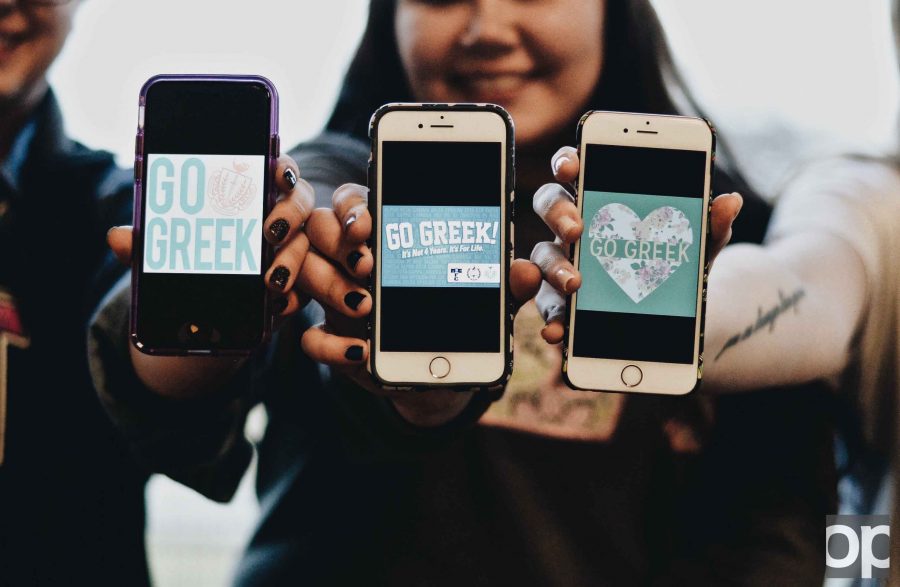 The beginning of the semester at Oakland University can be very hectic for students getting used to new classes and getting back into the swing of things after break. The same is true for organizations on campus, like the Greek community, with its five Panhellenic sororities and five Interfraternity fraternities.
A major component of both sides of the Greek community is their recruitment during the fall and winter. Just as each chapter is unique, the process to finding the best new members is just as individualized.
For sororities, recruitment is referred to as "formal" or "informal." Formal recruitment takes place in the fall a few weeks after school starts, and informal recruitment takes place anywhere from a few months into the school year to a few weeks after the winter semester starts. Although these two types of recruitment end with the same outcome, they are very different.
Formal is the first and more elaborate of the two. It can take up to eight months to plan. Alpha Delta Pi, Alpha Sigma Tau, Gamma Phi Beta, Phi Sigma Sigma and Sigma Sigma Sigma show off their chapters at the same time for four days.
"From about January to September is nothing but planning, with several processes that take place including selecting Rho Gammas, collaborating with members of the Panhellenic Council and marketing for the actual week of recruitment," said Makayla Trivett, the 2016 vice president of recruitment for the Panhellenic Council.
One part that is exclusive to formal recruitment is the use of Rho Gammas. These women are "recruitment counselors" who disaffiliate from their chapters to help guide prospective members to the right sorority without bias for their own sororities.
"As a Rho Gamma, you really see the other side of recruitment and help women find their home in Oakland's Greek life by showing them why I and many others chose to go Greek," said Andrea Kumm, a Rho Gamma in fall 2016.
Informal recruitment requires a lot less planning than formal recruitment.
"Each night, the sorority's room is decorated and used to talk about topics specific to each chapter," said Maria Chura, vice president of growth for Alpha Sigma Tau. "During formal, each chapter sees all of the girls who are interested in Greek life and if they uphold our values, since they visit each sorority at least once."
There are four days consisting of general information regarding recruitment, starting with Information Night. Each sorority talks about its chapter's interests and values. The following night's topic switches to philanthropy, to showcase the groups' volunteer work.
The final informative night is Preference Night, where each sorority shows something special about their chapter to the girls who are invited back. The last day of formal recruitment week is Bid Day, when interested girls find out which sorority they've been accepted to and is nearly everyone's favorite day.
"The best day of recruitment is definitely Bid Day," Trivett said. "It is so rewarding to see all of the hard work pay off when girls run home to their chapter."
On the other end of the spectrum is informal recruitment. There are no Rho Gammas, no specific nights the sororities have to follow and the Bid Day celebration is not as big. Sororities do not have to recruit informally at the same time. Informal recruitment also allows women the option to rush one specific sorority, instead of having to visit them all.
"Informal recruitment is a lot more casual and relaxed, since it can be put on by just one specific sorority at a time," Chura said. "During informal, the days revolve more around the interested women, and they only have to come to one event in order to be eligible for a bid."
Just like the ladies of the Greek community, men in fraternities also look for the best to represent their chapters. However, unlike the formal and informal recruitment done by the sororities, similar processes are used for both fall and winter recruitment by Alpha Sigma Phi, Sigma Alpha Epsilon, Sigma Pi, Tau Kappa Epsilon and Theta Chi.
"For the fall and winter rush, fraternities do a lot of the same things for both," said Brian Petty of Alpha Sigma Phi. "We talk about our chapter and show pledges all about our fraternity at the events we hold. The main thing that varies is the amount of men we recruit and offer a bid to."
Many activities and events the fraternities put on during Rush Week happen at their houses, around campus or sometimes off campus, depending on the event. These events allow potential members to interact with the active members of each chapter in meet-and-greets, basketball matchups and other private functions.
"The difference between fall and winter rush is the number of new people on Oakland's campus," said Sam Sartin, recruitment chair for Theta Chi. "The fall rush is extremely fast-paced compared to the winter rush, which is slower and more easily controlled. Also, with winter rush, you have had an entire semester to get to know interested men, which often makes the transition into the fraternity easier."
Just like any organization on campus, Greek life introduces students to new people who can help them make connections and friendships.
"By going Greek, I have made everlasting friendships while bettering myself, getting involved on campus and giving back to the community," Kumm said. 
Going Greek can help with networking and gaining skills for future jobs through various leadership positions that are offered in the chapters.
"OU often gets a bad reputation for being a commuter school," Trevitt said. "Joining Greek life can help give you a social life on campus while building a resume and amplifying your overall professionalism."
Greek life also promotes involvement with the community while pushing members to become better versions of themselves.
"Since joining Theta Chi, I have been pushed to my limits as a man, while still being supported by all of the brothers," Sartin said. "I would recommend that anyone who gets a chance to experience Greek life should do so. It has been a truly life-changing experience for me, and it could be for anyone."