Offensive woes strike women's basketball once again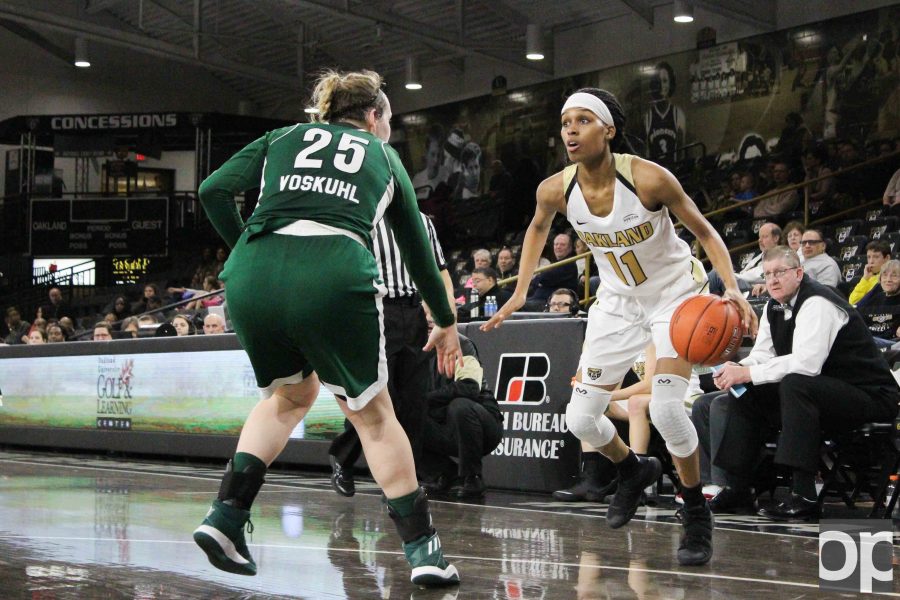 Dropping the last three out of four games, the Oakland women's basketball team suffered another loss on the Blacktop against Cleveland State 74-62 on Friday, Jan. 20. The Golden Grizzlies now move to 3-4 in the Horizon League as they get deeper into conference play.
"This time of the year, it's all about wins," head coach Jeff Tungate explained. "It doesn't matter how you play. It's about getting wins, and we didn't get a win tonight."
Both Hannah Little and Leah Somerfield were among the scoreboard leaders. Little contributed 17 points to the Golden Grizzlies' 62 total, as well as eight rebounds. Somerfield did her part with 13 total points and also set a career high of four steals while matching Little's eight rebounds. Making her way into the top three, Nola Anderson put up 11 points of her own with two rebounds and two assists.
The Black and Gold came out in the first quarter immediately battling the Vikings for the coveted lead, but to no avail. Oakland played most of the first quarter slightly behind or tied and ended trailing by 1.
At the beginning of the new quarter, the Golden Grizzlies jumped up to a slim lead, only to let Cleveland tie the score up once again. Almost halfway into the second quarter, Oakland faced its biggest deficit of the game, with the score at 27-14.
Tension and frustration on the bench and on the court mounted, which resulted in players scrambling to close the gap. Even with the full-court press, Oakland struggled to stay up with Cleveland State, ending the quarter in another 1-point trail.
The start of the second half seemed like a breath of fresh air for the Black and Gold. The Golden Grizzlies jumped on a slim lead in the beginning, eventually pushing the score to 43-38 until the Vikings battled back and closed the gap. Much of the period was then spent by both teams going back and forth with the wavering score.
"I thought the first three quarters, we did a pretty good job on a lot of things," Tungate said. "They got a lead, we came back. We executed our sets pretty well in that third quarter."
Oakland's offense struggled in the fourth quarter, as the team only scored 4 points.
"You have to keep learning, but we're kinda beyond the learning curve, so now is the time to win basketball games," Tungate said.
The Golden Grizzlies return to the Blacktop at 3 p.m. ET on Sunday, Jan. 22 to face Youngstown State.