Women's basketball loss heats up Horizon League rivalry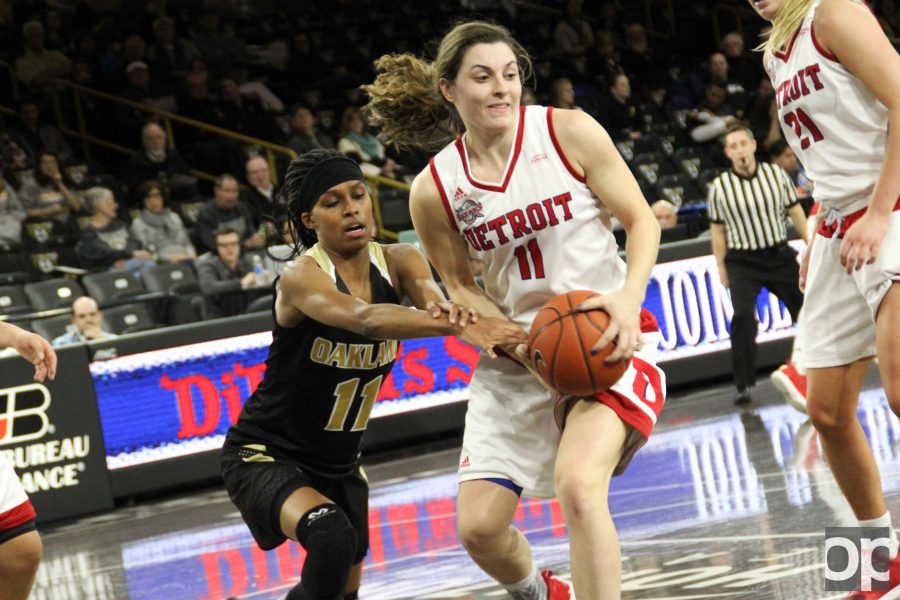 Coming off a three-game win streak, Oakland women's basketball looked to keep the momentum going heading into another Horizon League game on Jan. 7. Oakland ultimately fell to rival University of Detroit Mercy, 80-71. The Golden Grizzlies move to 2-1 in conference play with an overall record of 8-6.
Per the usual when the Golden Grizzlies and the Titans meet, emotions were running high. 
"We had players that just wanted to win so bad that they tried to take over the game on their own," Head Coach Jeff Tungate explained in a post-game Grizz Vision interview.
Despite the bitter taste of a dropped Metro Series match-up, Oakland put up an admirable fight. Taylor Jones tied a career best of 10 successful free throws, making up half of her 20 points. Trailing Jones by one point, Sha'Keya Graves put up 19, which included her career best of four 3-pointers. Taylor Gleason added 12 of her own points to the Golden Grizzlies' 71-point total.
The Black and Gold started off strong with back-to-back 3-pointers by Graves to gain a slim lead on the Titans in the beginning of the first quarter.  Detroit Mercy was quick to answer and put up matching numbers to end the quarter 18-18.
The second quarter seemed to mirror the first-quarter efforts of Oakland, even with the gap growing slightly. The Titans made their presence known with a 6-point lead after the second quarter.  
"We weren't running good offense, and we weren't playing the way we needed to play," Tungate said. "We talked about it at halftime. We came out in the third quarter and did what we needed to do."
Responding to their struggle to hold the lead during the first two quarters, the Golden Grizzlies pressed the Titans more aggressively coming out of the halftime break. 
With this strategy came an increase in fouls.  The Golden Grizzlies committed 16 fouls in the second half, including four offensive fouls in the first seven Oakland possessions of the fourth quarter.  These fouls resulted in a 4:07 drought for the Golden Grizzlies.
Both Leah Somerfield and Hannah Little exited the game early with five fouls each. By this point, the score had moved tremendously in the Titan's favor. The Titans held on to finish with 80 points over the Golden Grizzlies' 71.
"It's not a selfish thing," Tungate said. "The players just want to win so bad that they lose their poise a little bit. I thought that in the fourth quarter, Detroit just showed more poise than we did."
Even with a disappointing outcome, Oakland rallied through several controversial calls and intense exchanges on the court to deliver an electric rivalry showdown. The Golden Grizzlies hit the road to take on Milwaukee at 8 p.m. ET on Wednesday, Jan. 11.  The game will be broadcast on ESPN3.