Baseball team looks for redemption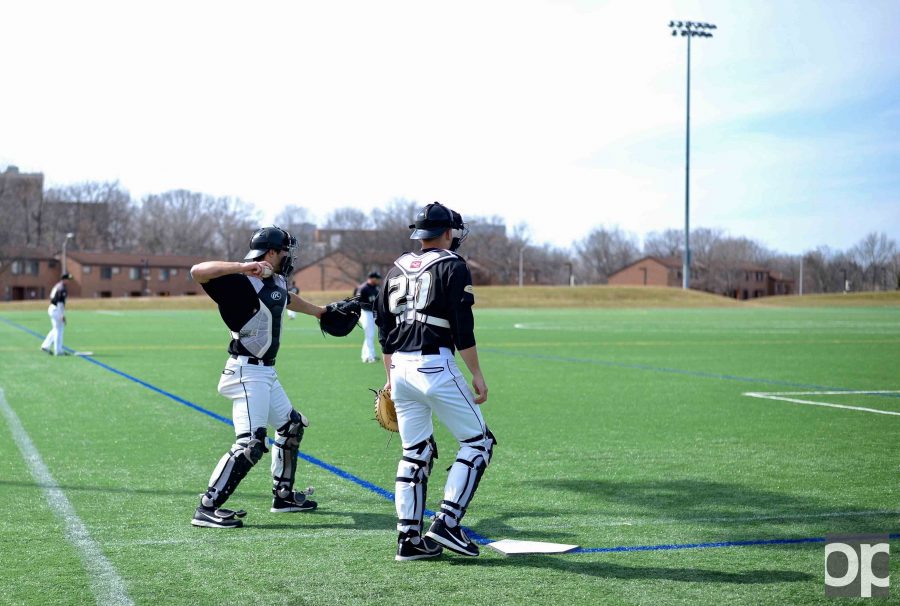 With conference play starting up on March 24, Oakland's baseball team has not seen desirable results in its preseason play. The Golden Grizzlies have dropped their last 14 games, bringing their record to 1-16.
Ten of Oakland's 16 losses have been by four runs or less. Co-head coach Colin Kaline attributes these slim gaps to the number of men left on base.
"We're not having troubles with errors," Kaline said. "I think we need to do a better job with situational hitting. We're doing the hard part of getting guys in scoring position, but we're not doing the little things like sacrifice flies, adding onto leads we already have, and getting back into games we might be behind in."
The offense has had great success in several games. A total of nine players have had multiple-hit games, and eight have had multiple RBI games. Tyler Janish saw a seven-game hitting streak, and Zach Sterry was close behind with a six-game hitting streak. According to the coaching staff, the problem lies with keeping the production consistent.
Along with the slim gaps in games, the Black and Gold have also seen several games with runs in double digits. In its only win so far this season, Oakland scored a total of 16 runs against Lipscomb on Feb. 18. Similarly, Oakland put up 10 runs in its loss against top-ranked Florida State on March 3.
"The offense has been inconsistent," Kaline said. "We've had games where hitting has been exceptional, and we've had games where it needs to be much better. In practices, we have gone back to situational hitting. We have really focused in on that to be prepared for when the time comes."
The Golden Grizzlies' pitching staff started the season with a goal of facing no more than four batters per inning. Since there has been a direct correlation with the amount of batters faced and the amount of runs given up, this goal has been a top priority of pitching coach Hayden Fox.
"For our three starters, we have been doing a good job with our first-pitch strikes, and we've been doing a pretty good job getting that lead-off guy out," Fox said. "On the flip side, when we aren't getting ahead with our first-pitch strikes and the lead-off batters are getting on, we are seeing anywhere from five to seven batters an inning, which is going to result in at least one run scored. When we're having success, we're right at that four batters or less inning."
So far, the three starters–Jake Lee, Tyler Palm and Nick Parr–have a combined total 73 strikeouts and have allowed six home runs. The bullpen rotation has recorded 41 strikeouts.
"The last couple of series, we've had great starting performances from both Jake Lee and Tyler Palm," Fox said. "They have put us in positions to win ball games. The biggest thing that we need to improve on is making sure the guys that come out of the bullpen are ready to continue with our game plan of getting ahead of batters and getting that lead-off guy out."
The bullpen is comprised of 10 players, and underclassmen account for almost half of the rotation. Since many of the pitchers have not seen much playing time, these early-season games are learning and adjustment periods.
"We have a relatively young bullpen," Fox said. "Most of the time, it is just getting guys out of the bullpen in game situations that are uncomfortable with men on in tight ball games. Once we continue to get guys' confidence up with being able to handle those situations, I think we will see that we will start to strengthen as a whole."
Even with the record not in their favor, Oakland is looking at the positives in every game.
"We're learning how to compete," Kaline said. "The effort and energy has been exceptional. As we move forward in the conference play, I think there are a lot of lessons to be learned about how to finish games and how to win series. It's not the results that we want, but there have been a lot of positives that we can take out of all the games. We have played a couple really tough opponents, some top-25 teams. Obviously you want to walk away with a couple more wins, but we're looking forward to the rest of the year."