Oakland soccer player pays tuition and supports soccer team for kids in Liberia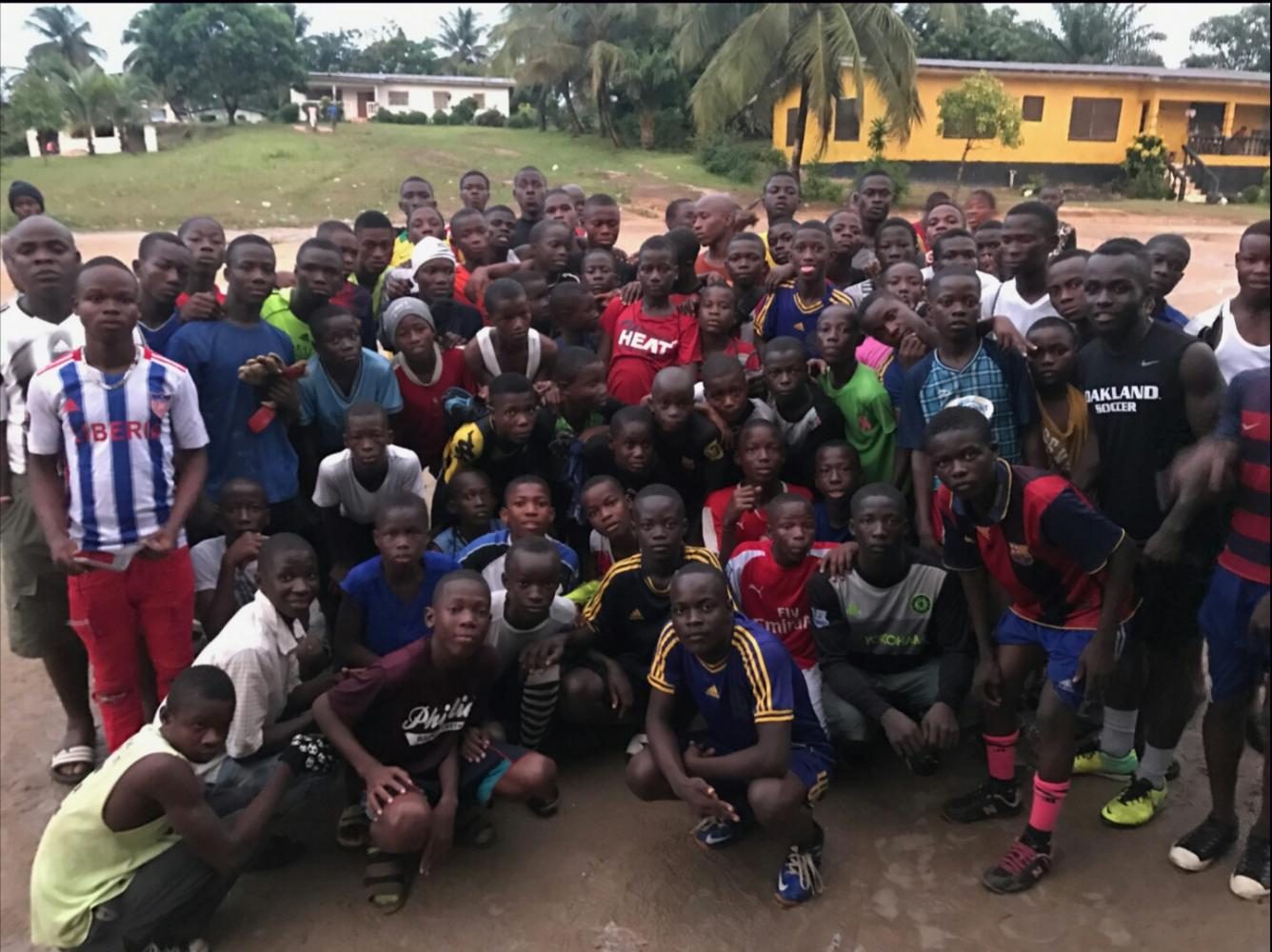 Wilfred Williams, a transfer student from Eastern Florida State University, finished his first season as a defender for Oakland University soccer in the fall of 2016. Williams was born in Liberia, Africa and came to America when he was just 10 years old to live with his uncle in Tennessee.
"My mom wanted me to come [to America] to get a better education and better life. At that time in Liberia and most parts of Africa, there were a lot of struggles," he said. "The education is good, but it's not great, so my mom wanted me to come here so I could get a better future."
While living with his uncle, Williams started getting involved with volunteer and service opportunities. Through his club soccer team, Williams became affiliated with One7 Ministry, a non-profit organization located in Charlotte N.C. that helps people affected by abuse, homelessness, abandonment and other obstacles. After graduating high school in 2014, Williams became a full-time intern for the summer.
Following that summer, Williams went back to One7 around the holiday season in 2014 and 2015. During this time, Williams donated presents he received from family and friends to the children at the ministry.
For the 2016 holiday season, Williams decided he wanted to do something different by spending a whole day of just having fun with the kids. To do this, Williams set a goal of raising $2,000 so he could take 20 to 25 children out shopping for the entire day. This holiday shopping project became one of Williams' bigger service projects with his short time at Oakland.
"I made a GoFundMe page to raise money to take some kids shopping," he said. When I came to college I knew I wanted to do something, so I started doing fundraising to get Christmas presents for the kids at One7."
With his many trips to North Carolina, Williams had not been back to Liberia in four years. A few months before the 2017 school year ended, Williams' host family surprised him with a plane ticket to Liberia.
"I was very shocked and surprised when I found out," he said. "It was just unreal."
Williams left for Liberia on April 26 and returned on May 13. At the beginning of his trip, Williams spent time seeing relatives he has not seen in years. There was a detour to Ghana and also places in Liberia with family members that Williams has not seen in a decade.
"It was amazing to be around family," he said. "It was something I needed for myself, personally, to mentally just focus on soccer and school. I guess you could say I was homesick, so I definitely needed this before my senior year of college."
Besides seeing family and being at home, Williams also wanted to give back to his old community and help with a local soccer team, the Paynesville Young Star Football Club.
One major difference between America and Africa, Williams recalls, is the school system.
There are two different times when children can go to school. There is a morning session and afternoon session. Between these two sessions, children can be seen working in the streets to get money for their tuition or for their household.
"It really hits you," Williams said. "When you're [in America] it's illegal for kids to work until they're 14 or 15, and when they do work they get paid good money. Some people over there only get $69 for the entire month."
Just like America, there are public and private schools. However, public schools in Africa are often very overcrowded where children are not given the best quality of education. With private schools, families need to pay tuition to attend. Even if children are allowed to go to school, some families may not be able to afford it or keep up with payments of the tuition.
"Every time I see kids selling something on the streets and it's school time, it hurts me deeply," Williams said. "Some families cannot afford to send kids to school. The amount it costs for a kid to go to school [in Africa] is not much at all compared to if a kid went to a private school here. I wish I could pay for every kid's tuition."
Seeing how so many people take education for granted, Williams decided he wanted to help pay for some children's tuition while he was in Liberia. Before his trip, Williams started another GoFundMe page where he raised a total of $1,000.
As he went around to various schools in Liberia to check up on kids from the Paynesville Youth Star Football Club, he noticed that tuition went up and many children could not complete the tuition for the full year.
Tuition for the private schools can be anywhere from $75 for a full year to $200 for a full year. With the money he raised, Williams decided to pay off the tuition debt the families faced.
"I partnered up with a local soccer team and to help these kids pay for tuition as long as they are on the team and as long as their grades are up," he said. "My goal for them is to just focus on playing soccer and school. The money their families were going to pay for their tuition can now go towards providing for their family."
Williams spent a total of $800 on the children. The money went towards tuition and equipment for the soccer team. Williams also gave some of the money he raised to people he just saw on the streets.
"The best part of my trip was playing soccer with Paynesville Young Star Football Club," Williams said. "Another thing we [in America] take for granted is the field and facility conditions. We would play on dirt with hills, and these kids were just amazing. They were just so focused and driven. It reminded me how much I love the game."
In fall 2017, Williams will be finishing up his bachelor's degree in Integrated Studies. After graduation, he still wants to help raise money and volunteer, and he hopes to take all of his experience from his travels to impact the lives of others.
"My job now is to fundraise for PYSFC," Williams said. "Right now we have 36 players on the team that were selected. For these 36 players, I will be looking for people or families to help support and sponsor them. Each year I would love to do that."
Williams knows that a lot of people promise children in Liberia things but never follow through with those promises or go back. He vows to never do that and will try his hardest to get sponsors for the children.
"I'm not giving up on them," he said. "I want to help them and be a part of their team."