Little makes a big name for herself in Oakland's lineup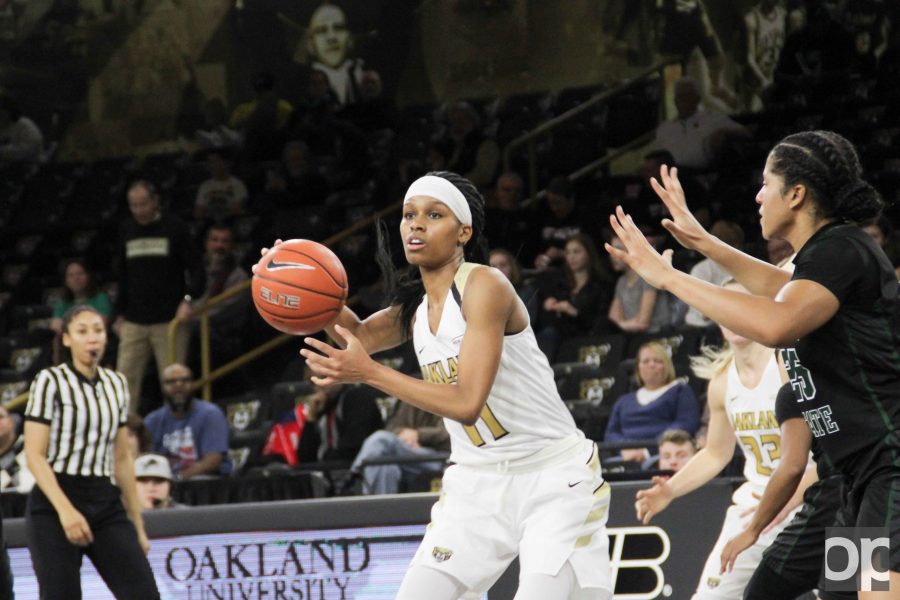 Starting at a young age, Hannah Little was introduced to the game of basketball by her dad and brother with early-morning trips to the gym. Since then, Little has played Amateur Athletic Union basketball and has played for Avondale High School, St. Bonaventure University and Oakland University.
"This is my job [at Oakland]," Little said. "I'm getting a scholarship to play basketball, so it is much more serious, and the maturity level is a lot higher." 
After joining the Golden Grizzlies in the 2015-2016 season, redshirt senior Little has returned to the Blacktop for one final season as one of the most reliable starters on the team. Not only has she put up impressive numbers across the board, Little is also an essential energy source for the entire team.
"[Little] plays extremely hard, and she practices just as hard," said head coach Jeff Tungate. "She is one of the hardest-working players I have ever been around. She gets energy every single day and has an unbelievable amount of energy in practice and games every single day."
One goal that Little locked in her sight was accumulating 20 rebounds in a game. Coming close to achieving this, Little set a career high of 19 rebounds in the game against Youngstown on Jan. 22 at home.
"The season's not over yet, but as of today, I would say the 19-rebound game is my biggest accomplishment," Little said. "I set a goal to get 20 rebounds, so I'm still working on it, but the 19 [rebounds] was my career high, so that was exciting."
After averaging 18 points and 13.5 rebounds in the Jan. 20 and Jan. 22 games against Cleveland State and Youngstown, Little was named Oakland Student Athlete of the Week for the week of Jan. 16-22. This came just after Little's career high of 19 rebounds and her seventh double-double of the season.
"[Little] is one of the top rebounders in the country," Tungate said. "She rebounds on both ends of the floor, and she is one of the best rebounders we have ever had in our program."
As the Golden Grizzlies get deeper into conference play with a little less than halfway to go in the season, Little leads the Black and Gold in games started (20), total free throws (69) and rebounds (245), while being No. 2 in total points (223). As a result of these numbers, Little has achieved eight double-doubles so far this season and has flirted with a triple-double.
"I think [Little] has improved by adding a little range to her jump shot and her decision making," Tungate explained. "Sometimes, she plays with such energy, but I think she has worked really hard with making her decisions on the break."
With graduation looming in April, Little is making the most of her last season in a collegiate uniform and is turning her sights toward continuing her basketball career, this time overseas.
"This season, I'm having a lot of fun," Little said. "I truly enjoy my teammates and my coaches. We trust each other on and off the court. There's no pressure. I am just going out there and enjoying my last season. I'd love to play overseas, so hopefully an opportunity presents itself."