Little posts multiple career highs in win over Vermont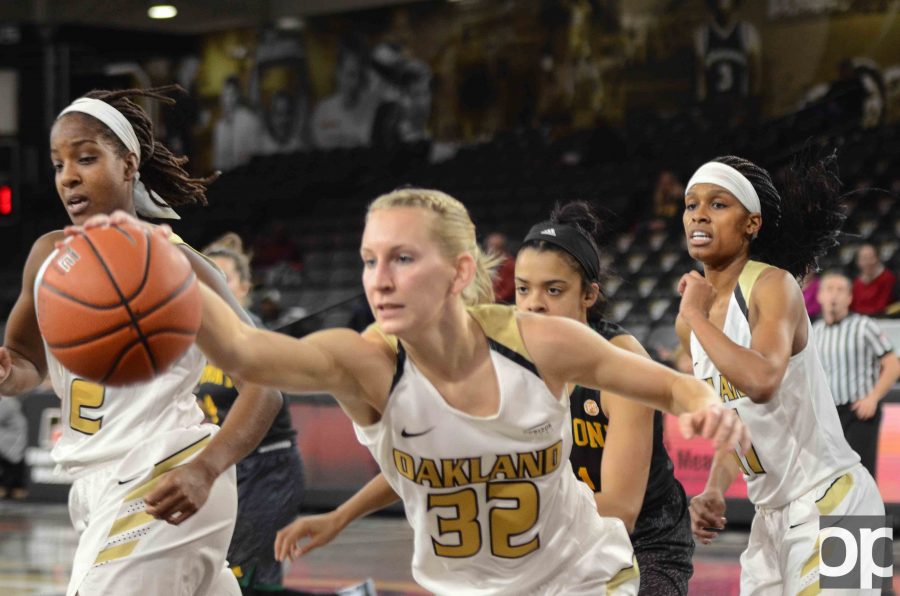 Oakland women's basketball rebounded with a 24-point win at home against the University of Vermont after two consecutive losses, improving their record to 6-5. With this win, Oakland athletes put up impressive numbers.
Hannah Little led the team with career highs in points (22), rebounds (17) and steals (nine). She was just one steal away from a triple-double. Little also achieved a career best of 12 made free throws.
"[Little] had a phenomenal game," Head Coach Jeff Tungate said in a post-game GrizzVision. "But, the stat that I think goes unnoticed is that she had five assists and one turnover. To come down and facilitate the offense, I thought what she did was phenomenal."
Following Little, Taylor Jones did her part with 13 points, and Sha'Keya Graves added 12 to the 79-55 total. Rounding out the top four, Taylor Gleason chimed in with double digits, scoring a total of 10 points.
With the Golden Grizzlies as a whole matching a season second-best of 21 steals, Gleason and Jones each accompanied Little's nine steals with four of their own.
"In the third quarter I thought that defense was phenomenal in what we did, and I was just proud of their effort," Tungate said.
In each quarter, the Black and Gold found more momentum and continued to build on the lead. This was charged by the team taking advantage of the Catamounts' fouls and ending with a team total of 23 free throws, more than half of which attributed to Hannah Little's career high.
"Tonight we didn't shoot the ball well from three, but we got to the foul line 31 times," Tungate said. "It shows that we're learning game by game that we're getting better. You want to use that non-conference season to learn lessons like that."
Going into the fourth quarter, the Grizzlies held a sturdy 25-point lead, which they continued to reinforce with field goals and free throws. Despite the efforts of the players and the first-year coaching staff of the Catamounts, once Oakland had the lead, they did not give Vermont the chance to catch up.
"We'll get back to work at practice tomorrow and for the next couple of days," Tungate said. "We have to get ready for UIC and Valpo. Non-conference is over, and now it's for real."
Oakland looks to keep the winning momentum as it starts Horizon League play against UIC on the Blacktop at the O'rena on Thursday, Dec. 29 at 4 p.m. ET.