Oakland dance team shines in Orlando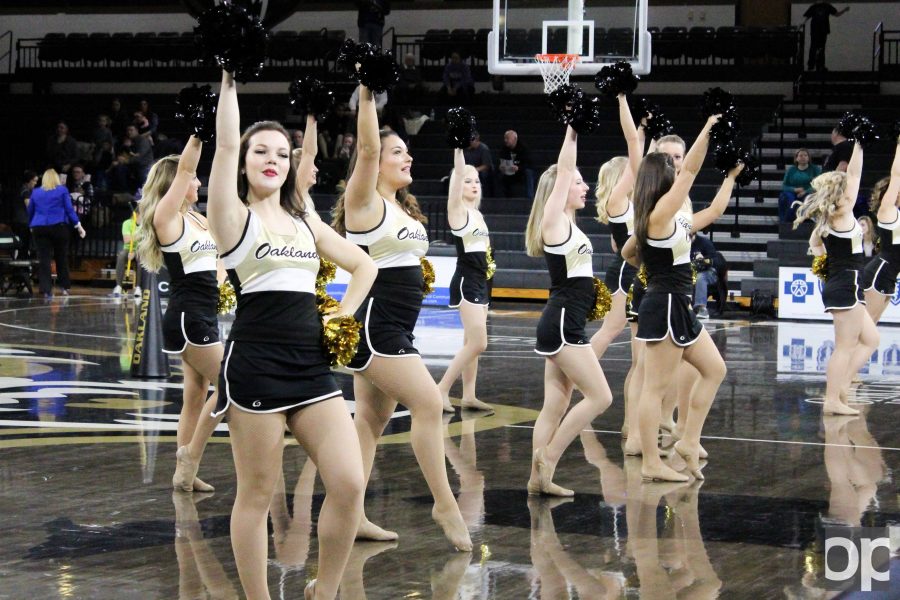 After taking the summer to start fresh and rebuild as a team, first-year coach Beth Tomaszewski and the 2016-2017 Oakland dance team kept their eyes on Nationals. Doing just that, the Golden Grizzlies took third at their summer competition in Wisconsin to qualify and send them to Orlando, Florida, for the UDA College National Championship on Jan. 14.
"Our program hasn't been to Nationals in a few years, so our main goal was to just do our best as a team to work for a good outcome," freshman Jessica Hush said. "We practiced a lot more than usual to clean our dances."
Since the girls took two numbers with them, a hip-hop dance and a jazz dance, all of the extra practices surely played in the dance team's favor by helping them secure 10th place at Nationals. The Golden Grizzlies missed moving on to the championship round for their Division I jazz and hip-hop routines by only 0.14 points.
"I had a great group of girls this year," Tomaszewski said. "[The team] was a lot larger and stronger technically. Since no member of the team has been to Nationals at the college level, our goal for the season was ultimately to get to Nationals, which we accomplished. I was very impressed with our dances. The girls showed a lot of energy, great precision and overall passion on stage."
Besides taking the stage at competitions, the girls also have a hectic schedule at the O'rena year-round. From soccer season to volleyball season to basketball season, they make sure to give their best performance on the sidelines and at halftime.
"We utilize every practice during the week," Tomaszewski said. "We try to come up with innovative routines for the games and try to polish them."
With Nationals under its  belt, the team can finish this semester and start getting ready for the summer and next year. Since there are several seniors on the team, the Golden Grizzlies look to fill those spots as well as expand the team overall.
"Going into next year, we want to recruit more dancers," Tomaszewski said. "There are some skills that just aren't teachable, so we really look for those. We are going to continue to work on new and innovative routines to build upon the strengths of the current team in order to get ready for Nationals again."
There are many lessons to take away from an experience of this caliber, not just the chance to be a part of a collegiate sports team.
"Since we had the chance to go to Nationals this year, we know what to expect now," sophomore Haley Fraeyman explained. "We know [Nationals is] going to be stressful, and we know what we're going to be fighting for."
The Golden Grizzlies dance team will continue to perform at the men's and women's basketball home games for the rest of the season.  More info about the team can be found on its Facebook page.