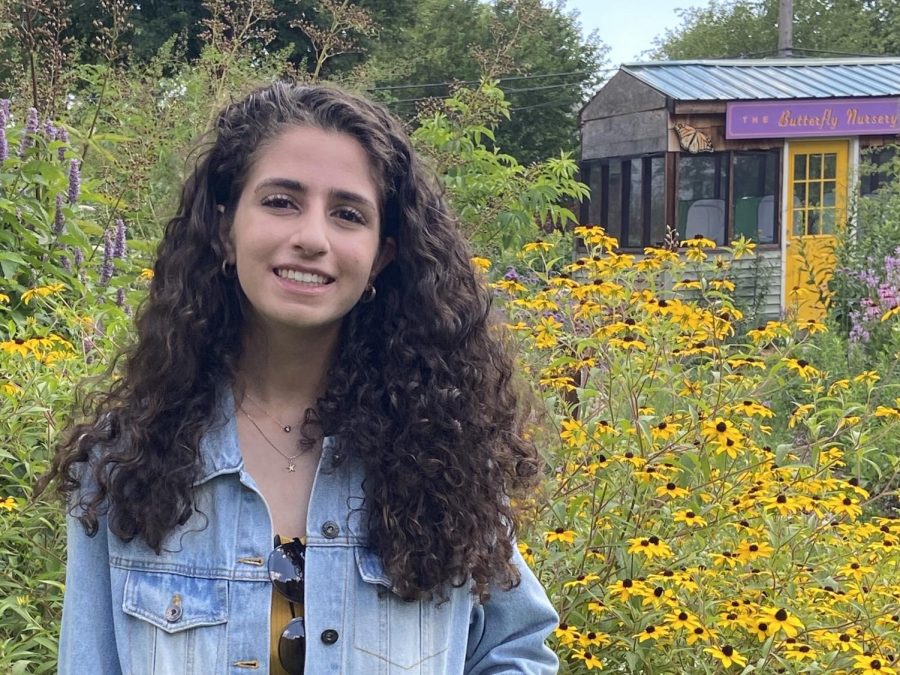 Lauren Karmo is the marketing director for The Oakland Post. She is responsible for managing social media, marketing The Post to wide audiences and producing content.
A junior, Karmo joined The Post in the 2019-2020 school year to serve as the campus editor. As campus editor, she covered a range of topics from investigative journalism to music reviews to satire, as well as managed a team of reporters. During the 2020-2021 school year, she stepped into the role of marketing director to fulfill the needs of The Post and focus on different aspects of journalism. She is pursuing a bachelor's in both journalism and writing and rhetoric. After college, she hopes to continue on in the journalism or advertising field or attend law school.
She was introduced to journalism when she was in middle school, pioneering a newspaper club where she (poorly) reported on her school's football and soccer games. Her love for it really began her sophomore year of high school, where she wrote for her school's newspaper, 
The Talon
. She soon became the sports editor there, and later transitioned into the role of editor-in-chief. During her freshman year of college, she took a break from journalism to explore different areas of study, but soon returned knowing it is a true passion of hers.
Follow her on all social media platforms @laurenkarmo or email her at
[email protected]
Lauren Karmo, Marketing Director
Nov 30, 2020

Miley Cyrus drops highly anticipated album 'Plastic Hearts'

(Story)

Nov 16, 2020

After Trump's loss, Phoebe Bridgers, Maggie Rogers drop 'Iris' cover as promised

(Story)

Nov 11, 2020

Satisfactory/Unsatisfactory grading option to be offered for fall 2020, winter 2021

(Story)

Nov 11, 2020

Detroit erupts into protests, celebrations following election results

(Story/Media)

Nov 04, 2020

Virtual State of the University Address acknowledges current issues, plans for future

(Story)

Oct 28, 2020

The top five Halloween songs of all time

(Story)

Oct 26, 2020

The ideal LGBTQIA+ rom com

(Story)

Oct 21, 2020

Off-campus research facility to temporarily solve space shortage

(Story)

Oct 21, 2020

Donald 'J. for Genius' Trump is an illiterate brat

(Story)

Oct 14, 2020

BOT to purchase research facility, review hiring practices

(Story)

Oct 14, 2020

Britt Rios-Ellis named executive vice president of Academic Affairs and provost

(Story)

Oct 07, 2020

Miley Cyrus' 'Heart of Glass' cover awakens new love for rock

(Story)

Oct 06, 2020

Hispanic Heritage Month celebrates Latinx communities

(Story)

Sep 30, 2020

All ages cartoons bring new perspective to LGBTQIA+ representation

(Story)

Sep 30, 2020

Himbos are the superior breed of man

(Story)

Sep 23, 2020

Green Bandana Project combats mental health stigmas

(Story)

Sep 20, 2020

Rec Center scheduled to reopen Sept. 24

(Story)

Sep 16, 2020

Students protest racial injustice on campus

(Story)

Sep 09, 2020

MMA smackdown results in heartbreaking loss for beanie baby of Kennedy dynasty

(Story)

Sep 09, 2020

AAUP procedures protect professors should they contract COVID-19

(Story)

Aug 31, 2020

Water mind control drug will make you fail your classes

(Story)

Aug 31, 2020

Provost search narrows down to four finalists

(Story)

Aug 31, 2020

SMTD looks to creative solutions to create quality classes in unprecedented times

(Story)

Aug 30, 2020

iPause program helps students be proactive about stress management, mental health

(Story)

Aug 15, 2020

August OUSC student concern forum addresses health and safety plans

(Story)

Aug 10, 2020

OSI makes welcome week, GrizzFest hybrid events

(Story)

Aug 10, 2020

Graham Health Center offers testing to support a healthy return to campus

(Story)

Aug 04, 2020

Trump wants to ban TikTok? Do it, I dare you

(Story)

Jul 29, 2020

Counseling Center moves to HHB, launches new programs and outreach

(Story)

Jul 29, 2020

Offensive videos circle around campus, results in fired employee

(Story)

Jul 29, 2020

Drive-in commencement honors 2020 grads amid COVID-19 restrictions

(Story)

Jul 29, 2020

Gracie Abrams is one to watch with heartbreaking EP 'minor'

(Story)

Jul 16, 2020

Campus life, COVID-19 relief addressed at July concerns forum

(Story/Media)

Jun 09, 2020

Hometown comes together for Black Lives Matter protest

(Story/Media)

Jun 03, 2020

Lady Gaga's 'Chromatica' makes fans nostalgic

(Story)

May 27, 2020

Opinion: NYT front cover is the wake up call we needed

(Story)

May 22, 2020

Researchers allowed on campus after closure

(Story)

May 19, 2020

New leadership structure increases efficiency, community engagement

(Story)

May 18, 2020

Charli XCX's 'how i'm feeling now' serves as quarantine anthem

(Story)

May 15, 2020

Piskulich steps up to serve as interim provost

(Story)

May 13, 2020

CAS Dean delays retirement to plan for fall semester

(Story)

May 13, 2020

Academic Concern Forum allows student questions answered

(Story)

Apr 24, 2020

OU offers test-optional admission for incoming freshmen due to COVID-19

(Story)

Apr 17, 2020

Facts matter, stop lying about the coronavirus

(Story)

Apr 08, 2020

Looking back: 2003 men's basketball player named AP All-American

(Story)

Apr 01, 2020

International students face unique position during COVID-19

(Story)

Apr 01, 2020

Stupid fights to instigate with your sibling in quarantine

(Story)

Mar 25, 2020

My family's small business was forced to close due to COVID-19

(Story)

Mar 18, 2020

Penn State switched to pass/fail grading due to COVID-19, Oakland should too

(Story)

Mar 18, 2020

What spreads faster than COVID-19? Fear.

(Story)

Mar 12, 2020

Looking Back: 2005 H5N1, 2014 Ebola caused panic comparable to 2020's COVID-19

(Story)

Mar 11, 2020

Campus concerns about the coronavirus lead to discussions of closures, event cancelations

(Story)

Mar 05, 2020

Author, journalist Howard Reich shares emotional experience with Holocaust storytelling and Elie Wiesel

(Story)

Mar 04, 2020

Proof Bernie sold his soul to the devil

(Story)

Feb 20, 2020

'Strive for 45' campaign demands more funding for students

(Story)

Feb 19, 2020

Working college students as spring breakers 2020

(Story)

Feb 12, 2020

Best ways to enjoy this Valentine's Day

(Story)

Feb 05, 2020

I have the coronavirus and I don't like it.

(Story)

Jan 29, 2020

I can't get JB's yummy yum out of my mind

(Story)

Jan 22, 2020

Administration hosts open forum to discuss concerns and preferences for new provost

(Story)

Jan 12, 2020

Looking Back: 2010 benefit concert 'Haiti-palooza!' helps those devastated by disaster

(Story)

Jan 12, 2020

Selena Gomez's 'Rare' isn't one in a million

(Story)

Jan 08, 2020

Cats: The horniest, worst movie of all time

(Story)

Jan 08, 2020

Women's Rights? Kitchen, here I come

(Story)

Jan 08, 2020

Provost Lentini accepts position as president at Molloy College

(Story)

Dec 04, 2019

Short staffed Counseling Center cuts programs, causes increasing waitlists

(Story)

Dec 04, 2019

Hallmark movies make me wanna abandon my life and find a husband

(Story)

Nov 20, 2019

Kids Bop Karen deserves better

(Story)

Nov 07, 2019

Volleyball breaks losing streak in 3-0 victory

(Story)

Nov 07, 2019

Steel metal cage match: TikTok vs. Vine

(Story)

Nov 07, 2019

King Princess breaks hearts with debut album 'Cheap Queen'

(Story)

Nov 04, 2019

Kanye's new 'Jesus Is King' album isn't praiseworthy

(Story)

Oct 27, 2019

Relocation of classes to accommodate South Foundation renovation leaves faculty concerned

(Story)

Oct 23, 2019

From rec to records: Goalie Jaimie Leas named Defensive Player of the Week

(Story)

Oct 23, 2019

Freddie Mercury's 'Never Boring' lives up to the name

(Story)

Oct 23, 2019

Goodbye, South Found bathrooms

(Story)

Oct 16, 2019

14th annual Read-In highlights Moby Dick

(Story)

Oct 09, 2019

Biology department plans to remove invasive species from biological preserves

(Story)

Oct 09, 2019

Opinion: California passes law to pay student athletes

(Story)