New leadership structure increases efficiency, community engagement
President Ora Hirsch Pescovitz unveiled a reconfiguration of Oakland University's leadership structure in order to increase efficiency, functionality and opportunities for community engagement, effective Monday, June 15. 
The new organizational chart features changes to accommodate for the retirement of Chief Operating Officer (COO) Scott Kuselman, as well as an increase in meetings with the president's cabinet and the deans. All positions that previously reported to Kunselman have been dispersed to other branches of administration in order to maintain productivity and efficiency according to Pescovitz.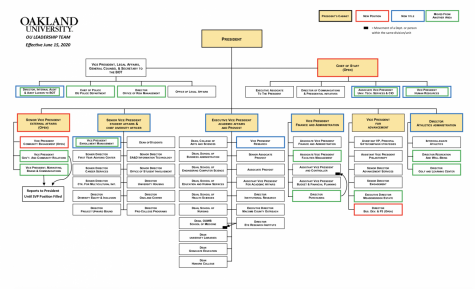 "My hope is that these changes — which are not huge, but I think are significant — will help Oakland be more responsive to being … agile and more efficient — but most importantly — an effective organization," Pescovitz said. "To me, that is the single most important thing because we have a very aggressive strategic plan, and this organizational chart will allow us to address the elements of the strategic plan as effectively as possible."
While these changes impact the administrative structure in big ways, they will be less apparent to the average member of the OU community.
"I don't think you as a student will notice much of a difference," Kevin Corcoran, College of Arts and Sciences' Dean, said. "I don't think the average faculty member or staff member will feel much of a difference, but I suspect that there will be an increased efficiency. I think that's the president's goal — to be both efficient and also maximize how effective we are in doing the work of a university."
According to Pescovitz, these changes will also aid with accomplishing the university's third strategic goal — "community engagement." With COVID-19 changing nearly every aspect of life, OU is adapting in order to stay in touch with its community.
"We will begin to see even more emphasis academically with students and with faculty and staff on our third strategic goal, which is community engagement," Pescovitz said. "That will get strengthened in the future, and that will happen through service, meaning students will start to do more service oriented things. We'll start to see more community engagement in courses."
Oakland has been increasing their involvement with the community, despite shutting the campus down to students. Service projects like distributing food in the Oakland Center, the creation of The Engagement and Mobilization (TEAM) and student teaching interns helping with children's at-home education have been the focus of OU's community presence. Students and faculty involved with the School of Nursing have also been involved as frontline workers. 
According to Pescovitz, the community aspect of the university is what sets OU apart from the rest, and the changes she made to the leadership structure reflects those goals. She hopes those opportunities for engagement will aid students in bettering themselves and the world around them.
"There is no better time to be on a college campus, whether you're a commuter student or you're a residential student," Pescovitz said. "You're going to get a chance to participate. It's a once in a lifetime opportunity to get to participate in this battle against this unique, once in a century battle against this virus. If you're on a college campus, there's so much innovation and entrepreneurship, and if you're someplace like Oakland, you're gonna get a chance to really participate in battling it."