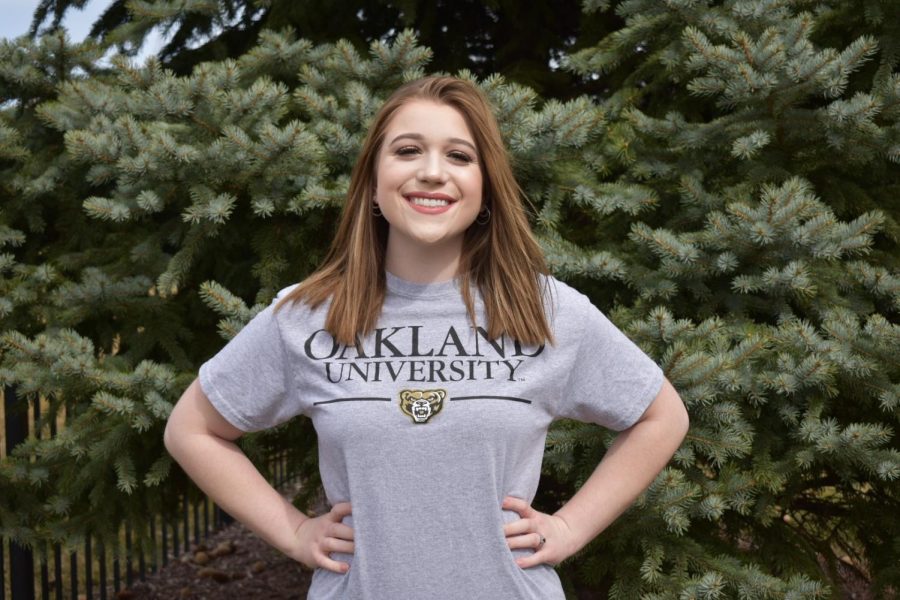 Autumn Page started as a contributor for the first part of her freshman year. Not long after, she was officially brought on staff.
Page is a sophomore with a major in journalism and a minor in political science.
She didn't find politics interesting until the 2016 presidential election. From there, her interest blossomed until she decided she wanted to pursue a career in it.
Besides politics, she likes MMA fighting, kickboxing and CrossFit. You can find her in a gym on her downtime.
When she's not doing that, she might be re-reading her favorite books, discussing Schrödinger's cat experiment with anyone that will listen or eating at her favorite restaurant – California Pizza Kitchen.
She relies on coffee to keep her awake, and sometimes she tries to make it at home. If she makes coffee at home, don't accept her "want a taste?" offer. It doesn't always turn out the tastiest.
She enjoys her job as a reporter very much and hopes to continue a career in political journalism.
Autumn Page, Staff Reporter
Jan 13, 2021

Did the bombing in Nashville even happen?

(Story)

Jan 13, 2021

Scams we're used to

(Story)

Dec 02, 2020

Guide to surviving Thanksgiving

(Story)

Nov 18, 2020

President-elect Joe Biden's COVID-19 advisory board

(Story)

Nov 11, 2020

An update on the Paris Climate Accord

(Story)

Nov 11, 2020

A private Island party? During COVID? Bold.

(Story)

Nov 01, 2020

A Look Back at History: America divided Bush v. Gore

(Story)

Oct 26, 2020

Amy Barrett's fast track seat on the Supreme Court

(Story)

Oct 26, 2020

Local candidate for state representative Barb Anness shares her platform

(Story)

Oct 26, 2020

So there is a mute button

(Story)

Oct 21, 2020

The Trials and Tribulations of Voting in a Pandemic

(Story)

Oct 14, 2020

Oakland University celebrated National Coming Out Day in 2000

(Story)

Oct 11, 2020

Music venues still struggling with no help

(Story)

Sep 30, 2020

The case of Breonna Taylor has caused more unrest in Louisville, Ky.

(Story)

Sep 30, 2020

The environmental committee promoted recycling and being environmentally aware in 1990

(Story)

Sep 16, 2020

'Take Root Dance Company' holds PD classes on campus

(Story)

Sep 16, 2020

Substance abuse programs face alcoholism in 1988

(Story)

Sep 09, 2020

Major departmental changes for music, theatre and dance occurred in 1992

(Story)

Sep 09, 2020

I #StandwithSophie after she escapes abusive household

(Story)

Sep 01, 2020

Welcome to campus convocation: 2013 edition

(Story)

Aug 30, 2020

iPause program helps students be proactive about stress management, mental health

(Story)

Aug 25, 2020

AOC deserves better from the DNC and NBC. 

(Story)

Aug 25, 2020

Looking Back: Anti-bullying club starts up in 2011

(Story)

Aug 10, 2020

Younger generations have proven they are more mindful than Boomers think

(Story)

Aug 10, 2020

Looking Back: Kresge Library opens 24/7 in 2011

(Story)

Jul 29, 2020

Looking Back: 2011 Planned Parenthood causes controversy, protests on campus

(Story)

Jul 29, 2020

Political focus: Spikes in COVID-19 can send us back to quarantine

(Story)

Jul 29, 2020

Oakland Center reopens, prepares to welcome students back in fall

(Story)

May 21, 2020

Meet the 2020-2021 Oakland Post bosses

(Story)

Apr 28, 2020

Armentrout's 'From Blood and Ash' surprises readers in more ways than one

(Story)

Apr 23, 2020

Animal Crossing: New Horizons has ruined my life

(Story)

Apr 21, 2020

What I've been doing to pass the time in quarantine

(Story)

Apr 08, 2020

Trump's handling of COVID-19 misinforms public, insults reporters

(Story)

Apr 01, 2020

Closures affect food options for students left on campus

(Story)

Mar 25, 2020

Looking Back: Men's basketball attends it's first-ever March Madness in 2005

(Story)

Mar 18, 2020

Looking Back: Local weatherman Al Roker inspired students during 2000 visit

(Story)

Mar 11, 2020

Journalism department welcomes new professor from Australia

(Story)

Mar 11, 2020

1994 Dodge Hall fire leads to devastating damages, class cancelations

(Story)

Mar 04, 2020

Looking Back: 1995 Women's History Month celebrated literature, film

(Story)

Mar 04, 2020

Trump's awful budget proposal hurts women, impoverished, elderly

(Story)

Feb 19, 2020

Trump fires key witnesses for revenge

(Story)

Feb 15, 2020

Looking Back: 1999 campus-wide initiative promotes student health

(Story)

Feb 12, 2020

Mother of missing children is suspect of police investigation

(Story)

Feb 12, 2020

Looking Back: 1989 BAM Inauguration celebrates black excellence

(Story)

Feb 05, 2020

Cases of the coronavirus found in the US

(Story)

Jan 29, 2020

House passes war powers resolution to check presidential military control

(Story)

Jan 29, 2020

Looking Back: 2007 African American Celebration Month featured art and culture

(Story)

Jan 22, 2020

Trump impeachment trial delayed, Dems push for witness reports

(Story)

Jan 22, 2020

Teen who drove boyfriend to suicide has potential for early prison release

(Story)

Jan 22, 2020

Looking Back: 1968 state budget shocked university, caused financial struggle

(Story)

Jan 15, 2020

SCOTUS hears a new case, potential to overturn Roe v. Wade

(Story)

Jan 15, 2020

Celebrities do more for Australian fires than our climate change denying government

(Story)

Jan 08, 2020

The murder of Tessa Majors, robbery gone wrong

(Story)

Dec 04, 2019

How to deal with grief through the holidays

(Story)

Dec 04, 2019

Gold Vibrations announces 10th anniversary concert

(Story)

Nov 20, 2019

#StopGlobalClimateChange ends with U.S. leaving Paris Agreement

(Story)

Nov 07, 2019

Killing teenagers is now 'justifiable'

(Story)

Nov 07, 2019

Finally, there is justice for the girl set on fire

(Story)

Oct 30, 2019

Michael Brown: Murdered? New evidence conflicts case

(Story)

Oct 23, 2019

Tragedy of Harry Dunn sparks criticism of 'diplomatic immunity'

(Story)

Oct 23, 2019

Students attend Michigan Student Power Summit

(Story)

Oct 16, 2019

Birth control: The universal struggle of women

(Story)

Oct 09, 2019

Here's why you shouldn't be a jerk

(Story)

Sep 29, 2019

Today's scary school reality

(Story)