Krispy Kreme offers free doughnut for vaccination proof
Krispy Kreme has announced starting on March 22 they will give out free original glazed doughnuts all year to people who have gotten the COVID-19 vaccine and show their cards.
This is a great incentive for people to get vaccinated because who doesn't love doughnuts? My favorite is the classic glazed and the cinnamon sugar. 
On the Krispy Kreme website, it's specified that this promotion only applies to guests who have received at least one of the two shots of the Moderna or Pfizer vaccine or one shot of the Johnson & Johnson vaccine. It also states that participants need to show their vaccination card to redeem their doughnut — a vaccine sticker is not valid. There's also a frequently asked question page for the details to this promotion.
Guests cannot redeem on behalf of family and friends, but each guest in the same vehicle that has their COVID-19 vaccination record card can participate in the promotion.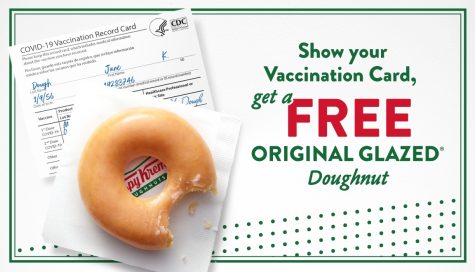 This offer can be redeemed any and every day throughout the rest of 2021. The offer is limited to one doughnut per day and is only valid for in-store or drive-thru redemption. 
This is no surprise from Krispy Kreme. The company also supports health care workers and volunteers who are helping administer vaccines, delivering free doughnuts to select vaccination centers throughout the country in the coming weeks. They also did a promotion for health care professionals during the beginning part of the pandemic.
For Krispy Kreme's team members, they're offering up to four hours of paid time off each to help encourage and enable their COVID-19 vaccinations, making sure safety of team members and guests comes first.
"We all want to get COVID-19 behind us as fast as possible and we want to support everyone doing their part to make the country safe by getting vaccinated as soon as the vaccine is available to them," said Dave Skena, Krispy Kreme chief marketing officer.
The company is also continuing to encourage everyone to be sweet to each other and neighbors by launching "Be Sweet Weekends." This offers guests who purchase any dozen an additional "Be Sweet Dozen" to safely share with a friend or neighbor for just $1. 
The Original Glazed dozen with a special smiley-face doughnut will be available for nine consecutive Saturday‑Sundays, March 27 through May 23. It's a cute concept, and it'd be a great promotion to take advantage of if you work in offices or schools.
Additionally, Krispy Kreme will help Americans start their week on a "sweet note" with one free medium coffee and a free Original Glazed doughnut, no purchase necessary, every Monday — starting on March 29. 
This promotion is called "Be sweet to yourself" and it goes until May 24. It's so cute, and I love the puns. 
The free doughnut promotion, according to Krispy Kreme's website, is valid at participating locations. There are three locations in metro Detroit, which are all participating: Allen Park, Troy and Utica.