Detroit Hives have all the buzz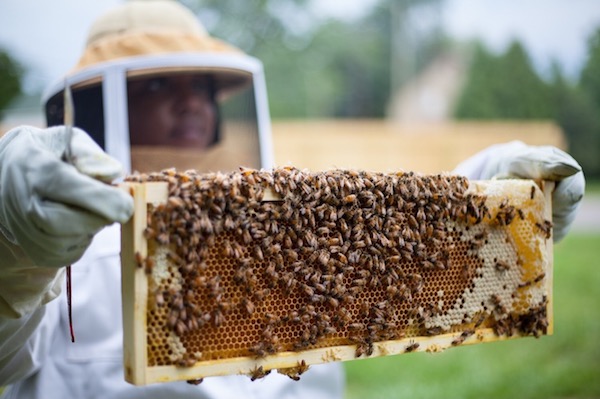 Timothy Paule and Nicole Lindsey's beekeeping business, Detroit Hives, has gained all the buzz. Lindsey, an Oakland University alumni, and Paule, her partner, are both Detroiters born and raised. 
Their inspiration for a business started when they read an article in the summer of 2016 about all the vacant lots in Detroit.
"There were 90,000 vacant lots and there wasn't a budget to make sure these lots were tended to," Paule said. "Lawns weren't getting mowed, people were committing crimes in these lots and it wasn't safe for the community."
The article was a call to action, the couple felt like their communities were being left out and that no one cared about how people visit the inner city communities within Detroit.
From there, they brainstormed different businesses they could add to the community. 
"We knew it had to be different — something never done before," Paule said. 
They thought about starting a peacock farm or local zoo, a photography studio or selfie area, a camp site, an Airbnb or an urban garden. All these potential businesses had pros for their community, but it wasn't until Paule got sick that the perfect business idea was created. 
In 2016, Paule got a bad cold and a cough. For two months he'd try at home remedies, over-the-counter medicine and antibiotics from a doctor. 
Nothing helped his condition — until he got advice from a store owner in Ferndale. The owner recommended that he should try local raw honey.
"I didn't think it'd work, so I pretty much just laughed and said 'I tried everything and that's not going to work for me,'" he said. 
The owner then explained the benefits of local raw honey, 
"When you have raw honey it has microscopic traces of pollen and it not only helps to alleviate allergies, but also provides great health benefits," Paule said. 
He started consuming local raw honey nine times a day, and over the course of three weeks his cold and cough had gone away. He was surprised by what local raw honey had done, and he wanted to learn more about it. 
He learned that it's safe to consume if you're pre-diabetic or diabetic, it's a natural sweetener and it's a topical medical solution. 
This led Paule down a path of learning everything he could about bees and local raw honey — Lindsey then suggested turning one of the vacant lots into a bee farm. 
They pitched the idea and won $1,600, with 300 people wanting this idea to pass. They contacted the South Eastern Michigan Beekeepers Association and they helped Lindsey and Paule get their business started. 
The two took courses to become certified beekeepers, and started their first project for Detroit Hives in 2017. Now, they have over 13 locations, both in and outside of Michigan. 
After their story went viral, people reached out to the couple, wanting to start the same project in other states. 
Their business expanded to Kansas City, Missouri, and had places like New York, Chicago and Ohio reach out. 
Detroit Hive offers volunteering opportunities and anyone interested should email them.