People of OU: OU alumna, content creator and influencer, Kate Lazarski
For some people, social media is just a form of entertainment. For others, it is a way to explore their interests. But for Kate Lazarski, social media is a way to share her passion for showcasing some of her favorite things — travel, fashion and dining.
With over 25,000 followers on Instagram, Lazarski has not only made a name for herself as a local social media celebrity, but has turned her experience as an influencer into a prosperous career in the field of communication.
Lazarski graduated from OU in 2015 with a degree in public relations, advertising and applied communication with hopes to pursue a career in fashion marketing. After leaving Michigan for an internship in New York City, Lazarski realized she preferred a career geared towards hospitality and public relations.
When she moved back to Michigan from New York City, Lazarski started a job in Detroit exposing her to up-and-coming businesses, restaurants and shops. This exposure allowed her to post about her favorite local places on Instagram, leading to her status as a Detroit-based influencer.
Reflecting on her time at OU, Lazarski was grateful of the opportunities she was presented with not only from the university but from peers. She served on the OU Greek Council and was also a member of Gamma Phi Beta sorority.
"Really, I would not have gotten my first jobs if it wasn't for the internships I had from Oakland and I'm so grateful," Lazarski said. "We had to do two back then so I did one with the Red Wings and one with Billhighway which is so random but it was the way my sorority paid dues — through Billhighway. So one of the girls got me this internship."
"My boss that hired me out of college was best friends with my internship boss and truly spoke highly of me. He got me a full-time position out of college because of the internships and relationships that I built — which was huge."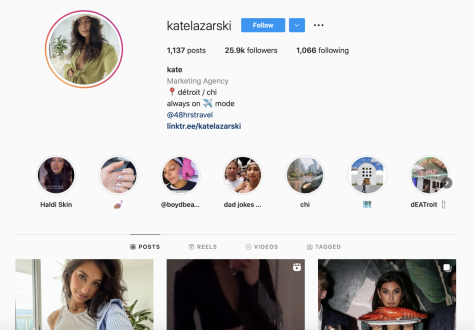 Lazarski is also one of the creators of 48hrstravel — A guide for locals and tourists to fully immerse themselves in a city with recommendations for shopping, dining, lodging, etc. With help from two of her friends, Marina and Nancy, the trio traveled to several cities in the U.S. and Canada to experience what each city had to offer.
The website was a creative outlet for Lazarski to share one of her favorite hobbies combined with her professional experience from the communications and hospitality industries.
"I was traveling a lot for work for Bedrock [real estate services] and I realized I'm obsessed with traveling and my job was to find the coolest stuff in each city," she said. "Ultimately my goal would be to bring it back to Detroit."
"I was realizing I loved creating itineraries and finding what's the coolest thing and telling people about it. Me and my two girlfriends started 48hrs — which we haven't really done since COVID-19 unfortunately — but hopefully we'll pick it back up."
Although Instagram serves as a way for her to share her love of travel, food and fashion,  Lazarski said she would not rely on her role as an influencer full-time. She has enjoyed the experience so far and hopes to pursue it as long as she can.
"Content creation — I feel like I don't have a goal. It's kind of worked out where I never really did and it's just organically done its thing. I think [my goal is] just going with it and riding it as long as it lasts because honestly I don't know how long it will last, but it's been pretty great so far."
She aims to remain in the hospitality industry, but has ideas on further developing her travel website. Lazarski currently works as the director of social media marketing and brand communication at Heirloom Hospitality Group and continues to work with brands and businesses for consulting and promotional work.