People of OU: Organizational powerhouse Malaena Caldwell
When Malaena Caldwell's study abroad trip was cut short due to COVID-19, she never expected that setback to help her find a new passion. 
Caldwell is a senior at Oakland University preparing for her graduation at the end of April 2022. With a major in French language and literature, she set her sights on studying abroad in France for a semester in 2020, hoping to find what she wanted to do post-graduation during the trip. 
"I come from a single parent household … and so when I realized I was going to study abroad, I was like, 'I'm going to have to apply to every scholarship humanly possible,' and I did," Caldwell says. "I think I applied to nine and I was fortunate enough to receive six. [Because of] that, in tandem with my scholarship that I get out of high school, I was able to pay off my entire study abroad experience out of pocket without having to take out a loan." 
While earning scholarships to pay for her trip is one of Caldwell's biggest accomplishments, that feat made having to come home in the middle of the semester even more difficult. Despite that disappointment, the dozens of scholarship essays that she had to write led her to her second major: creative writing.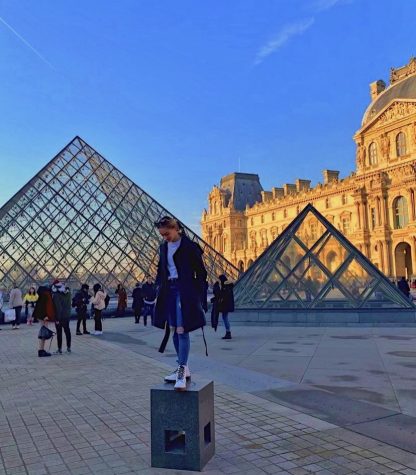 "When I came home, I just felt confused and hurt and all those complex feelings, and one of my French teachers was like, 'I really think you should look into writing — you're a very strong writer,' and I did not believe her," Caldwell says. 
While she was convinced that she was not a good writer, when she returned home, the Study Abroad Office offered a reentry scholarship asking students to write about their experience leaving their study abroad trips due to COVID-19. Caldwell won that award as well, and she took her professor's advice. 
Caldwell became managing editor of the Oakland Arts Review (OAR) and has since been seriously writing for two years now. She plans to earn her Master of Fine Arts (MFA) in creative writing at Oklahoma State University (OSU). 
"Although [I'm] sad about my study abroad, I honestly feel like I needed my world and my expectations for the life that I was going to live to crumble to really make way for what I wanted to do," Caldwell says. "Everything just started snapping into place very quickly." 
In addition to her plan to earn her MFA, Caldwell is a semifinalist for the Fulbright Scholarship — a U.S. governmental program that sends ambassadors abroad to augment global interconnectivity. Participants conduct research, pursue graduate study or teach English abroad.
She has applied to be an English teaching assistant for secondary school in France and hopes to pursue that for a year before attending OSU.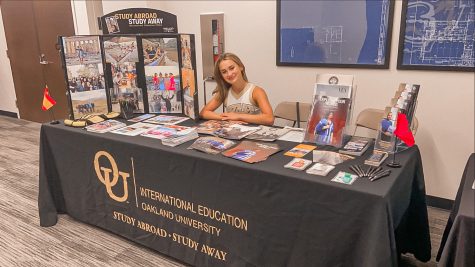 Besides the constant scholarship applications and double majors, Caldwell stays busy with her involvement in the OU community. An "organizational powerhouse," she also works as a Study Abroad Student Advisor, she's the secretary of Sigma Tau Delta, she's a cheerleader and she's a member of many organizations from Phi Sigma Sigma to multiple honors societies.
With three running to-do lists at any given time and her best friend Google Calendar, Caldwell manages her packed schedule and above all, prioritizes school. 
"I value my time so so highly," Caldwell says. "When I'm at work, I'm at work, but when I go home from work, I do not think about work. When I'm at cheerleading practice, I'm at cheerleading practice. When I leave cheerleading practice, I don't think about cheer. I think that's the only way — compartmentalization — to be able to handle a very busy schedule because letting things bleed together is only going to make it feel more overwhelming."