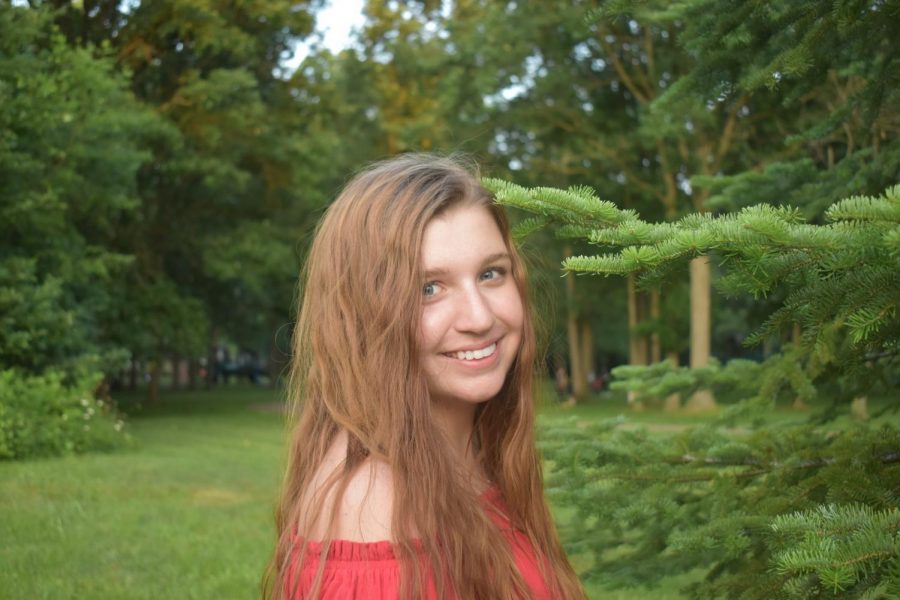 Rachel Basela
is the life and arts editor for The Oakland Post. She is responsible for overseeing the life and arts reporters and editing their content.
Basela is a sophomore at Oakland University who is majoring in journalism. She joined The Post as a contributor near the end of her freshman year in 2019. The following summer, she joined the staff as an intern with intentions of becoming a reporter. That same summer, she took the position of life and arts editor.
Her journey started with an
opinion column
in The Macomb Daily in 2018 during her senior year of high school. In the wake of the
Parkland shooting
, Basela's high school held a walk-out in protest of gun violence. This article debuted her trail of published works. Since then, her endeavors in journalism included interviewing a New York Times columnist, reporting on accomplished OU staff and students and reviewing concerts in metro Detroit.
Rachel Basela, Life & Arts Editor
Nov 11, 2020

Detroit erupts into protests, celebrations following election results

(Media)

Mar 30, 2020

COVID-19 Relief Fund assists students affected by pandemic

(Story)

Mar 23, 2020

Honors College responds to COVID-19 concerns

(Story)

Feb 19, 2020

Center for Civic Engagement to host mock caucus event

(Story)

Feb 09, 2020

15 self-care tips to fall in love with yourself this Valentine's Day

(Story)

Jan 29, 2020

Human trafficking panel informs OU community

(Story)

Jan 22, 2020

'Circles': An homage to late Mac Miller and his followers

(Story)

Jan 15, 2020

Enjoying the moments in between day-to-day struggles

(Story)

Jan 08, 2020

'Fine Line' released at the end of a decade, jumpstarts eclectic era of pop music

(Story)

Dec 04, 2019

Soulful country artist Ben Danaher shares his journey

(Story)

Dec 04, 2019

OUWB student identifies barriers in prescribing opioids in Michigan

(Story)

Nov 10, 2019

Students against climate change

(Story)

Nov 07, 2019

Ugandan performer shares culture with campus and community

(Story)

Oct 30, 2019

Trashcan Sinatras visit Ferndale's Magic Bag

(Story)

Oct 17, 2019

Australian alternative quartet rocks The Shelter

(Story)

Oct 02, 2019

OU alum discusses his 'breakthrough moment'

(Story)

Sep 25, 2019

Three vital steps for securing a job at OU's Career Fair

(Story)

Sep 25, 2019

Grassroots movement battles 'climate grief' on campus

(Story)

Sep 23, 2019

Discussing the UAW strike

(Story)

Sep 18, 2019

America's got OU talent that's buzzworthy

(Story)

Sep 11, 2019

Vaping: the beginning of the end starts in Michigan

(Story)

Sep 04, 2019

Can't Say Michigan Ain't Country

(Story)

Aug 06, 2019

OU's Bottomless Toy Chest interns make a difference at annual Red Carpet Movie Event

(Story)

Aug 06, 2019

Unprotected wildlife on campus threatened by prospective development

(Story)

Jun 26, 2019

Satire: Millennials are outdating doorbell technology through texting

(Story)

Jun 26, 2019

'Rocketman' is raw, uncensored and imaginative

(Story)

Jun 05, 2019

Steve Waterfield — a year in review

(Story)

Apr 10, 2019

2018 Miss Mid-Michigan battles pageant misconceptions

(Story)

Apr 03, 2019

Philosopher explains how to combat oppression of identities

(Story)